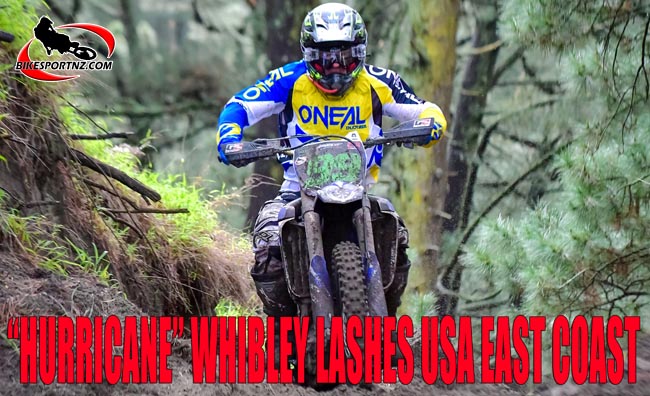 It didn't take long for New Zealand's Paul Whibley to get back into the thick of international action, inflicting his own kind of storm on the east coast of the United States at the weekend.
Officially retired from international motorcycle cross-country racing at the end of his 2014 season in the United States, the 39-year-old former US champion from Taikorea, near Palmerston North, still finds himself in high demand as a trainer and mentor for some of the world's leading riders.
And so, when his latest coaching mission in the US also allowed him the opportunity to compete, he didn't need a second invitation, showing up at the weekend's round 10 of the Grand National Cross-country Championships (GNCC) at Unadilla, in New York State, with a borrowed Yamaha YZ125.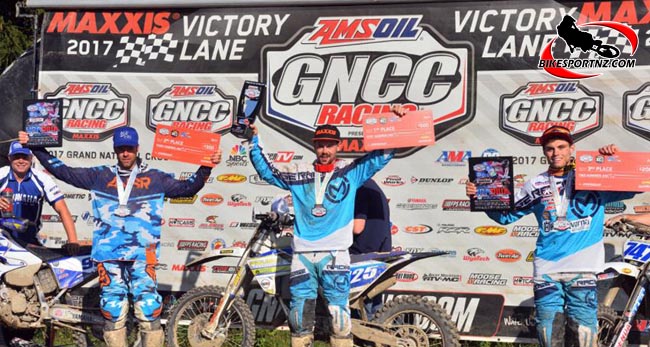 Whibley was a two-time outright winner of the GNCC in the United States (in 2009 and 2012) and a record six-time winner of the parallel Off-Road Motorcycle and ATV (OMA) series as well, before returning home to win the New Zealand cross-country championships in 2015, so it's fair to say he has nothing left to prove.
But that didn't stop the ingrained racer in him from coming to the fore at the weekend and he pushed hard and settled for a close runner-up in the XC3 (125cc) class.
"It was good to be back in the US and sitting on the start line, hearing the 10-second call again. It was my first time on a bike since (winning) the Santoft Enduro (near Bulls) at the end of August.
"We arrived here on Sunday last week. As if travelling wasn't challenging enough, you should try settling a three-and-a-half-year-old (his son, Colton) into the new time zone. It's been the longest jet lag I've ever had."
Whibley managed to get a good start to the GNCC race and was soon running among the top three.
"At one of the spectator points, there were a few different options to climb the hill. I used the right hand line around the hill, rather than heading straight up the hill, to avoid the carnage of bikes not making it up there, and think I gained a position. Later in the lap, in the woods, I took a poor line and lost the position I had just gained, so I slipped back to third.
"I was struggling with arm pump  for the first three laps and lost a lot of time behind the first and second riders and had pressure coming on from 4th position. Once I loosened up I was able to make some time on the leaders.
"Jack Edmundson had bike troubles which meant I picked up second place and then started gaining on (race leader) Jason Thomas. Lap five saw Thomas with over a three-and-a-half-minute lead on me. I was able to push hard  but  didn't quite catch him before the  finish line."
Whibley was closing in quickly, but Thomas eventually took the class win by the narrow margin of just four seconds.
Thomas and Whibley were respectively placed an impressive 16th and 17th of the more than 300 riders competing, with North Carolina's Kailub Russell winning the three-hour race overall, ahead of South Carolina's Baylor Steward and West Virginia's Michael Layne.
"It was great to get back on the 125 although a hard ride in the slippery and rocky conditions," said Whibley afterwards.
"I was surprised my fitness was okay. But I'm really feeling it today. I think my body remembers how to get the job done but feels it more the next day.
"It was just as hard as I remember it. Nothing in New Zealand prepares you for it physically.
"It was a long drive back to South Carolina to see if Hurricane Irma was an actual threat or if she had blown out of steam. We were a long way, about 22-hours' drive, north of where the hurricane was hitting and so it had no effect on the racing.
"Heading south to our South Carolina base (12 hours' drive south of the race), and all we could see was a bit of rain. We were reluctant to call it any more than a bit of bad weather."
Based in South Carolina for two months, Whibley has been training Yamaha's XC1 class contender Ricky Russell, from Washington State, and Connecticut rider Josh Toth, the man who is currently leading the XC2 (250cc) class in the US.
"Round one of the PWR/AMPRO boot camp coming up. I'm looking forward to a week of training with the guys and being reminded of how old I am."
Whibley is supported by Yamaha Motor New Zealand, PWR Yamaha, Arai, TCX, Oakley, G2, Asterisk, MotoSR, Vortex Ignitions, EC3D, Bush Riders MCC, Rossco's Start Up Services, Dirt Guide, Tire Balls, Renthal, Bikesportnz.com, CarbSport, FMF, Michelin, Yamalube CV4 GYTR, IMS, Rekluse, Workshop Graphics, Silverbullet.co.nz, Motomuck and O'Neal.
© Words and main photo by Andy McGechan, www.BikesportNZ.com
Find BikesportNZ.com on FACEBOOK here