WAKE-UP CALL FOR CLASS LEADERS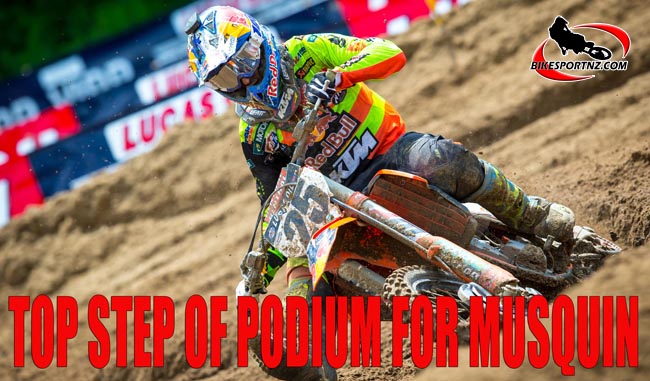 The 2017 Lucas Oil Pro Motocross Championship returned from its second break of the season on Saturday with round eight from Spring Creek Motocross Park in Minnesota and it produced a bit of a wake-up call for the respective 450cc and 250cc class leaders, Eli Tomac and Zach Osborne.
Following a dominant outing KTM rider Marvin Musquin earned his second 450 class victory of the season, and swept the motos for the first time in his career. In the 250 Class, Kawasaki's Joey Savatgy emerged with his second win of the season.
The opening 450 class moto saw Musquin blast his way down the track's long start straight to capture his third holeshot of the season, narrowly edging out Suzuki's Matt Bisceglia, making his first start of the season, and Husqvarna's Dean Wilson.
As the field approached Spring Creek's infamous sand rollers, Wilson took advantage of his height and blitzed his way around the outside of Bisceglia for second. It was Musquin, Wilson, and Suzuki rider Justin Barcia in the top three at the completion of the opening lap.
While Frenchman Musquin set a blistering early pace and began to open a comfortable lead, the battle intensified for the final podium positions.
Wilson rode smooth and hit his lines in second as Suzuki's Justin Barcia applied heavy pressure in the opening laps. On lap four, championship leader and Kawasaki rider Eli Tomac, who started the race in ninth, fought through the field and onto Barcia's rear fender, where he made a quick pass for third. Tomac then set his sights on the second position and began to stalk Wilson for the runner-up spot. On lap six, Wilson and Tomac traded positions several times, with Tomac eventually getting the upper hand to take over second.
With Musquin holding a commanding lead at the front of the field, Tomac put his head down in an attempt to move himself closer to the race leader. Wilson maintained control of third, but Barcia once again started to reel in the Scotsman and eventually made the pass for the position on lap 10. Just two laps later, Wilson mounted a comeback to get Barcia within striking distance. Wilson retaliated on Lap 12 to regain possession of the final podium spot.
Musquin remained unchallenged throughout the rest of the moto and took the chequered flag for his second moto win of the season, 17.4 seconds ahead of Tomac in second. Wilson put in an inspiring ride to capture his second straight moto podium result in third. KTM's Blake Baggett, who sits second in the championship, finished sixth.
Yamaha's Henry Miller was quick out the gate in moto two and led the 40-rider field for his first holeshot, followed by Suzuki's Justin Bogle, Tomac, and Wilson. Miller experienced a major crash as he exited the opening corner, which handed the lead over to Bogle. Nearing the completion of the opening lap Tomac faced misfortune as well, suffering a big crash of his own after he cross-rutted down a hill, and was forced to restart mid-pack. When the field completed the first lap it was Bogle, Musquin, and Baggett inside the top three, with Tomac following in eighth before dropping outside the top 10 after another incident.
As Bogle paced the field, Musquin and Baggett pushed each other and started to search for a way around the early race leader. On lap two, Musquin worked his way by Bogle and into the lead, followed by Baggett just a few turns later. Musquin and Baggett quickly started to pull away from the field as Bogle soon came under fire from Wilson for third. Bogle tried to fend off the Husqvarna rider, but Wilson proved to be too strong as he overtook Bogle for the position on lap three.
Musquin and Baggett were within a couple seconds of one another for the majority of the moto, but Musquin began to slowly increase his gap in the final stage of the race. Wilson continued to run strongly in third and distanced himself from the pack of riders behind him.
When the chequered flag flew, it was Musquin who prevailed with his third moto win of the season, more than 15 seconds ahead of Baggett in second. Wilson held onto the final podium spot with his third consecutive moto podium. Tomac recovered from his opening lap trouble to finish fifth.
The first career 1-1 effort by Musquin gave him his second career 450 Class overall win, and his first since the second round of the season at Glen Helen.
"Today the track was just really technical and challenging," said Musquin, who appears to be fully recovered from a partially torn MCL suffered earlier in the season. "Being able to go 1-1 is a dream come true to me right now. I tried to get out front early, get a clear track, and stay out of the roost. When you're in the lead it helps so much and that is exactly what we were able to do today. I've been doing a lot of rehab on my knee injury and I'm slowly beginning to get it strong and get my confidence back."
Wilson's consistency earned him a career-best finish in second (3-3), giving him back-to-back overall podium efforts. Tomac's ability to rebound from his crash was enough to place him third overall (2-5).
"When I went down in moto two, I was just trying to get back to my bike as quickly as I could," said Tomac. "Luckily it happened on the first lap, which gave me time to try and make my way back through the field. I had a second crash when I ran into the back of another riders tire, so that set us back even more. I was able to make it back to fifth and that ended up being better than I was expecting I could do. The track was tough today. It was tough to find a flow with the spongy dirt."
Tomac's podium effort ultimately added an additional point to his lead in the championship standings, which now sits at 20-points over Baggett, who finished fourth (6-2), in second. Musquin maintains his hold on third in the standings, gaining 12-points on Tomac to sit 60 points out of the lead.
The 2017 Lucas Oil Pro Motocross Championship will return to action next Saturday, July 29, for the ninth round of the season at Washougal MX Park in Washougal, Washington.
Find BikesportNZ.com on FACEBOOK here
Photos courtesy Simon Cudby
Results, Spring Creek National Spring Creek MX Park – Millville, Minnesota
450 Class Overall Results (Moto Finish)
Marvin Musquin, La Reole, France, KTM (1-1)
Dean Wilson, Glasgow, Scotland, Husqvarna (3-3)
Eli Tomac, Cortez, Colo., Kawasaki (2-5)
Blake Baggett, Grand Terrace, Calif., KTM (6-2)
Cooper Webb, Newport, N.C., Yamaha (4-9)
Justin Barcia, Monroe, N.Y., Suzuki (5-8)
Martin Davalos, Quito, Ecuador, Husqvarna (11-4)
Cole Seely, Newbury Park, Calif., Honda (8-6)
Christian Craig, El Cajon, Calif., Honda (7-7)
Fredrik Noren, Lidkoping, Sweden, Honda (13-10)
450 Class Championship Standings
Eli Tomac, Cortez, Colo., Kawasaki – 329 Points
Blake Baggett, Grand Terrace, Calif., KTM – 309 Points
Marvin Musquin, La Reole, France, KTM – 269 Points
Dean Wilson, Glasgow, Scotland, Husqvarna – 238 Points
Jason Anderson, Edgewood, N.M., Husqvarna – 216 Points
Cole Seely, Newbury Park, Calif., Honda – 192 Points
Justin Bogle, Cushing, Okla., Suzuki – 188 Points
Cooper Webb, Newport, N.C., Yamaha – 177 Points
Justin Barcia, Monroe, N.Y., Suzuki – 172 Points
Martin Davalos, Quito, Ecuador, Husqvarna – 170 Points
250 Class Overall Results (Moto Finish)
Joey Savatgy, Thomasville, Ga., Kawasaki (1-2)
Alex Martin, Millville, Minn., KTM (2-4)
Zach Osborne, Abingdon, Va., Husqvarna (8-1)
Jeremy Martin, Millville, Minn., Honda (4-5)
Adam Cianciarulo, Port Orange, Fla., Kawasaki (6-6)
RJ Hampshire, Hudson, Fla., Honda (5-7)
Aaron Plessinger, Hamilton, Ohio, Yamaha (3-12)
Dylan Ferrandis, Avignon, France, Yamaha (7-8)
Shane McElrath, Canton, N.C., KTM (16-3)
Colt Nichols, Muskogee, Okla., Yamaha (9-13)
250 Class Championship Standings
Zach Osborne, Abingdon, Va., Husqvarna – 339 Points
Alex Martin, Millville, Minn., KTM – 296 Points
Jeremy Martin, Millville, Minn., Honda – 276 Points
Joey Savatgy, Thomasville, Ga., Kawasaki – 242 Points
Dylan Ferrandis, Avignon, France, Yamaha – 226 Points
Aaron Plessinger, Hamilton, Ohio, Yamaha – 219 Points
Adam Cianciarulo, Port Orange, Fla., Kawasaki – 216 Points
Mitchell Harrison, Brighton, Mich., Yamaha – 190 Points
Colt Nichols, Muskogee, Okla., Yamaha – 188 Points
Austin Forkner, Richards, Mo., Kawasaki – 184 Points