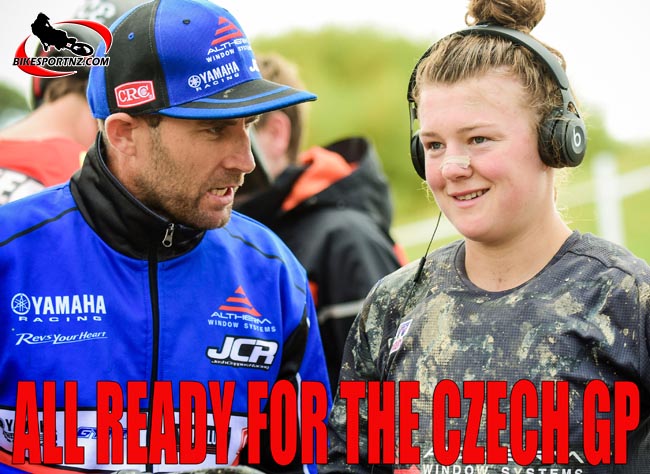 It's all going to plan for Otago's Courtney Duncan.
The Altherm Yamaha Racing Team rider from Palmerston is exactly halfway through her campaign to win the 2017 Women's Motocross World Championships (WMX) and she's well on target to wrap up the title that she was unlucky not to clinch on debut last season.
The 21-year-old Kiwi was on top of the world when she led the 2017 championship standings after the opening round in Indonesia in March, but she has had to deal with several set-backs since then and, after three of six rounds, she is currently third overall, albeit just six points behind defending world champion Livia Lancelot, of France, and only seven behind the series leader, former world champion Kiara Fontenesi, of Italy.
The fourth round the series is set for Loket, in the Czech Republic, in just over two weeks' time, on July 23, and Duncan has been working hard to ensure she'll be at her best for that event.
She has an apartment in Meerhout, in Belgium, and the team's workshop is nearby in Balen, right in the heart of motocross-mad Europe, an ideal spot in which to be based.
Her Altherm Yamaha Racing Team boss, Motueka's former motocross Grand Prix star Josh Coppins, has been putting her through her paces in recent weeks and they are convinced she's ready to go on the attack at Loket.
"She's been training hard, with no real mistakes or crashes," said Coppins.
"We have been working on her riding consistency and limiting the mistakes. At the past GPs, she has been the fastest rider, but made too many mistakes and suffered too many crashes.
"We have also been working on patience and understanding when to slow down and when to push. So far it's been good, but I hope it stays good at the GP (in Loket).
"Since the French GP (on May 28), she has raced a French and German championship, winning both of them.
"This Saturday she races a Dutch championship event against the boys, so that will be another great challenge."
Duncan also has a positive mind-set ahead of the upcoming GPs.
"I've been getting some good quality training on all different track conditions, so that's been great," she said.
"I've also had a few regional type races which has been nice and a big help to try and improve in those certain areas which seems to be helping, so I'm happy with that.
"If I limit those mistakes like I've made previously, focus on riding my own laps and finish with a solid weekend, I'll be more than happy."
As with all the previous rounds of the world series, Duncan's visit to Loket will be her first time at the circuit, although she's been a fast learner and is not perturbed by this.
Duncan has proven to be a revelation on the women's scene right from the first time she raced the WMX series at the start of last season.
Although at that time the "new kid on the block", Duncan stamped her authority and won five of the 14 races of the 2016 world series, more than any other individual last year and this was even after she had been able to start only nine of the races because of an injury, one that she was not in any way responsible for.
Duncan crashed on a jump while leading at the German GP in May last year, the third round of the 2016 series, after clipping an errant photographer who was standing out on the track. The wrist injury she suffered forced her out of the following five races as she underwent surgery and then took more time off to recover.
If she can avoid similar misfortune and maintain her sizzling pace, there is no reason why Duncan can't win in Loket in a fortnight's time, enhance her points with a solid performance at round five, the Swiss GP on August 13, and then claim the world crown when the 2017 season wraps up in The Netherlands on September 10
© Words and photos by Andy McGechan, www.BikesportNZ.com
Find BikesportNZ.com on FACEBOOK here