STILL ACTIVE AT TOP LEVEL
He's officially been retired from fulltime motocross racing for few seasons now, but don't try telling Josh Coppins that he should slow down any time soon.
As manager of the Altherm JCR Yamaha Racing Team in New Zealand and major backer of Otago's Courtney Duncan in her bid to win the Women's Motocross World Championships (WMX) this season, former GP star Coppins is spending a great deal of time in Europe this year.
He was on the sideline to support Duncan at the fourth round of the WMX series in the Czech Republic at the weekend – an event at which she snatched back the overall championship lead – but he's travelling to England this week.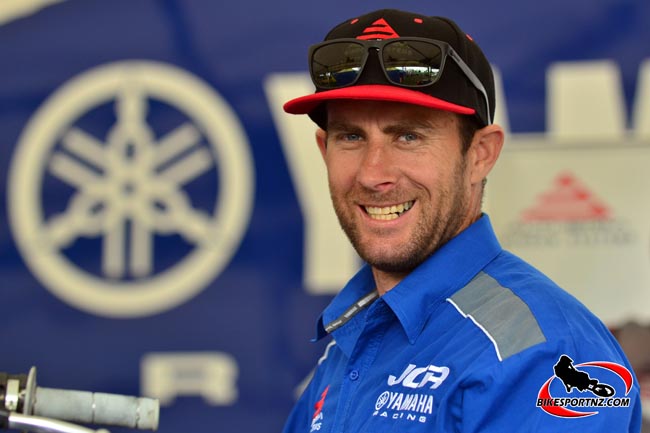 So it seemed like an opportunity not to be missed when he knew he'd be in England at the same time as round seven of the Maxxis ACU British Motocross Championship at Preston Docks this coming weekend (July 30).
"I've got the time off before flying to the South of France on holiday, so I was looking for somewhere to have a ride and I saw that event was on. I've never ridden there so I thought I'd enter," he said.
Of course, Coppins is no stranger to winning at the top level.
He is a former two-time British champion (in 2004 and 2005), former Australian champion (in 2012) and multi-time former New Zealand champion. In addition to this he twice finished runner-up in the motocross world championships (in 2002 and 2005) and twice finished third overall (in 2004 and 2007).
Coppins was also an integral member of the three-rider Team New Zealand squad on all three occasions that New Zealand finished on the podium at what is regarded as the "Olympic Games on motocross" – claiming third at the Motocross of Nations in England in 1998, third in Belgium in 2001 and third again in England in 2006.
The now 40-year-old Coppins even raced his way to a close runner-up finish in his class at the Veterans' World Championships in Glen Helen (in the United States) last November.
Even as one of the oldest riders in the premier 30+ Pro division, Coppins had been one of the title favourites to win at Glen Helen and he was eventually denied by the slimmest of margins.
Coppins (Yamaha YZ450F) finished 1-2 in the two races, which positioned him first equal with 36-year-old American factory test rider Mike Sleeter, although the Kiwi hero was relegated to second overall because of the count-back rule (Sleeter having the superior result in the final race).
While he's putting no pressure on himself to perform at Preston Docks this weekend, Coppins asserts he won't be there just to make up the numbers.
"I don't expect much (from the racing)," said Coppins.
"It's more of a training exercise to help get in shape for some upcoming events later in the year.
"If I can make good starts, I'd like to think I'd be capable of running top five, but I don't really have a clue as I don't know the track or the competition or my speed and fitness.
"And that's the reason why I'm doing the event … to see where I'm at."
Coppins and the Altherm JCR Yamaha Racing team is supported by Altherm Window Systems, Yamaha, JCR, CRC, Ados, GYTR, Yamalube, bLU cRU, Fox Racing, Hollands Collision Centre, Star Moving, Ward Demolition, Pirelli, Akrapovic, DID, NGK, Renthal, Motomuck, www.workshopgraphics.co.nz, Motoseat, SKF, Vertex Pistons, Rtech Plastics and Etnies.
© Words and all photos by Andy McGechan, www.BikesportNZ.com
Find BikesportNZ.com on FACEBOOK here