With eight years of Motocross of Nations experience under his wheels, not to mention five national MX1 crowns to his credit, including the title he won earlier this year, Honda's Cody Cooper was always going to be one of the favoured riders competing at Taupo on Saturday.
Bay of Plenty man Cooper had led his Cambridge Motorcycle Club team to victory at the annual Battle of the Clubs (BOTC) motocross at Taupo last year and the 33-year-old was back to line up again with his Honda CRF450 at this year's eighth annual edition of the fundraiser event.
Created for the first time in 2010 to act as a cash-builder to assist Team New Zealand each year in its bid for Motocross of Nations (MXoN) glory overseas, the BOTC has a format that mirrors what the Kiwis can expect when they line up at the 2017 MXoN in England in October.
The only real difference between the domestic BOTC and international MXoN is that riders were lined up along club lines, rather than nationality, and that each team comprised six riders rather than three, enabling junior riders to also be involved in the BOTC fundraiser.
Cooper was in scintillating form on Saturday. He qualified fastest in the MX1 class and then convincingly won both the combined MX1/Veterans and MX1/MX2 races, on each occasion registering the fastest lap time.
He was one of only two riders to finish the day with a clean sweep – the other dominant performance came from Manawatu Orion Motorcycle Club's junior 125cc rider Hayden Smith (KTM), who qualified fastest in his class and then won both the junior 125/85 and 250/125 combined races.
"I'm loving this bike," said Cooper afterwards.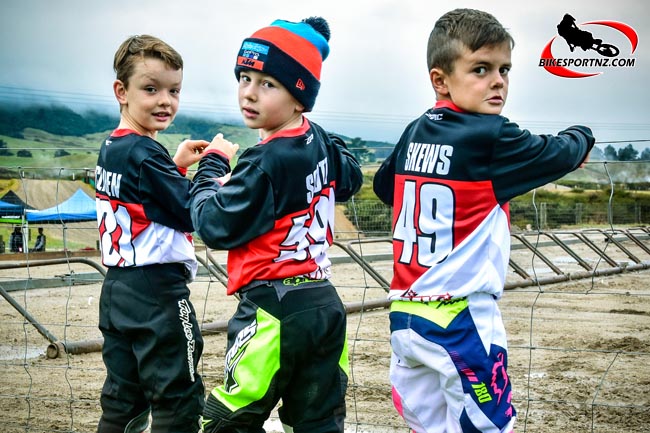 "The engine is great, we have a good clutch package and we're working now on getting the suspension dialled in. I'll continue testing things until August and we get the new 2018-model bikes in September."
Although the Kiwi MXoN team has not yet been finalised, Cooper is almost certain to be selected in the coming weeks, with some of the components on the bike he raced at Taupo to be taken with him to England.
"We will most likely get a Honda CRF450 supplied by Buildbase Honda in England (a team operated by former world champion Dave Thorpe, who is a long-time supporter of the Kiwi effort)."
A record 30 club teams were entered for Saturday's racing at Taupo, along with 25 Mini team in a separate but parallel mini BOTC contest at the same venue, and this raised more than $14,500 for the Kiwi MXoN campaign.
"It was massive to see the support being shown by the New Zealand clubs today," said Cooper.
"The MXoN is a huge event and a very important one and it's good to see this sort of encouragement being given."
When Cooper returns from England he will begin preparation to defend his national MX1 title and, if his plans come together, he will also travel again to the United States to race several rounds of the national series there in 2018, possibly even a full campaign.
"I raced two rounds in the US last month and it's great exposure for the brand and for my sponsors too."
© Words and photos by Andy McGechan, www.BikesportNZ.com
Find BikesportNZ.com on FACEBOOK here