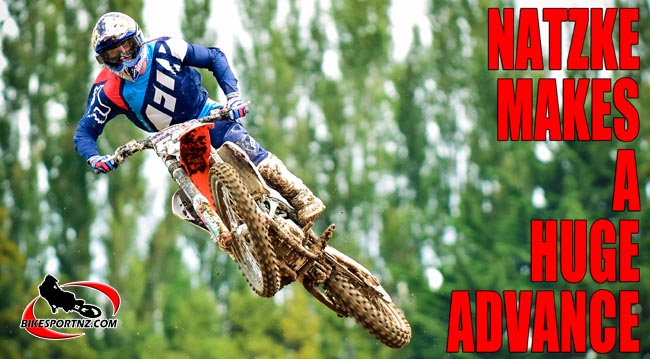 Waikato's Josiah Natzke is ready to set Europe ablaze.
The KTM rider from Hamilton – a two-time former New Zealand 125cc senior champion, in 2014 and 2015, and a junior national champion before that – has been racing the European Motocross Championships for the past three seasons with great success, but nothing could be quite as thrilling as the Grand Prix win he celebrated in Latvia at the weekend.
The 18-year-old took his KTM250F to set the 12th fastest time in Saturday's practice at the Latvia GP, the third round of nine in this season's European 250cc Motocross Championships (EMX250), and he then came out swinging the following day to finish first and second in the two championship points races.
He won the GP overall and the New Zealand national anthem played out as the young Kiwi accepted the trophy for his first big win in Europe since his debut season there in the European 125cc Motocross Championships (EMX125) in 2015.
With his win now in Latvia, Natzke has rocketed from nowhere in the EMX250 standings to 11th overall.
Riding for a KTM satellite support team, this season had been developing as a massive test of character and resolve for Natzke, the teenager scoring points in just one of his four races before the Latvia GP – thanks to a 16th placing in one race at round two in the Netherlands in April – but now his confidence has been given a massive boost and he sees no reason why he can't push on and claw his way into the top five overall.
"I wasn't comfortable at all with the bike at first and I couldn't hang on to it. But the last two or three weeks I got to do a day of testing here and there and I knew what I wanted, so it was easy to get comfortable.
"It's always been there. I knew how fast I was but, honestly, I just struggled to get the bike working how I wanted it to. Then, boom, as soon as I was happy with the bike, I got results. I'm on the up now.
"But the team has been good the past few weeks and has gotten more involved and that's helped me, because you can't do any of this by yourself. There needs to be some people giving tools and, for me, the missing piece of the puzzle was the bike and I got that piece there and I nailed it.
"The next round is at Ernee (in north-western France) in three weeks. I like the French tracks, so I'm looking forward to it. It's certainly given me some confidence, but it's just reassurance for me that I could do it.
"When I holeshot race one (in Latvia), I didn't really believe it. I was sick on the sighting lap and didn't want to race but my friend I had with me, Jordan, said just do the start and see what happens, then I holeshot and I'm like what!? I just rode a pretty easy race to be honest. I felt right back at home.
"I have no idea where I might finish in the championships now. I just want to win all the races and see where I end up, hopefully with a factory ride.
"I just need to win some more races and then see where it goes."
"I have no idea what I'm doing in the future yet. I'm just racing week by week. I want to race some MX2 races, but I'm not ready yet. I don't want to go into MX2 and suck straight away. I need to keep building off this win and keep building in EMX250."
You can read more from this interview with Natzke later in the week.
© Words and photos by Andy McGechan, www.BikesportNZ.com
Find BikesportNZ.com on FACEBOOK here