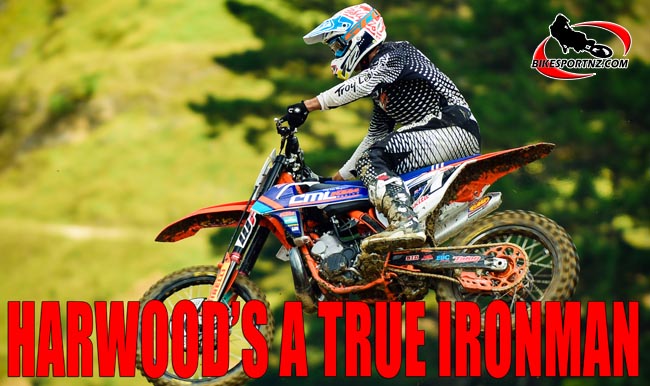 Just as he did back home in New Zealand, Kiwi Hamish Harwood has been putting in an inspiring ironman performance in the Australian motocross nationals.
He successfully defended his MX2 crown in New Zealand last month and also finished 13th overall in the MX1 class in the New Zealand Motocross Championships and this was despite him skipping five of the series' 12 MX1 races.
The Takaka-raised but Takapuna-based Harwood then immediately packed his bags for Australia.
He raced both the MX1 and MX2 classes at the Aussie series opener at Wonthaggi, in Victoria, just over a week ago, and he'll do the same at round two at Appin, in New South Wales, next weekend (Sunday April 23).
This plan of attack means the CML Motorex KTM Team rider will put in nearly two hours of racing at every round.
Mounted on the KTM 300 XC, Harwood finished outside the top spots in the premier MX1 class, but he still had enough energy to be among the leading riders in the MX2 class.
Harwood impressed by twice finishing fifth in the MX2 class at Wonthaggi and that placed him seventh overall after the opening round.
"It was a pretty consistent day (at Wonthaggi).
"In the MX1 class, I was kind of saving some energy but also struggling to pass riders, so I had a tough time, and, in the last one, I came together with another rider on the finish line jump and had a big cartwheel," Harwood explained.
"I hit my head pretty hard, but apart from that, all good. The two strokes are quite different bikes to each other, even though it's only 50cc.
"The 300 is an XC because KTM wanted to show that it's a good motocross bike as well as cross country bike. All we've done is put a 19-inch rear wheel on it. It has heaps of smooth torque, which is nice. I was expecting it to be a real weapon, but it's actually got smooth power, and lots of it.
"I got two sixth places in MX2 which wasn't too bad a start to the season. I let a few people by in the second MX2 moto, which I was pretty annoyed about."
© Photo by Andy McGechan, www.BikesportNZ.com
Find BikesportNZ.com on FACEBOOK here