A come-from-behind ride by Mount Maunganui Honda hero Cody Cooper was the talk of the day at Taupo on Saturday.
Cooper came on strong at the fourth and final round of the Mazda and DRD magazine-sponsored 2017 New Zealand Motocross Championships in Taupo on Saturday, overturning a one-point deficit and eventually winning again the premier MX1 title by a convincing, if somewhat flattering, 32 points.
The defending national MX1 champion lost his series lead for the first time at round three of the series near Palmerston North a fortnight ago – slipping from 13 points in front to one point behind Australian rival Dean Ferris (Yamaha) – but he was back to his best on Saturday, winning the day and re-taking the lead and the championship title with it.
It was his fifth consecutive national MX1 title win and his sixth in total, adding to the two MX2 (250cc) titles he won in previous seasons, and reinforced the 33-year-old's status again as the best motocross racer in New Zealand.
Ferris was forced to withdraw from the final MX1 class race of the day at Taupo because of a mysterious electrical problem and this gave a huge points advantage to Cooper.
But, by then the damage had already been done, with Cooper having won the first two races of the day to give himself a seven-point buffer even before the gate had dropped on that final race.
A third placing or better in the final race would have been enough to hand the title to Cooper anyway, and his victory in that race, while Ferris failed to finish, was merely icing on the cake for the Kiwi hero.
"I guess I offered Dean (Ferris) a chance to win the title when I gave up my 13-point advantage at (round three in) Palmerston North. But I won all three races today and that was that," said Cooper.
Third overall for the series was fellow Mount Maunganui rider Rhys Carter (Kawasaki), a surprising result since he had started the day at Taupo only fifth in the championship chase.
But Carter also showed his liking for the sandy Taupo circuit, finishing third overall on the day and rocketing past Australian professionals Todd Waters (Honda) and Luke Styke (KTM) to claim the final step on the series podium.
In the MX2 (250cc) title chase, it was just a matter of defending champion Hamish Harwood staying cool to keep the crown.
The Takaka-raised but Takapuna–based Harwood took his KTM bike to post a 2-1-1 score-card on Saturday, easily enough for him to keep Christchurch's Dylan Walsh (Yamaha) at bay.
Walsh finished 1-2-3 on Saturday and ended the series 16 points behind Harwood, with Waitakere's Ethan Martens (Yamaha) taking third overall, a massive 57 points further back.
The 125cc class was also virtually only a two-rider battle, with Taihape's Hayden Smith finishing behind his main rival on Saturday, Karaka's Kurtis Lilly, but that was still enough to win the title.
Mangakino's Maximus Purvis (Yamaha) won the day in the 125cc class at Taupo on Saturday, but this was his only appearance in the series, because of injury, and so he had no chance of winning the title.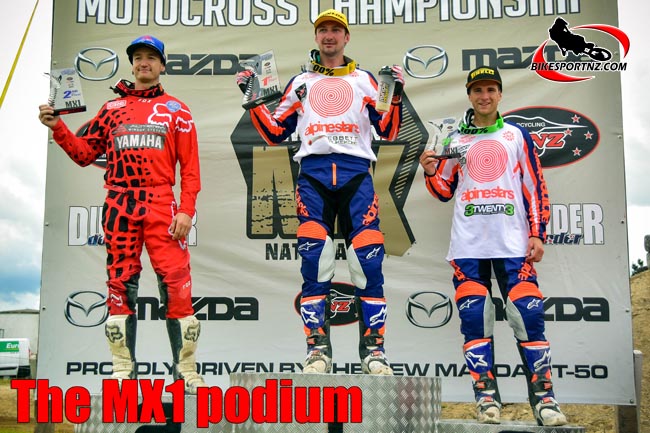 FINAL CHAMPIONSHIP STANDINGS:
Leading final overall standings after the fourth and final round of four in this season's New Zealand Motocross Championships at Taupo on Saturday:
MX1 class: 1. Cody Cooper (Mount Maunganui, Honda) 270 points; 2. Dean Ferris (Australia, Yamaha) 238; 3. Rhys Carter (Mount Maunganui, Kawasaki) 210; 4. Luke Styke (Australia, KTM) 209; 5. Todd Waters (Australia, Honda) 179.
MX2 class: 1. Hamish Harwood (Takapuna, KTM) 280 points; 2. Dylan Walsh (Christchurch, Yamaha) 264; 3. Ethan Martens (Waitakere, Yamaha) 207; 4. Hadleigh Knight (Reporoa, Husqvarna) 193; 5. Logan Blackburn (Te Puke, KTM) 177.
125cc class: 1. Hayden Smith (Taihape, KTM) 277 points; 2. Kurtis Lilly (Karaka, Husqvarna) 272; 3. Hayden Wilkinson (Nelson, Yamaha) 201; 4. Dan Bell (Levin, KTM) 181; 5. Jordan Milsom (Te Puke, Husqvarna) 146.
© Words and photos by Andy McGechan, www.BikesportNZ.com
Find BikesportNZ.com on FACEBOOK here
 Full story and more photos in your next issue of KIWI RIDER magazine.
Check back here on www.BikesportNZ.com during this week as we bring you more words and pictures from the weekend.