The outstanding performance by Bay of Plenty's Rhys Carter this season must surely be an inspiration to the amateur racers of the world.
Racing for the 3Twenty3 Kawasaki Racing Team, the 27-year-old Carter, who makes ends meet by working as a motocross coach during the week, was not at all daunted by lining up against full-time professionals from overseas who had arrived to contest this year's New Zealand Motocross Championships.
In fact, the Mount Maunganui man did his country and his race team proud by forcing his way onto the MX1 class podium at the fourth and final round of the series at Taupo on Saturday.
He was the first of the privateers, a stand-out individual among four full-time professionals who made up the top five and, what was perhaps even more remarkable was that he had been down in only fifth position overall at the start of the day's racing at Taupo.
Fellow Mount Maunganui man Cody Cooper won the championship outright, for the fifth time consecutively, with another professional, Australian MX1 champion Dean Ferris finishing runner-up. But Carter was next best, finishing the series ahead of two more full-time pro racers from Australia, Luke Styke and Todd Waters.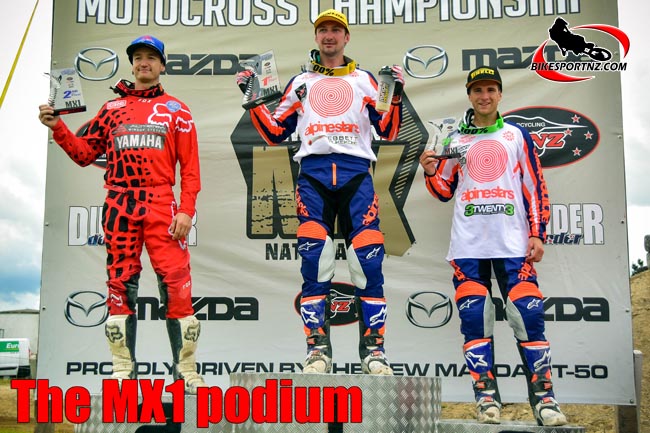 It probably should not have come as a surprise – and Carter himself did not think it would have been – certainly not after he'd won the day at the pre-nationals MXFest at the same Taupo track in October, on that occasion finishing ahead of Kiwi international and multi-time national champion Cooper.
And on Saturday Carter again demonstrated his liking for the sandy Taupo circuit, finishing third overall on the day and overtaking Australian full-timers Waters and Styke.
"The calibre of the top six or seven in this class has been world-class this season and to finish among them is fantastic," said an elated Carter afterwards.
"To finish on the podium twice during the series and wind up third overall is pretty good … although not actually what I wanted, to be honest, because I always want to win. I don't go racing to come second or third," he grinned.
"I rode poorly (at round two) at Rotorua and I made a few too many mistakes (at round three) at Himatangi and I came to Taupo thinking only that a top four was the best I could hope for.
"I'll be back next year to try to crack the No.1 spot. This sport is my passion. We'll just have to see what we can put together with sponsors for next season now, but my bargaining strength must have increased now eh?
"It's hard to make money from coaching during the week and I was up against guys who have huge budgets behind them, but I enjoy the challenge."
Carter finished 12th overall in the MX1 class last season after missing the first two rounds of the series because of injury.
His next assignment is to travel with friend and rival Cooper to the United States in May to tackle the first two rounds of the American nationals, at Hangtown and then Glen Helen, both these venues in California.
© Words and photos by Andy McGechan, www.BikesportNZ.com
Find BikesportNZ.com on FACEBOOK here