KIWI VERSUS AUSSIE BATTLE
The foundations have been laid for what is quickly building into another classic Kiwi versus Aussie battle at the top of this season's motocross nationals.
The four-round Mazda and DRD magazine-sponsored 2017 New Zealand Motocross Championships kicked off at Pleasant Point, on the outskirts of Timaru, just over a week ago and there has been little time for riders and fans to catch their breath, with round two set for Rotorua this Sunday (February 19).
Mount Maunganui's Cody Cooper (Honda) battled hard to keep Australian visitor Dean Ferris (Yamaha) at bay at Timaru and, after a brutal day of close racing, the pair were separated at the top of the premier MX1 class standings by just five points.
Not too far behind Cooper and Ferris (pictured below, left) was Mount Maunganui motocross coach Rhys Carter, the Kawasaki man finishing inside the top three is all three MX1 races at Timaru, to sensationally edge out Australian professionals Todd Waters (Honda), Jesse Dobson (Honda) and Luke Styke (KTM).
Cooper and Ferris also respectively finished first and second overall in the MX1 class last season, Ferris eventually missing out on the title by just two points, and that outcome could be traced back to the spectacular crash he suffered at the corresponding event at Rotorua last year.
Now well aware of the pitfalls on the hilly Rotorua circuit, it is unlikely that Ferris will make the same mistake this time around.
In the MX2 (250cc) class it was a similar case of the defending champion leading the way, although Takaka's national MX2 No.1 Hamish Harwood (KTM) was even more comprehensive in winning his class at Timaru.
With three wins from three starts, the South Island rider, who is now based in Takapuna, was emphatic in demonstrating that he wants to keep the MX2 crown.
Christchurch teenager Dylan Walsh (Yamaha) has just returned from two seasons of racing in the United States and he was expected to keep Harwood honest at Timaru.
He certainly did that but, with his finishing third in the first race at Timaru, behind Reporoa's Hadleigh Knight (Husqvarna), and then twice crossing the line as runner-up, he trails Harwood by 11 points at the start of this weekend.
Third best overall in this class is Knight, the 20-year-old just six points behind Walsh.
In a remarkable display of talent, strength and stamina, apprentice builder Harwood is also racing a 300cc KTM in the MX1 class and there he is currently positioned seventh overall, just six points behind fulltime professional racer Styke.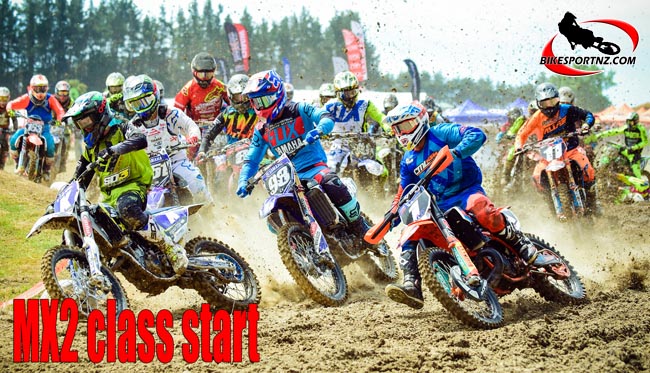 The 125cc class is developing into a two-rider fight, with Taihape's Hayden Smith (KTM) and Karaka's Kurtis Lilly (Husqvarna) scrapping over the race wins at Timaru.
This battle is the tightest of the series, with just three points to separate leader Smith from runner-up man Lilly, while Nelson's Hayden Wilkinson (Yamaha) is third overall, 14 points further back.
"It was really hard to pass on the track (at Timaru)," Smith explained as he hoped for better things at Rotorua on Sunday.
"There was really only one good line in most places at Timaru. You'd have had to go nuts to make passes in some places and it simply wasn't worth the risk."
With the extreme elevation changes at Rotorua, riders in all three championship classes will need to be at their best in mixing throttle control with aggression … it's a track that takes no prisoners.
When the engines are switched off late on Sunday afternoon, the series will have reached the halfway stage, so Rotorua's results could have a huge bearing on where the trophies end up this season.
The competition next heads to Palmerston North for round three on March 12, with the fourth and final round set for Taupo on March 25.
© Words and photos by Andy McGechan, www.BikesportNZ.com
Find BikesportNZ.com on FACEBOOK here