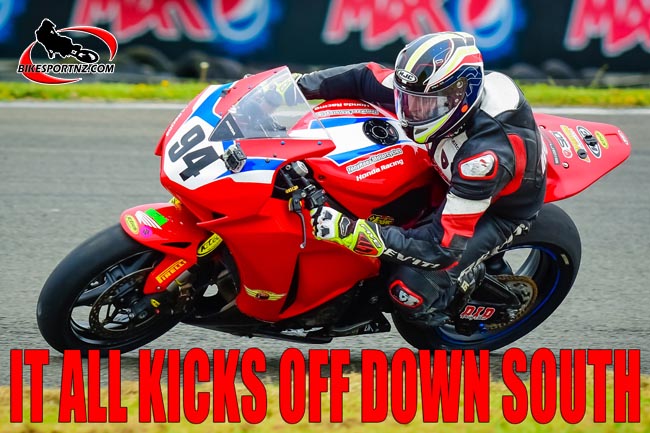 The 2017 New Zealand Superbike Championships kick off in Christchurch this coming weekend and so will begin the battle to find the nation's best motorcycle racers across half a dozen separate bike categories.
Most eyes will no doubt focus on the premier superbike class, where last season's national champion Sloan Frost is among those favoured to win.
But the Wellington man has already received a bloody nose this 2016-17 season when he was unable to retain his pre-nationals Suzuki Series crown, that three-round competition wrapping up on the public streets of Whanganui's famous Cemetery Circuit on Boxing Day.
Frost lost out in the Suzuki Series to perennial front-runner Tony Rees, while visiting Liechtenstein rider Horst Saiger took the runner-up honours. Frost was reluctantly forced to accept third spot overall.
Although it was a disappointing start to the season for Frost, it is the New Zealand Superbike Championships' series which perhaps matters most to these riders, that four-round affair set to kick off at Mike Pero Motorsport Park (formerly Ruapuna Raceway), on the outskirts of Christchurch, this Saturday and Sunday (January 7-8).
Recent history favours defending national superbike champion Frost.
Frost won three races from three starts at Ruapuna last season, with the gruelling 20-lap third leg at Ruapuna also recognised as the stand-out race to decide the New Zealand Grand Prix title, just as it will be this weekend too.
This important New Zealand Grand Prix event is sponsored by Mike Pero Real Estate and the 35-year-old Frost will naturally be hoping he can produce the same results this weekend as he achieved there last year.
However, Whakatane's Rees, Glen Eden's Daniel Mettam, Christchurch's Alastair Hoogenboezem, Waimauku's Ray Clee and superbike newcomer Mitch Rees (pictured above), the 23-year-old eldest son of Tony Rees, will also be expected to feature prominently in the glamour superbike class races at Ruapuna.
The 49-year-old Tony Rees impressed when he won both the superbike races and, for a remarkable seventh time, won the Robert Holden Memorial feature race at the annual Cemetery Circuit races on Boxing Day and if he can maintain that momentum, he will be hard to beat this weekend.
The supersport 600cc class should be another cracker this season, with the second son of Tony Rees – 21-year-old Damon Rees – the Suzuki Series winner in this class and therefore an obvious favourite to win the national 600cc crown.
Suzuki Series runner-up in the 600cc class, Wainuiomata's Shane Richardson, Orewa's 2015 and 2016 European Women's Cup champion Avalon Biddle, Christchurch pair Cam Hudson and James Hoogenboezem, Auckland's 22-year-old rising star Nathanael Diprose, Rangiora's Kiwi international Jake Lewis and visiting Australian Alex Phillis, the son of former World Superbike Championships legend Robbie Phillis, are among others to watch out for.
With racing scheduled also in the 1000cc superstock, superlite, junior and senior development, 250cc production, lightweight, 125 GP, Pro Twins, Bears (non-Japanese bikes) and sidecars categories, the four-round season opener should offer plenty of high-calibre entertainment.
Following racing at Ruapuna this weekend, the series heads to Teretonga for round two a week later, on January 14-15, round three follows at Taupo on February 25-26 and it all wraps up at Hampton Downs, near Meremere, on March 4-5.
A live streamed, high-definition show of the New Zealand Grand Prix, capturing all the exciting race action live, be available from 9am on Sunday, January 8, covering all the races from the meeting including the support Bears (non-Japanese bikes) and development classes. The sign-on fee is $12 with Direct link here: LIVE STREAMING
© Words and photo by Andy McGechan, www.BikesportNZ.com
Find BikesportNZ.com on FACEBOOK here