THE WORLD WILL BE WATCHING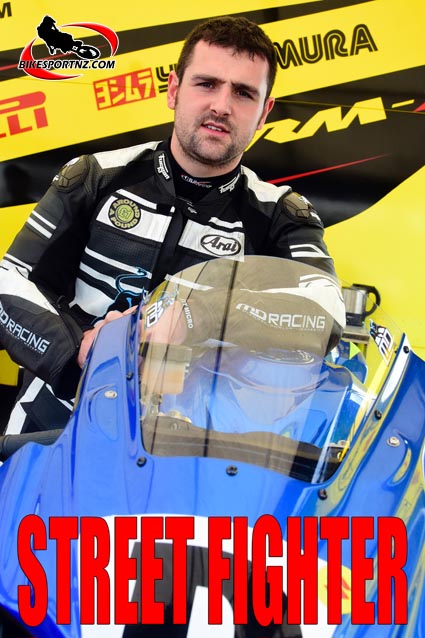 The popular annual Suzuki Series brings out the best of Kiwi motorcycling talent and this season has again attracted an impressive international following.
Social media postings indicate a huge number of people from overseas are tuning in to what is happening in this pre-nationals competition, a series first formed in 2008 and that now threatens to rival even the New Zealand Superbike Championships in terms of popularity.
And there is plenty of reason for the international interest, with 2016 Isle of Man champion Michael Dunlop; British 2016 world championship-winning sidecar rider John Holden; Liechtenstein rider Horst Saiger, who won the Suzuki Series on debut here in 2014 and finished third overall last season; and young British rising star James Flitcroft a few of the high-profile international riders who have made the journey to New Zealand this summer.
The 2016 edition of the series kicked into life at a sun-baked Bruce McLaren Motorsport Park near Taupo two weeks ago and marked the halfway point at Manfeild Circuit Chris Amon, on the outskirts of Feilding, on Sunday, with racing in all classes unforgiving, tense and incredibly brutal … just what the promoters had been hoping for and certainly what the fans seemed to appreciate.
Right from the start at Taupo, the premier Formula One/Superbike class, in particular, delivered high-octane excitement as four or five riders battled in close formation for the win, the rest of the chasing pack stretched out behind them.
It was the same cut-and-thrust action at Manfeild, with Wellington's defending series champion Sloan Frost, Whakatane's multi-time former national champion Tony Rees, Glen Eden's Daniel Mettam, Taupo's Scott Moir, Manukau's Toby Summers, Horst Saiger, New Plymouth's Hayden Fitzgerald and Waimauku's Ray Clee, along with many others, locked in thrilling high-speed battles for every centimetre of tarseal.
But is will not be until the engines are shut off at Whanganui late on Boxing Day that a series champion can be crowned or the winner of the cherished Robert Holden Memorial trophy will be revealed.
Dunlop is obviously a major attraction for the upcoming street racing on Whanganui's famous Cemetery Circuit, although he's quick to downplay his chances of winning on his debut there.
"I'm under no illusion as to how quick these riders in New Zealand are. There's horses for courses and I don't do a lot of short circuit races. I don't think I'm going to come here and easily beat people."
Dunlop was the first rider in the history of the Isle of Man TT to achieve a lap of the course in under 17 minutes.
He is a true superstar of the sport and has been described as the best street road-racer in the world, with a total of 22 TT podiums to his credit.
A 13-time winner around the Isle of Man, the 27-year-old Dunlop is the current solo-machine lap record holder for the mountain course around the Isle of Man, set during the 2016 Senior TT in June, circulating in a hot time of 16 minutes 53.929 seconds, at an average speed of 133.962 mph (215.591 km/h).
Widely regarded as one of the most tenacious competitors in motorcycle racing, Dunlop's aggressive style has endeared himself to fans over the years and his appearance at Whanganui will surely add numbers to his massive fan base.
"Hopefully I'm a fast learner," said Dunlop.
"From what I can gather there's only something like six or seven corners at Whanganui, with a 49 or 50-second lap time, so hopefully it won't take me too long to sort out where I'm going.
"I've been in the country only a short while now and I've already driven a couple of thousand kilometres. I've been fortunate to get this opportunity to come out here, so I want to see as much of New Zealand as I can while I'm here."
For 20-year-old Flitcroft, also on debut in New Zealand this summer, the trip is a massive learning experience.
It seemed quite natural that Flitcroft would one day become a superbike rider after spending much of his childhood living in Spain and travelling to superbike events with his father, a race team manager.
"I decided to come over to New Zealand for two months and see what developed.
"I'm here to learn as much as I can. The circuits are quite tight here and I'm always getting sideways on the bike, but I am enjoying it."
SUZUKI SERIES CHAMPIONS:
2008: Andrew Stroud (Suzuki)
2009: Andrew Stroud (Suzuki)
2010: Andrew Stroud (Suzuki)
2011: Andrew Stroud (Suzuki)
2012: Dennis Charlett (Suzuki)
2013: Nick Cole (Kawasaki)
2014: Horst Saiger (Kawasaki)
2015: Sloan Frost (Wellington, Suzuki)
© Words and photos by Andy McGechan, www.BikesportNZ.com
Find BikesportNZ.com on FACEBOOK here