There was no stopping Bay of Plenty's Tony Rees on Whanganui's famous Cemetery Circuit today.
Rees had started the Suzuki Series final round third in the standings, eight points behind the 2016 series leader and defending champion Sloan Frost and five behind visiting Liechtenstein rider Horst Saiger, but Whakatane's Rees was taking no prisoners at the traditional post-Christmas street fight on Boxing Day.
Rees qualified his Honda CBR1000RR fastest, and gained a valuable bonus point for the effort, then proceeded to bank maximum points by winning both Formula One/Superbike races later that afternoon, easily enough for him to surge past both Frost and Saiger in the standings and, for the first time, snatch the series win outright.
To add icing to the cake, Rees then also won the stand-alone Robert Holden Memorial feature race, shattering the track lap record in the process, making it three consecutive victories in this race and a career total of seven Robert Holden race wins.
"I got pole position and three race wins on my way to winning the series. You could say it was a good day at the office," said the 49-year-old Rees afterwards.
"Horst (Saiger) was right behind me in the Robert Holden race and I nearly threw it all away. But I got the job done in the end."
Rees won the F1 crown by nine points from Saiger, with Frost forced to settle for third overall, while Taupo's Scott Moir and Glen Eden's Daniel Mettam rounded out the top five.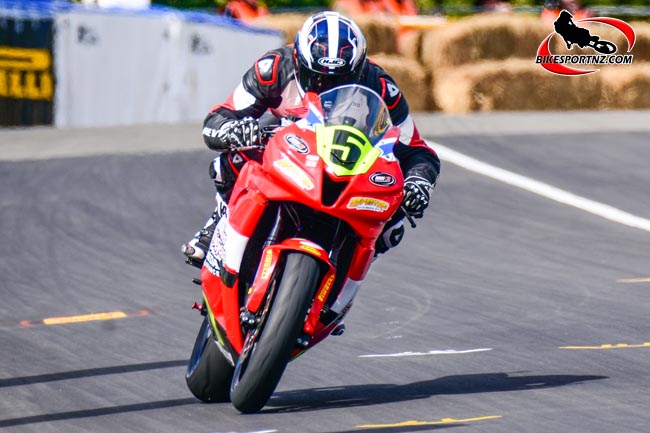 There were further celebrations too in the Tony Rees camp with his youngest son, 21-year-old Damon, doing enough at Whanganui to wrap up the Suzuki Series Formula Two/600 Supersport class title as well.
His closest F2 rival, Wainuiomata's Shane Richardson, narrowly won the day at Whanganui, but Rees twice finished third, behind Richardson and Lower Hutt's Jay Lawrence, and this was sufficient for Rees to take the F2 crown by four points from Richardson, with Wellington's Rogan Chandler claiming third overall.
"This is a first major title win for me," said an elated Damon Rees. "This is a massive confidence-booster for me ahead of the nationals."
Damon Rees didn't have an easy time of it at Whanganui after running off the track early in the second F2 race. But he fought back from last to clinch third place at the chequered flag, setting the fastest F2 time of the day in the process.
"I muttered a few swear words to myself when I made that mistake and just focussed on getting through the traffic as quickly as I could."
Other class winners for the series were Pukerua Bay's Glen Skachill (F3/sport bikes); Tauranga's Duncan Hart (super motard); Tauranga's Colin MacGregor (Bears, non-Japanese bikes, seniors); Bulls' Ashton Hughes (Bears, non-Japanese bikes, juniors); Pukerua Bay's Glen Skachill (Post Classic, Pre-89, senior); Auckland's Scott Findlay (Post Classic, Pre-89, junior); UK's John Holden and Tauranga's Robbie Shorter (sidecars).
© Words and photos by Andy McGechan, www.BikesportNZ.com
Find BikesportNZ.com on FACEBOOK here
Full story and more photos in your next issue of KIWI RIDER magazine.
Check back here on www.BikesportNZ.com during this week as we bring you more words and pictures from the series.