HEADING IN THE RIGHT DIRECTION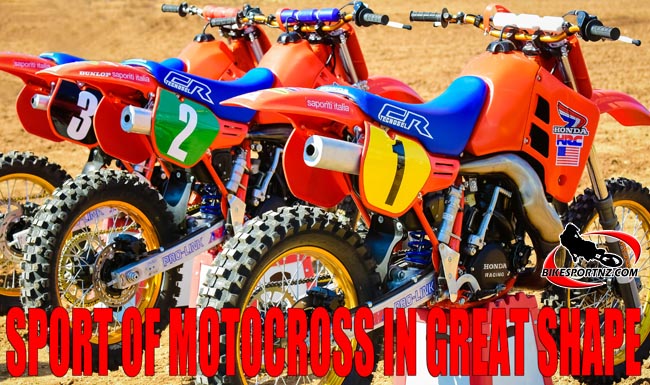 The 2016 European motocross season has been a good one for sure.
The MXGP and MX2 championships have been really exciting, and records have been broken. The Motocross of Nations held at Maggiora, in Italy,  was one of the best ever and the MXGP series visited America for two GPs, one being a big success and the other a lesson about where the GPs fit into the American market.
Giuseppe Luongo, the president of MXGP series organising and promotion company Youthstream, continues to help the sport grow at a manner we could never have imagined. A time when motocross circuits are closing and national championships throughout Europe struggle for crowd attendance, the MXGP series is thriving.
Journalist Geoff Meyer, from BikesportNZ.com media partner company MXlarge, was lucky enough to sit down with Luongo last weekend and ask him about the 2016 season and what he has for us next year. A bigger series, more countries and more importantly bigger growth in the sport we all love.
MXlarge: Giuseppe, I want to first ask you about that moment at the MXGP Awards when a long list of former World and AMA champions, and former GP winners thanked you for your involvement in their careers and helping the sport, and they also gave you a gift. How was that moment for you, because we all saw you got very emotional?
Luongo: It was a surprise and it was strange. Everybody kept it a secret, and I was sure how the awards should go. All of a sudden somebody started to call the riders, and I thought maybe the riders were doing something special for the Dream Team (David Bailey, Johnny O'Mara and Ricky Johnson – who Luongo had invited to Maggiora). I thought it was linked to that. I never saw so many great champions together. Sometimes at a race you see great riders in the paddock, but this was the history of our sport right there, all together. Still I didn't get the chance to count how many championships between all the riders. American supercross champions, World motocross champions. And then they called me and gave me a plate. It took me back to being a little child and going to the motocross, and supporting Michele Rinaldi and the other Italian riders. For someone like me, who came into the sport as a fan and now does it as a business, and to have been doing it a long time, I was really touched by it. You know on the business world, maybe an organizer can say thank you, or the media says thanks, because its business, but to see all the champions together, and they tell me thank you, apart from my family, which is something I am lucky to have every day, but from my work, this is probably the nicest thing to ever happen to me, and it has no price on that moment.
MXlarge: To me, with the Dream Team there at Maggiora, and the racing we saw, to me it was the best Motocross of Nations I have ever attended and I have been to like 25 of them. I am sure you have seen more, what did you think of it?
Luongo: I agree and I disagree. I agree, because it was full of emotion, bringing history together. It was a day remembering maybe the best MXoN ever (1986), also if I said to the dream team thanks for the best race ever in 1986, but that was no race, they won 1-2, 1-2, 1-2, so for the race, it was no race, but it was a dream. The fact we are putting the history together, that is unique, and the racing was fantastic, but the last MXoN is always the best. Last year was the same with Ernee (in France), but don't forget Franciarcorta (in Italy) in 2009, don't forget Matterley Basin (in England) in 2006, of Ernee in 2005, or Germany in 2013, or Lommel (in Belgium) in 2012. I would say emotionally yes, this year was special, but I cannot really say if it was the best, because that loses respect for other organisers and also the public. In Maggiora the public was massive, but it wasn't like Matterley Basin in 2006 or Franciarcorta in 2009, those two races really had big, big crowds.
MXlarge: Obviously we had the years of 2001, 2002, 2003 and 2004 that the MXoN lost some of its gloss. The year of Competition Park, and then going to Spain with Dorna. No team USA in some of those years. It's turned around hasn't it?
Luongo: Yes, but the problem wasn't Dorna, it came from lobbying from America. I think Dorna and FIM were victims of that (from Competition Park). When we took the Motocross of Nations back from Dorna, and the MXoN was at its lowest. Bullpuig (in Spain) made 4000 spectators, and also in Belgium it was maybe 10,000 spectators. Then we arrived to what it has brought it today. That is of course with the cooperation from FIM, the organisers, also the AMA, because there was a moment it was difficult with the AMA and the FIM and it was hot moment. So we had hard work in the relationship to restart the event like it was.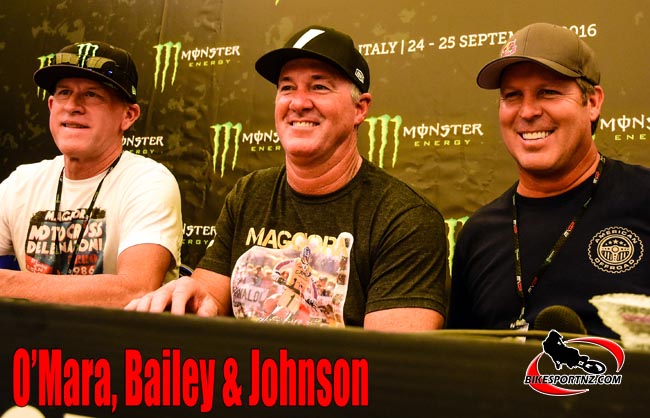 MXLarge: How important is it to believe in a product, like the MXoN in those bad times, or the new concept of the Monster Energy Supermotocross Riders Cup?
Luongo: It is like the Monster Energy Supermotocross. What is important is the value of the product, the concept and when this is good, and in time, you can go on. If we were scared to invest in the Motocross of Nations back in 2005, then maybe it wouldn't be the event like it is now. You have to believe in the product and now you can bring the MXoN nearly anywhere you want now, and maybe that happens with the SMX.
MXlarge: What makes the SMX concept a success in your eyes?
Luongo: I had the confirmation from Tim Gajser, Ryan Dungey and Romain Febvre on the Friday night, that it was a track where a supercross rider and a motocross rider can race on this track, they can enjoy it, and they can race closely together. This was the challenge, because nobody believed it would be different. Many European riders were practicing on supercross tracks during the week, but we wanted to create something different. Despite the public, for me, what comes is it will success as an event, the formula, the type of track and after we have something for the sport. The number of supporters is only on the bank account of Youthstream. Because of the live television, the worldwide television, the event has already been a success. For the manufactures it's a big success, so for the sponsors they are paid back from their investment. The principal of this race is to have it in Europe, but also in America.
MXlarge: The decision not to go to Glen Helen for the Motocross of Nations. In my opinion it's a great circuit, but maybe not so good for atmosphere and clearly the crowds have been down going there.
Luongo: Look, I want to say things to be very clear. (Glen Helen promoter) Bud Feldkamp is a gentleman and a very good friend of mine. I have to tell you two days ago we had dinner together in Salzburg, in Austria. We are friends, and he is a good businessman and Glen Helen is a passion for him. His business is in cleaning or something else. It was never a question of money. Every event we ran together, we were in partnership. Every race we held at Glen Helen, Youthstream lost more money than Glen Helen, because the condition was that he at least would cover his costs, and this is a fact. It was never a question of a fee, because to be honest he never paid a fee. It isn't that Luongo comes and asks for more money, but we see in the last years, in motocross in general in America, the crowds are down, in the USGP at Glen Helen the crowds were down. We did Charlotte and the spectators are very good and we know we have a market to improve there. After Maggiora, we don't need a Motocross of Nations without the massive public, also Glen Helen is a huge venue and if you have 15,000 people you lose them, the atmosphere will not be like in Europe. Nations isn't just about making money; it is also about the sport. We have in the MXGP series some rounds where there isn't as big a crowd as some others, but we always have a big audience, because we have millions watching on television. So our races, are the most viewed in the world. The important thing about the MXoN is the feeling and we need a massive crowd for this event and we didn't want to take the risk, and now is not the right moment for America. I also think some people wait for a change and then they have their chance to be negative, but I think this was a good choice, and we will come back to USA in 2019 and I think we will go to a track that is already one of the favourites in the Nationals. And looking on social media, we are not wrong, because there they also mention the tracks we are looking at. We have a list of two or three tracks that are already in our mind. On social media they say why not bring the race to Millville or RedBud, there is a lot of movement on that. What we want is to bring this race to the hearts of the American fans. We are talking with the AMA, we are talking with the people who run the sport in America and we are looking for a good opportunity for everybody to work together and have the MXoN like it was at Budds Creek in 2007. Sometimes you need to make one step backwards to go two steps forward.
MXlarge: And the calendar for 2017. Can you tell me more about this, because there are a lot of rumours?
Luongo: I know everything, but I won't tell you (laughing). Ok, the calendar is ready and I sent it to FIM and they need to publish it. It will be 20 GPs with five on a waiting list. So we hope to pick the best places. As you know Thailand is out and Indonesia takes its place. All the manufacturers love the idea of going to Indonesia, because it is the biggest growing sales of motorcycles, with a country of 250 million people, so it's important. We start with Qatar, Indonesia, Argentina, and Mexico, then we come to Europe. Sweden is back, San Marino is back, no England because of the MXoN. Russia comes in, and we have a long term agreement with Russia, and they want to go to Orlyonok (where this year's world Junior championship was run), then Moscow and St Petersburg. They want to cover all the bigger parts of Russia, so they want these three venues. We will have Charlotte the first weekend of September, then the MXoN in Matterley Basin on October 1.
MXLarge: It's a big calendar. The sport seems to have grown a lot in the last 15 or so years. What is your opinion?
Luongo: You know when we took over the sport in 2003 or 2004, there were 11 requests for a Grand Prix. So we started from there and we arrive on the limit, because we have an agreement that there cannot be more than 20 GPs and we also have a waiting list of five tracks. So the MXGP is in good health and despite what you might hear from some people, the GPs are run well, because if the GPs were losing money, then we wouldn't be in this situation. For us we always try and balance the events for the organisers. We had a situation in Germany, where the invested a lot of money into their facility for two or three years, because they were promised by local authorities that it would be paid for, but it was never paid for, so they came to see us, they thought maybe they needed to stop, but we found a solution for them financially for them to go on, because they are trustful partner. Look at many of our organisers, they are there for a long time, and that is because at the end of the day they always find a solution with us.
MXlarge: Charlotte was a great event, everyone really enjoyed it. Are they excited for next year?
Luongo: it was successful in all points of view, but obviously we had difficult because of the weather. Thankfully we were touched by that tropical storm, thank god it was only touched. I mean changing the program was disappointing, but there was so much rain there was no other possibility. There was a good spectator presence, but it can be a lot better. The area around Charlotte there was a lot of bad weather, so many people were scared that it wouldn't go ahead. Also there was a Nascar event just two and a half hours from Charlotte. We are thinking now to make the race on the Monday, which is a public holiday. Friday is a big university sporting day, and you know how much the Americans are into that. Sunday is the Nascar race, but the Monday is nothing. It was really a supermotocross track, and I like this term now, because it was more supercross than motocross. The riders enjoyed it and that is important, because when the riders enjoy it, the public enjoy it.
© Words by Geoff Meyer, www.mxlarge.com
© Photos by Andy McGechan, www.BikesportNZ.com
Find BikesportNZ.com on FACEBOOK here