FOUR HOURS PLUS OF TORTURE
Taupo's Brad Groombridge and his Suzuki have done it again.
The 26-year-old Taupo locksmith was unable to extend his outright win record at the Suzuki-sponsored Acerbis Four-Hour cross-country race last year, settling instead for fifth overall, although that was still good enough for him to take the ironman (solo rider) class win anyway.
But this time around he was unstoppable, impressively winning Saturday's 2016 edition of the endurance race outright and also adding another ironman class win to his trophy haul.
Groombridge is no stranger to riding this event solo – the gruelling marathon had been won outright by Groombridge in 2013 and 2014, on both those occasions competing as an ironman and also riding a 450cc four-stroke Suzuki.
He had created history when he won the race in 2013, becoming the first man to win it as an ironman, and he had also previously won the race outright in 2010, when part of a two-rider team, sharing the riding duties that day with Hawera's Daryl Hurley.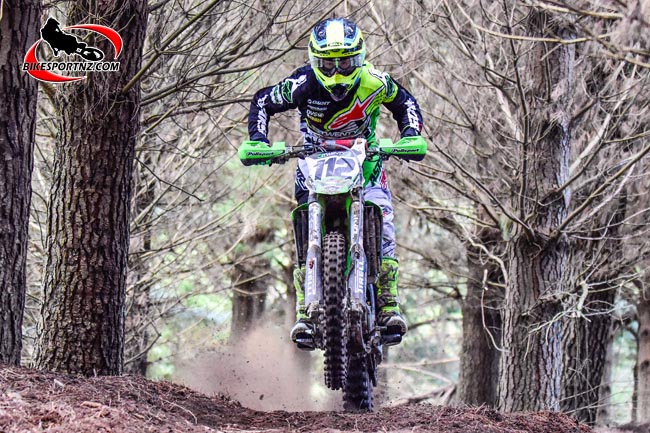 And so, as a many-time frontrunner and multi-time winner, he was heavily favoured to win outright again on Saturday.
However, when the shotgun blasted to signal the start at about 11am, Groombridge was late to get away, taking several kicks to fire his bike into life and so he was stuck in traffic among the 163-rider field.
Groombridge had his work cut out, but he had charged past more than 30 riders to be up to seventh position by the end of the first 38-minute lap, the race at that stage being led by the pairing of Reporoa's Hadleigh Knight (Husqvarna, the man who holeshot the race) and Tauranga's Aaron Wiltshier (KTM).
"It was pretty sketchy and, if I wasn't concentrating all the time, it could have gotten nasty for me. I got out of shape a couple of times, but managed to save it," Groombridge said.
Groombridge was in the lead by the end of lap two and never looked back after that, although he did have some very fast riders giving chase, with the two-rider teams of Knight and Wiltshier, Rhys Carter and Nick Saunders (both on Kawasaki), Liam Draper (Husqvarna) and Sam Greenslade (KTM), Peter Broxholme and Chris Power (both Honda)) all within strike distance at various times during the race.
In the end, Groombridge took the chequered flag by less than two minutes from the Carter/Saunders pairing, with Draper and Greenslade finishing third overall, nearly four minutes further back.
By tag-teaming one another for the four-hour duration, Carter and Saunders were able to hit the track each time in a relatively fresh state, although they were also handicapped by being required to visit the pits twice as often as Groombridge to complete their compulsory rider changeover.
All credit, though, to Groombridge, who actually had to race beyond the prescribed four hours because he arrived at the timing zone at the end of his sixth lap before the full four hours had elapsed and so was sent on an additional lap.
Groombridge, the Carter/Saunders pair and just five other teams were required to complete an additional lap for this reason and that final lap was a nail-biter with Carter quicker on the track than the tiring Groombridge.
Groombridge was the only ironman rider to complete seven laps and the only individual to ride for what became a total of four hours and 26 minutes – a herculean effort.
Unfortunately for several of the front-running teams, they each suffered one major set-back or another.
The Draper/Greenslade campaign was handicapped when Greenslade crashed and bent his bike's sub-frame at the start and then the tyre came off Draper's rear rim and they lost a lot of time rectifying the problems; the Knight/Wiltshier effort was stymied when Wiltshier crashed into a tree and withdrew from the race (forcing a DNF) and the Broxholme/Power bid came to a premature end when Power crashed and they were forced to DNF.
Meanwhile, in the Motomuck 90 junior race staged earlier in the day, national junior cross-country champion Logan Shaw (Honda) was an impressive winner.
Following a crash at the start, the 16-year-old from Raglan had a massive job ahead of him, but he caught and passed all the other 68 riders in the field and eventually won by just 90 seconds from Te Awamutu's Dan White (Kawasaki), with 2015 race winner Jackson Walker (Yamaha), from Nelson, third overall, Cambridge's Seton Head (KTM) coming home fourth and Whanganui's Oliver Dennison (Husqvarna) rounding out the top five overall.
Shaw's efforts were also herculean – immediately after winning the 90-minute junior race, he lined up to compete in the four-hour senior race, where (teamed up with Waikato rider Seton Head) he managed 116th overall.
© Words and photos by Andy McGechan, www.BikesportNZ.com
Find BikesportNZ.com on FACEBOOK here
Full story and more photos in your next issue of KIWI RIDER magazine.
Check back here on www.BikesportNZ.com during this week as we bring you more words and pictures from the weekend.