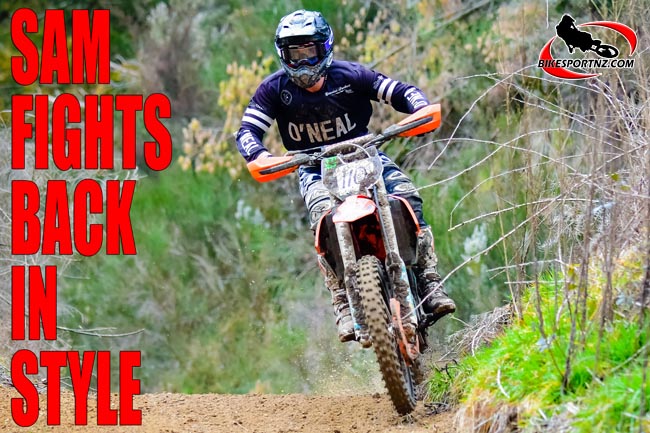 Auckland's Sam Greenslade is on the attack.
The KTM rider weathered the worst that nature could throw at him and also fended off assaults from nearest rival and close friend Callan May as he claimed a thrilling senior grade win at the second round of three in the popular Dirt Guide Cross-country Championships near Atiamuri on Sunday.
The 25-year-old financial advisor from Coatesville took his new KTM SX-F 250 to finish runner-up to Titirangi's May at the series opener near Tokoroa in June and then stepped up the pace to take victory at round two in damp forestry near Atiamuri on Sunday.
This means that these two riders now have identical points and the eventual trophy winner will be decided at the third and final round near Tokoroa on October 2.
Third overall on Sunday was former Kiwi international Paul Whibley, from Taikorea, with Howick's Liam Draper and Muriwai's Luke Mobberley rounding out the top five.
Thames rider Natasha Cairns was again the first women across the line, finishing in 30th place overall, as she again won the women's class and she leads that from fellow KTM riders Jan-Maree Pool (who was 50th overall on Sunday), of Otorohanga, and Janelle Walker (58th overall), of Tauranga.
"I managed to get a reasonable start and took over the race lead about halfway through lap one," said Greenslade afterwards.
"Then I lost my lead when I had to pit for fuel before starting lap four. Callan (May) had a quick-fill system and I didn't and so that cost me time," explained the former Dirt Guide Series winner.
"When a lapper got in Callan's way during the next lap, it was a chance for me to sweep past him, although he stayed very close to my rear wheel and we had a good battle going on.
"When the rain started to fall, it made the track very slick. The powdery corners became quite slippery and treacherous. I backed off the pace a bit to avoid crashing … a win by one second or a win by one minute makes no difference in the end and I just wanted to make sure I stayed upright and won."
Meanwhile, Te Awamutu pair Dan White and Rachael Archer finished first and second respectively in the 90-minute junior race held earlier in the day, with Cambridge's Beau Taylor claiming third place.
Cambridge's Zara Gray won the novice grade on Sunday, finishing ahead of Taharoa's Summer Muru and Tokoroa's Madison Clarke.
The top three finishers in the mini grade were Rotorua's Daniel Bates, Cambridge's Lewy Taylor and New Plymouth's Josh Houghton.
© Words and photo by Andy McGechan, www.BikesportNZ.com
Find BikesportNZ.com on FACEBOOK here