TWO-PRONGED AUSSIE ASSAULT
The Australians can expect a potent two-pronged attack when the FIM Oceania Road Race Championships kick off in Queensland next month.
Wellington's national superbike champion Sloan Frost and Christchurch-based fellow Kiwi international Ryan Hampton have been chosen to represent New Zealand in the two-round Oceania series.
The two rounds of the Oceania championships share the programme with the final two rounds of the Australian Superbike Championships (ASBK), to be held at Morgan Park, Queensland, on August 5-6 and at Winton, in Victoria, between September 30 and October 2.
Frost (pictured below) and Hampton (pictured above) will race Suzuki GSX-R1000 bikes at these two events.
Both Kiwis are familiar with the ASBK championships – Hampton finished third overall in the superbike class last season and Frost is 11th and Hampton 12th overall in the 2016 series after four of six rounds thus far.
"The Oceania series is a race-within-a-race inside two of the ASBK rounds. I crashed at the Phillip Island round of the Oceania last year and so that cost me a bit in terms of Oceania results," said the 27-year-old Hampton, sales manager at his family business, Hampton Motorcycles in Christchurch.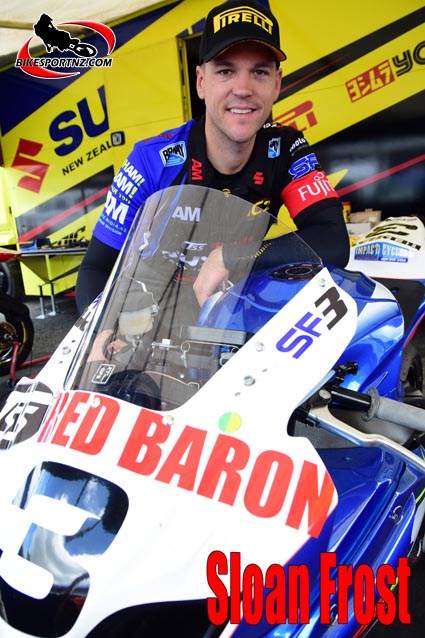 "It was the fastest I had ever gone at Phillip Island but I was carrying too much corner speed and the front end tucked under. I was leading (Australian No.2) Daniel Falzon at the time.
"We both know it's going to be tough at Morgan Park and Winton," said Hampton.
"Racing in Australia is at another level to what we encounter at home. Many of the riders over there are fulltime professionals, while Sloan and I try to fit in our practice time while holding down fulltime jobs."
The 34-year-old Frost, a refrigeration engineer, enjoyed an outstanding summer season in New Zealand in 2015-16, winning the high-profile three-round Suzuki Series that culminated with the Cemetery Circuit street races in Whanganui on Boxing Day and then going on to win his first national superbike championship title.
The two riders to represent Australia in the Oceania contest will be DesmoSport Ducati pilot Mike Jones and Jon Daniels Racing's Daniel Falzon.
© Words and Frost photo by Andy McGechan, www.BikesportNZ.com
Hampton photo courtesy Simon Phillips of SDP Photographics

Group photo (below) courtesy Andrew Gosling
Find BikesportNZ.com on FACEBOOK here