Dean Ferris has raced to a round six win by the narrowest of margins, edging out local favourite Matt Moss on a count-back at the sixth round of 10 in the Australian Motocross Championships at the Nowra, New South Wales, at the weekend.
The day kicked off in close to perfect conditions, the riders having their first hit-out since returning from the mid-season break, and Kiwi riders made the most of it with solid performances, Michael Menchi holding on to 10th overall in the MX1 class and Hamish Harwood moving up from 10th to ninth overall in the MX2 division.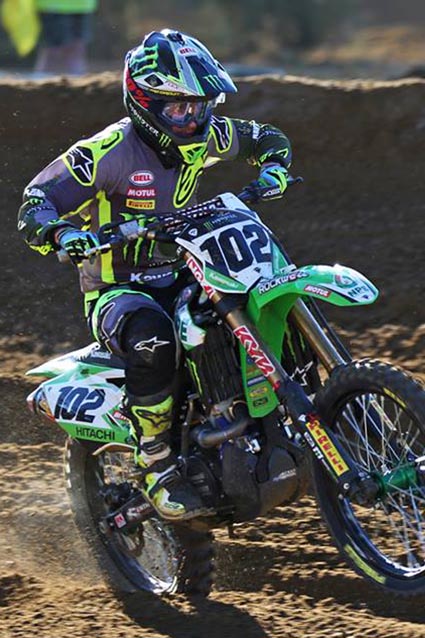 After the Thor MX1 qualifying session in the morning, it was an eventful GoPro Superpole which determined that CDR Yamaha's Ferris (pictured above) would take the first pick of the MX1 grid, while Crankt Protein Honda Racing Team's Dylan Long finished Superpole in second, ahead of National Pump Monster Energy Kawasaki Racing Team's Kade Mosig who qualified third fastest.
In what was a disappointing blow for series points leader Kirk Gibbs, the number one KTM rider was unable to finish the morning's qualifying session, forced to enter the pits assisted by Racesafe.
Despite problems in qualifying, Gibbs, not only lined up for race one, but secured the first holeshot before moving in to the early race lead.
Followed closely behind Gibbs was local Nowra rider Matt Moss (pictured left), who managed to capitalise on the home crowd support by applying the pressure on Gibbs for the lead – and by lap three it was Moss who had gained control of moto one.
With Moss out in front, Gibbs slid back to second place, followed by Ferris who maintained third. Mosig and Wilson Coolair Motul Factory Suzuki rider Todd Waters were locked in to their own battle for fourth position, just a bikes length back from the lead group.
With 10 minutes run, Moss had stretched out his lead to a commanding four seconds, leaving Gibbs, Ferris, Waters, and Mosig to battle for the remaining top spots behind him.
And battle they did. By the time riders reached lap nine, spectators were treated to a three-way battle for second position, with Ferris, Gibbs and Waters all exiting turn one bar to bar – but it was Ferris who made the pass stick, moving in to second place followed by Waters, while Gibbs went down however recovered to resume in fifth behind Mosig.
As moto one reached its final stages, there was little change to the race order – Moss continuing to look comfortable out in front, while Ferris and Waters occupied second and third positions respectively.
And when the chequered flag flew, Moss's dominating form saw him awarded with the moto one win, followed by Ferris and Mosig who wrapped up race one in second and third places respectively.
Gibbs concluded the first race of the day in fourth place, while Waters who had battled for a podium position throughout the moto, finished in fifth after what appeared to be bike issues on the last two laps. Crankt Protein Honda Racing Team's Jay Wilson finished in sixth, followed by DPH Motorsport's Jacob Wright and Long, who finished in eighth.
In moto two, Moss wasted no time in getting to the race lead, taking the second MX1 holeshot for the day – but when riders headed on to their second lap, it was Ferris who had taken control from Moss, followed by Gibbs in third position.
With vital championship points up for grabs, Moss was not prepared to go down without a fight – and with only one more lap in the books, Moss had snatched back the race lead, setting up the final moto as dash to the finish line.
After five laps, Moss began to stretch out his gap on Ferris, allowing the Kawasaki rider some much needed breathing space. And by the half way point in the race, there had been no change to the top three positions, Moss continuing to lead from Ferris, followed by Gibbs in third. Suzuki mounted Waters held down fourth position, followed by Long (Honda) who completed the top five standings.
As moto two for the Thor MX1 class reached its closing stages, riders had settled in to their respective positions – but it was the fairy tale ending that was being set up by Moss, which kept the crowd's eyes firmly fixed on the tough Nowra circuit.
But just when spectators thought their local star had the race all wrapped up, a small crash on the second last lap handed the lead to Ferris – Moss then forced to chase down the CDR Yamaha rider if he was to go undefeated.
Despite every effort from Moss, time simply ran out, and when the chequered flag flew for the final time, it was Ferris who took the final race win for the day by the narrowest of margins, while Moss was forced to settle for second position. Gibbs concluded the final moto of the day in third, followed by Waters and Long who completed the top five.
When points were tallied, despite Ferris and Moss finishing equal on 67 points, Ferris' win in the final race of the day saw him awarded with the round six overall win on a count-back, while National Pump Monster Energy Kawasaki's Moss wrapped up the day in second, and Gibbs concluded the round in third overall. Gibbs now holds on to the red plate by 15 points.
"It feels good to get the win here at Nowra," said Ferris.
"There's been six rounds and I've only won two of them, so it's a solid result," he said.
"It's my goal to win every weekend, but even halfway through that final race I thought I might have to settle for second, but Mossy (Matt) crashed and handed it to me so I'll take the win – I'm stoked.
"After Wanneroo I was a bit battered and bruised and it took a couple of weeks to get back to 100 per cent but I had a solid break and did a lot of training and riding so I'm back to where I was.
"The championship is always in the back of your mind but I just need to take it one race at a time, chip away at it, and make sure I'm strong and solid every moto from here on out."
MX2 CLASS
KTM Motocross Racing Team's Caleb Ward has gone undefeated and made up crucial points in the overall Motul MX2 championship standings at the weekend.
When all competitors had put down their fastest times, it was National Pump Monster Energy Kawasaki Racing Team's Jake Moss who secured first pick of the grid with a 1:45.391 lap time, while red plate holder Nathan Crawford (Husqvarna) and Serco Yamaha's Wilson Todd wrapped up qualifying with the second and third fastest times respectively.
When moto one got underway for the Motul MX2 class, Raceline Pirelli KTM rider Dylan Wills showcased his local knowledge of the track, taking the MXStore holeshot and moving in to the early race lead, in what looked like it could be a repeat of his 2015 performance at the venue.
From there, Wills looked comfortable out in front, while Thomas Ravenhorst slotted in behind Wills in second, followed by DPH Motorsport's Jed Beaton who navigated the first turn to hold down third position.
After only four laps though, Beaton and Caleb Ward (KTM) had gotten by Ravehorst and began their charge to the front. And within just a few turns, Wills' lead was under attack from both the Yamaha and KTM machines. So when riders came around on to the straight once again, Ward had gained control of moto one and was followed by Beaton, which relegated Wills to third.
Another rider who deservingly grabbed the attention of spectators, was red plate holder Crawford, who after suffering a tough start, made a number of passes to eventually make the move on Wills to snatch up third, which was then followed by a pass on Beaton, allowing Crawford to move in to second place.
And when the chequered flag flew, positions remained completely unchanged – Ward securing his first race win for the weekend, ahead of Crawford who took second, followed by Beaton who wrapped up moto one in third.
Fourth place was taken by Davey Motorsport's Jayden Rykers, while Wills who led race one for a handful of laps, completed the top five positions.
In moto two, it was a familiar sight as Wills launched off the gate once again to take his second hole shot for the day – but this time, both Ward and Beaton were hot on his tail from the get go.
Unfortunately, it only took a matter of two laps for Wills to have a fight on his hands that he didn't want – with Ward, Beaton and Todd all eyeing the KTM riders' rear wheel. But in what was a shock to spectators it was Todd who managed to edge his way past Beaton, Wills, and Ward to move in to the race lead aboard his Serco Yamaha machine.
From there, Wills was forced out of the equation all together, and by the half way point in moto two, Todd continued to lead from hard charging duo Ward and Beaton. A notable absentee from the lead pack was Crawford who once again suffered a poor start, forcing the red plate holder to claw away at positions in order to make up time.
As moto two reached its final stages, the fight for the lead was not yet over, and before long KTM mounted Ward made his way by Todd to take the top spot, while Beaton continued in third position, followed by Rykers in fourth.
With Ward out in front again, the talented rider was well and truly in the box seat to go undefeated at Nowra, so when he crossed the finish line for the final time, the northern Queenslander had plenty of reason to celebrate – Ward taking his second race win of the day from Todd, while Beaton wrapped up the final MX2 race in a consistent third position.
With wins in both motos, and a flawless scorecard, Ward was handed the overall win at Nowra, while Beaton concluded the round in second place, followed by Crawford who took third step on the Motul MX2 podium and retained the championship lead by nine points.
Photo courtesy MXN
Find BikesportNZ.com on FACEBOOK here
Results and standings:
Thor MX1 round six results
1) Dean Ferris – 67 points
2) Matt Moss – 67 points
3) Kirk Gibbs – 58 points
4) Kade Mosig – 55 points
5) Todd Waters – 54 points
6) Dylan Long – 49 points
7) Jacob Wright – 48 points
8) Corey James – 45 points
9) Craig Anderson – 43 points
10) Kurt Gow – 41 points
Thor MX1 Championship Standings
1) Kirk Gibbs – 409 points
2) Dean Ferris – 394 points
3) Todd Waters – 388 points
4) Matt Moss – 381 points
5) Kade Mosig – 323 points
6) Dylan Long – 309 points
7) Jay Wilson – 246 points
8) Jacob Wright – 241 points
9) Brett Metcalfe– 225 points
10) Michael Menchi – 223 points
Motul MX2 round six results
1) Caleb Ward – 70 points
2) Jed Beaton –  60 points
3) Nathan Crawford – 58 points
4) Jayden Rykers – 56 points
5) Wilson Todd – 54 points
6) Keiron Hall – 48 points
7) Joel Wightman – 48 points
8) Dylan Wills – 48 points
9) Aaron Tanti – 41 points
10) Hamish Harwood – 40 points
Motul MX2 Championship Standings
1) Nathan Crawford – 384 points
2) Caleb Ward – 375 points
3) Jed Beaton – 373 points
4) Jayden Rykers – 336 points
5) Wilson Todd – 324 points
6) Kyle Webster – 296 points
7) Dylan Wills – 287 points
8) Jake Moss – 278 points
9) Hamish Harwood – 266 points
10) Joel Wightman – 258 points