Te Awamutu's Daniel White may be only 14 years old, but he showed strength and maturity beyond his age when he romped to victory in the dirt bike marathon near Tokoroa on Sunday.
He led from start to finish to win the junior section of the racing on spectacular forestry land just south of Tokoroa on Sunday, the event there doubling up as round one of the Dirt Guide Cross-country Series and as round one of the parallel but separate NZXC Cross-country Series as well.
So dominant was the Wilks Penny Kawasaki-supported rider that he finished more than two minutes ahead of fellow Te Awamutu rider Rachael Archer (Husqvarna TE125, pictured below) in the 90-minute marathon, with Cambridge's Seton Head (KTM 250 EXC-F) completing the podium. Auckland's Nick Wightman (Husqvarna TE125), Huntly's William Eyre (KTM 125 EXC) and Cambridge's Beau Taylor (Husqvarna TE125) rounded out the top six juniors.
"On the first lap Rachael (Archer) was not too far behind me, but I didn't feel pressured and managed to get a lead of about 30 seconds on her by the end of the lap," said White.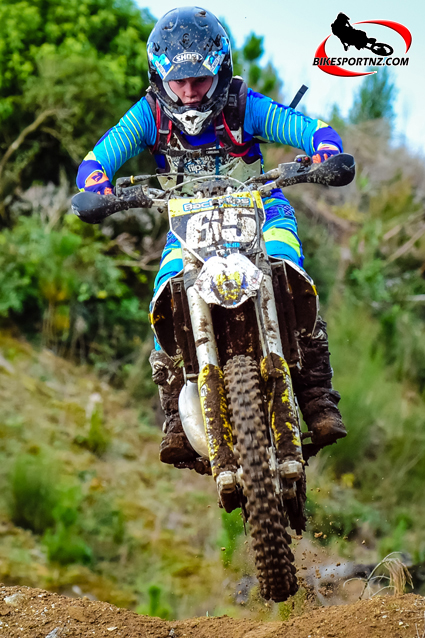 "I will be going senior next year, even though I don't have to until I'm 17, just so that I can get some tougher competition. Plus, it means I will be able to ride for longer because the senior races are two or three hours.
"A 90-minute race is too short," he laughed.
"I think I would be on the pace with the top seven or eight seniors anyway."
Meanwhile, winner of the two-hour senior race was Titirangi's Callan May (Yamaha YZ250FX), with Coatesville's Sam Greenslade taking his Kawasaki KX250F to finish runner-up.
The 25-year-old Greenslade said he had problems with the throttle housing on his bike working its way loose and this handicapped him for the opening two laps.
"The throttle was wriggling around a bit on the handlebars and I couldn't really twist it on full and this cost me a bit of time. But I came in to the pits to refuel and fix up the throttle after lap two and then just put my head down and went hard," he explained.
"Late in the race I was getting a migraine with riding through the trees, the light strobe effect in the trees giving me the headache, so I backed off. I didn't know where I was in terms of race position, so I was surprised I'd finished runner-up at the end."
Wellington's Jake Whitaker (Husaberg TE300) finished third overall, with Cambridge's Ashton Grey (Yamaha YZ250X), Morrinsville's Nathan Tesselaar (KTM350 XC-F) and Rotorua's Cameron Vaughan (Yamaha WRF250) rounding out the top six.
The two series shared the programme for the day, but both competitions now head off in different directions to complete their own separate calendars.
The next round of the NZXC series is set for July 31, sharing the day with the Woodhill Two-man Cross-country Series, while the next round of the Dirt Guide Series is set for Ohakuri, near Tokoroa, on August 7.
© Words and photos by Andy McGechan, www.BikesportNZ.com
Find BikesportNZ.com on FACEBOOK here
Full story and more photos in your next issue of KIWI RIDER magazine.
Check back here on www.BikesportNZ.com during this week as we bring you more words and pictures from the weekend.