He's one of New Zealand's brightest young motorcycling stars and now Wellington's Dylan Ball is heading to Spain to further enhance his burgeoning career.
The 11-year-old moto trials exponent received a phone call from Motorcycling New Zealand about two weeks ago to inform him that he was one of three finalists in the 2016 Best Up-and-Coming Off-Road Rider award category at the three-day conference and awards function in Wellington.
This award covers all of the off-road motorcycling codes and the award was eventually given to Otago international star Courtney Duncan, although it was still remarkable for Ball that he had even been nominated alongside such illustrious company. Ngatea motocross ace Benjamin Broad was the third nominee in this category.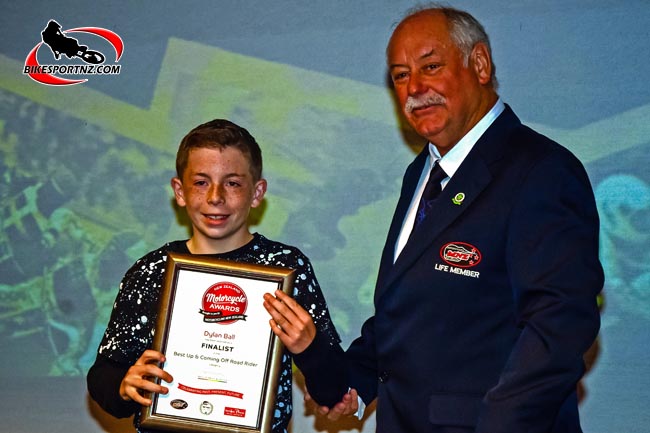 "We don't believe any trials rider has ever been a finalist in this category so were so proud of him," said Ball's father, Nick.
"Dylan was also the youngest competitor there as the other two finalist in his award category were 17 and 20.
Dylan Ball is currently New Zealand junior champion (for ages up to 16 years), New South Wales junior champion at round two and Australian Junior champion (aged 7 to 13).
"He trains really hard for his events and constantly comes away with a trophy.  We are taking him to Spain (this month) where he will be training with one of the world's top trainers, joanponstrialschool. Joan Pons trains the world elite riders such as Toni Bou, Laia Sanz, etc, so Dylan is really looking forward to this and is hoping some of the top riders will also be at the complex as well," said proud father Nick.
"There are a few local events on too so he will be going to them and should be able to ride these events. Dylan's only problem is that he is too young to ride the Europe or UK rounds, as children need to be 14 and at his age is (11) they can only ride a smaller bike 80cc which is a little frustrating. Dylan currently rides a 2016 beta 125.
"We are also taking him to the Beta factory in Florence where his bikes come from and we are taking him to two world championship rounds, one in Belgium and one in the UK.  He will be able to see the world's top riders riding and hopefully get some more pointers.
"We are so proud of Dylan and his achievements.
"We couldn't do it without the help of our sponsors and friend's like Dunlop NZ, Forma boots, Maxima Racing Oils, Kapiti Beta Rockhopper Racing and another big thanks to Carl Robson who helps us out a lot with training and so forth."
Tauranga's Stefan Merriman was world junior champion when he was 16 years old in 1989, and it is possible that Ball could equal or surpass that achievement if he can maintain his current momentum.
© Photos by Andy McGechan, www.BikesportNZ.com
Find BikesportNZ.com on FACEBOOK here