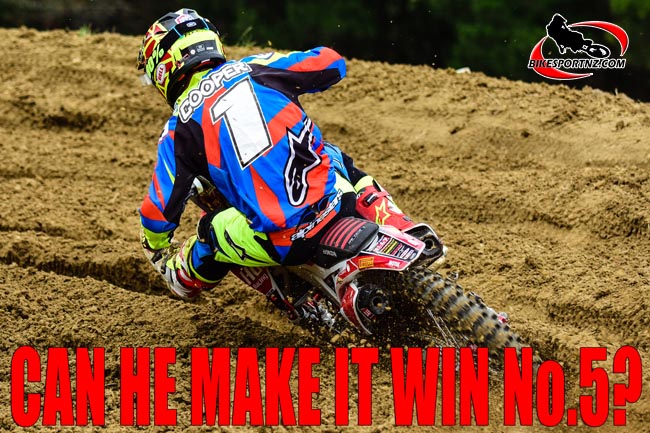 It is just days away until the 39th annual Honda Tarawera 100 cross-country marathon and there's no sign of the defending champion.
Bay of Plenty's Ben Townley took his Honda CRF450 to win the event last year, making it a stunning consecutive hat-trick of wins for him at the popular off-road motorcycle race.
But now Townley is back in Europe and racing Grand Prix motocross events, enjoying the sweltering heat of Italy last weekend while his homeland was under a chilly mid-winter rain cloud.
It won't be panic stations in the Honda camp, however, with national MX1 motocross champion Cody Cooper signalling that he'll return to the Tarawera 100 this Saturday and that he'll bring his championship-winning Honda CRF450 with him.
The venue for Saturday's race is the same as last season, on steep farmland at 78 Tahuna Road, Te Teko, just west of Whakatane, although the course that's been laid out this time will run in the opposite direction from last year, "just to keep things interesting and to keep the riders on their toes".
Opotiki native Cooper, who now calls Mount Maunganui his home, is also no stranger to winning cross-country races and his success rate at the Tarawera 100 in the past is almost second to none.
Cooper won the Tarawera 100 for the first time in 2007, then backed that up by winning it three more times, in consecutive years between 2010 and 2012, and now he's chasing win number five.
Only five riders who have won the Tarawera 100 three times or more since the event's inception in 1978.
In addition to Cooper and Townley, the other major winners have been Wayne Jennings (a record five-time outright Tarawera champion) and three-time former winners Nick Reader and Damien King.
Cooper is taking nothing for granted in his comeback to the Tarawera 100 this weekend.
He knows that last year's runner-up, Taupo rider Brad Groombridge (Suzuki), will be a serious threat, as will cross-country specialists such as Howick's Liam Draper (Husqvarna), Reporoa's Hadleigh Knight (Husqvarna), Coatesville's Sam Greenslade (Kawasaki), Morrinsville brothers Hayden and Nathan Tesselaar (KTM), Titirangi's Callan May, Whakatane's Mitch Rees (Honda) or Rotorua trio Andrew Charleston and Scott Birch (both Honda) and Scotty Canham (Husqvarna), among others.
A shotgun blast at about 10am will signal the start to this gruelling 140-kilometre race (the distance that gives the Tarawera 100, a 100-mile marathon, its name), expected to take the lead riders about three hours to complete.
"The soil at Te Teko is fairly free-draining and we've taken out the steep downhill that troubled so many riders last year, so it should be a great day's racing," said spokesman for the organisers Tony Rees.
"We also have again included the popular two-rider/two-bike and two-rider/one-bike categories this year and all the riders will be sent away in one massed wave of bikes, not in separate waves," he said.
"It's the event's 40th anniversary next year and that's something to look forward to as well."
© Words and photo by Andy McGechan, www.BikesportNZ.com
Find BikesportNZ.com on Facebook HERE