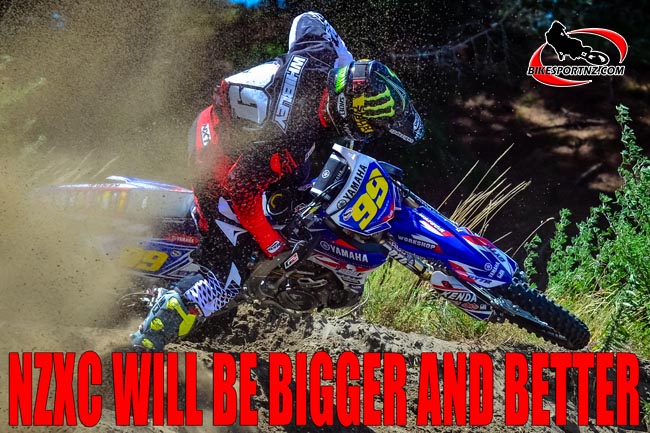 The brainchild of former international off-road motorcycle racer Paul Whibley, a bigger and better NZXC Series begins its second season in just a few weeks' time.
The one-time Manawatu forestry worker, affectionately dubbed "The Axeman" on the motorcycling scene, raced the world Enduro Championships in Europe before moving to the United States, where he twice won of the Grand National Cross-country Championships (GNCC), in 2009 and 2012, and also became and a record six-time winner of the parallel Off-Road Motorcycle and ATV (OMA) series in a sparkling international career that spanned 12 years.
Although he retired from the international scene and resettled back home at Taikorea, in the Manawatu, at the end of the 2014 GNCC season, Whibley was far from ready to hang up his helmet.
The Yamaha star's first step back into the Kiwi scene earned him the New Zealand Cross-country Championships crown last season.
But the 37-year-old Whibley wanted more and so he hatched a plan to establish his own off-road competition, incorporating many of the pre-existing events on the off-road calendar.
He makes no apologies for "cherry-picking" the best races from several other competitions and last year's inaugural NZXC series was a huge success, so much so that this season's second edition of the NZXC series sees it expanded from five to six rounds.
Whibley said he formed the series because he wanted to create a high quality competition that might assist in preparing young Kiwi riders who wished to follow in his wheel track overseas.
The 2016 NZXC series kicks off at Tar Hill, just south of Tokoroa, on June 19, the event of double significance because it will also be the opening round of the parallel Dirt Guide Cross-country Series, with riders that day earning points towards both competitions.
It was a huge talking point when Whibley actually won his own inaugural competition "by accident" last season.
"The series is not for my benefit … it's for others," he said, embarrassed at collecting his own trophy.
"I did what I could to make sure I didn't win last year. I sat out of two of the five rounds and rode a Yamaha YZ125 in one round too, thinking the smaller bike would handicap me … but I won the race that day too," he shrugged.
"I still wanted to ride a few races, just for the fun factor, but I didn't race the final round, thinking that one of the two riders who were closest behind me in the points, Adrian Smith and Adam Reeves, would easily do enough to take out the series overall."
But Palmerston North's Reeves (Yamaha), a three-time former national cross-country champion, was a no-show at the final round and Mokau's four-time former national cross-country champion Smith (Yamaha) failed to finish the race.
That meant that Whibley had earned more points in three rounds than many of the other riders had in five, and so the trophy went to the man who was actually providing it.
"I didn't want people to think I'd just made up a series for me to win. That was never my intention. It's for other riders to enjoy and gain recognition from," said Whibley.
Whibley will also race again in the series he created and, once again, he claims his aim is not to win it for himself, although it's not hard to imagine he will be among the favourites anyway.
Only the best five out of six rounds in the NZXC series are counted, with contestants discarding their one worst score.
Whibley is supported by Yamaha Motor New Zealand, Sidi, Smith, G2, Asterisk, MotoSR, Vortex Ignitions, EC3D, Bush Riders MCC, Darbi Accessories, GHQ, Freedom Moto, Rosscos Start Up Services, Works Connection, Pro Taper, Race Pace Services, Unabiker, Leatt Brace, Tire Balls, BikesportNZ.com, CarbSport, KettleClamp, Alliance Offroad, Ride Eng MotoSeat, FMF, Kenda, Yamalube, CV4, GYTR, IMS, MSR, Rekluse, Ride Eng, Workshop Graphics.
2016 NZXC CALENDAR:
Rnd 1, June 19 (Dirt Guide Series) Tar Hill, Tokoroa
Rnd 2, July 31 (2-Man Series) Woodhill, Auckland.
Rnd 3, Aug 21 (Taikorea 500) Taikorea Motorcycle Park, Palmerston North
Rnd 4, Oct 8 (GNCC), Burt's Farm, Matata
Rnd 5, Nov 13 (Dead Toad), Riverhead, Auckland
Rnd 6, Dec 4 (Central Cross Country Series), Castlehill, Pahiatua
© Words and photo by Andy McGechan, www.BikesportNZ.com
Find BikesportNZ.com on FACEBOOK here