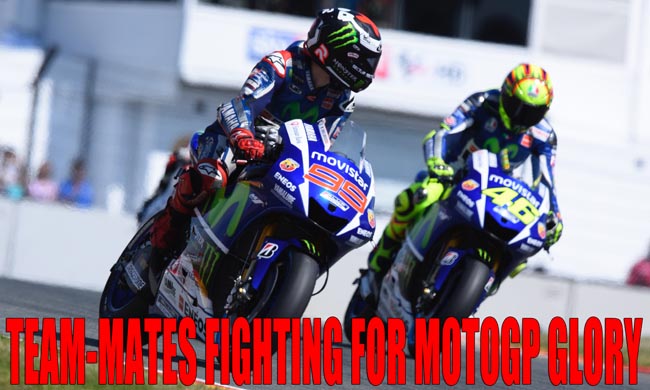 There was no stopping pole winner and defending MotoGP world champion Jorge Lorenzo as he led a Yamaha 1-2 at round five of 18 in France overnight.
The Spanish rider was at his best as he conquered the Le Mans circuit in an accident-marred race in France to take over at the top of the championship table from fellow Spaniard and former world champion Marc Marquez.
Italy's Valentino Rossi put a troubled practice and qualifying behind him to make it a Movistar Yamaha one-two in a lone second place, while Maverick Vinales put the Suzuki onto the podium in a brilliant third for his first rostrum finish in the premier class.
Championship leader Marquez (Honda) and Ducati's Andrea Dovizioso incredibly crashed out in tandem entering turn seven with 13 laps to go as they disputed third place behind Lorenzo and Rossi.
Marquez remounted and returned to the track with half of the fairing of his Repsol Honda missing, eventually finishing 13th.
It was another miserable day for Ducati, with Andrea Iannone denting his prospects of gaining a new contract with the Italian team after sliding out of second place as he gave chase to race leader Lorenzo.
The carnage also claimed British riders Cal Crutchlow on the LCR Honda, who came off at turn 11 on lap seven as he circulated in tenth, while Bradley Smith went down on the Monster Yamaha Tech 3 M1, also falling victim to the infamous turn seven at Museum corner as he held seventh place on the satellite machine.
Lorenzo, who clinched his first ever pole start in the premier class at Le Mans, rocketed into the lead from Dovizioso and Iannone, with Marquez in fourth.
Rossi, who qualified seventh, jostled for position with the Monster Tech 3 Yamaha pair of Pol Espargaro and Bradley Smith on the opening lap, with Aleix Espargaro on the Suzuki also in on the action in the early stages.
Rossi put a move on Pol Espargaro for fifth on lap two as Lorenzo attempted to break away from the Ducatis of Dovizioso and Iannone.
Espargaro lost two places after getting out of shape on the brakes on lap four, with Suzuki pair Aleix Espargaro and Vinales taking advantage to move into fifth and sixth respectively.
Lorenzo was gradually stretching his advantage on the factory M1 over Dovizioso and Iannone, although Rossi was finding some pace and had Marquez in his sights as he set about bridging the gap to fourth.
Italian rider Iannone was pressurising team-mate Dovizioso for second place and made a clean move at the start of the sixth lap as the top three broke clear of Marquez and Rossi.
With some clear track ahead of him, Iannone began to chase after Lorenzo, whose lead was up to one second, but disaster struck for the 'Maniac' on lap seven when he went own at turn eight, leaving Dovizioso clear in second. Iannone rejoined the race but was later forced into the pits.
Crutchlow also came off on the same lap at turn 11 while Scott Redding was a retirement on the Pramac Ducati.
Lorenzo was now settling into his rhythm and had established a cushion of 2.2 seconds over Dovizioso, with Marquez maintaining his advantage over Rossi, who was clear of Vinales and Aleix Espargaro.
Rossi, though, began to up the ante and quickly closed on Marquez before snatching third with a clinical pass 16 laps from the finish.
Two laps later, the Yamaha rider moved into second after passing Dovizioso at Museum to a huge cheer from the crowd at Le Mans.
To stunned gasps around the French circuit, Dovizioso and Marquez went down in unison in almost identical fashion at turn seven, 13 laps from the finish. Marquez managed to get going again and completed the race in 13th place to salvage a few points after losing his title lead to Lorenzo.
Ducati-bound Lorenzo was in total control at the front with a lead of six seconds over Rossi, who was safe in second place from Vinales, with the young prospect a further five seconds in arrears.
Pedrosa, down in 11th place on lap one, was now into fourth on the Repsol Honda but had left himself with too much work to do to catch Vinales.
Lorenzo remained ice cool amidst the mayhem and closed out a dominant win to move to the top of the points standings with his second win of 2016, five points ahead of Marquez.
Runner-up Rossi is seven points behind Marquez in third with little between the top three in the championship after the first five rounds.
Vinales was thrilled with his superb third place as he came home ahead of Pedrosa, while Pol Espargaro and Aleix Espargaro completed the top six.
Danilo Petrucci (Pramac Ducati) got the better of Hector Barbera on the Avintia Ducati for seventh, with Aprilia duo Alvaro Bautista and Stefan Bradl the top ten.
Ireland's Eugene Laverty (Aspar Ducati) came home head of Loris Baz (Avintia Ducati) in 11th, while Marquez was the last of the finishers in 13th.
Results from Le Mans, the French MotoGP
Jorge Lorenzo ESP Movistar Yamaha MotoGP (YZR-M1) 43m 51.290s
Valentino Rossi ITA Movistar Yamaha MotoGP (YZR-M1) 44m 1.944s
Maverick Viñales ESP Team Suzuki Ecstar (GSX-RR) 44m 5.467s
Dani Pedrosa ESP Repsol Honda Team (RC213V) 44m 10.009s
Pol Espargaro ESP Monster Yamaha Tech 3 (YZR-M1) 44m 16.221s
Aleix Espargaro ESP Team Suzuki Ecstar (GSX-RR) 44m 24.211s
Danilo Petrucci ITA Octo Pramac Yakhnich (Desmosedici GP15) 44m 29.541s
Hector Barbera ESP Avintia Racing (Desmosedici GP14.2) 44m 29.794s
Alvaro Bautista ESP Factory Aprilia Gresini (RS-GP) 44m 39.826s
Stefan Bradl GER Factory Aprilia Gresini (RS-GP) 44m 45.792s
Eugene Laverty IRL Aspar MotoGP Team (Desmosedici GP14.2) 44m 53.967s
Loris Baz FRA Avintia Racing (Desmosedici GP14.2) 44m 58.948s
Marc Marquez ESP Repsol Honda Team (RC213V) +1 lap
Bradley Smith     GBR Monster Yamaha Tech 3 (YZR-M1) DNF
Jack Miller  AUS Estrella Galicia 0,0 Marc VDS (RC213V) DNF
Andrea Dovizioso ITA Ducati Team (Desmosedici GP) DNF
Andrea Iannone   ITA Ducati Team (Desmosedici GP) DNF
Tito Rabat  ESP Estrella Galicia 0,0 Marc VDS (RC213V)* DNF
Cal Crutchlow      GBR LCR Honda (RC213V) DNF
Yonny Hernandez COL Aspar MotoGP Team (Desmosedici GP14.2) DNF
Scott Redding      GBR Octo Pramac Yakhnich (Desmosedici GP15) DNF
Riders' World Championship Standings after round 5 of 18:       
Jorge Lorenzo SPA Movistar Yamaha MotoGP (YZR-M1) 90 points
Marc Marquez SPA Repsol Honda Team (RC213V) 85 points (-5)
Valentino Rossi ITA Movistar Yamaha MotoGP (YZR-M1) 78 points (-12)
Dani Pedrosa SPA Repsol Honda Team (RC213V) 53 points (-37)
Maverick Viñales SPA Team Suzuki Ecstar (GSX-RR) 49 points (-41)
Pol Espargaro SPA Monster Yamaha Tech 3 (YZR-M1) 47 points (-43)
Aleix Espargaro SPA Team Suzuki Ecstar (GSX-RR) 42 points (-48)
Hector Barbera SPA Avintia Racing (Desmosedici GP14.2) 39 points (-51)
Eugene Laverty IRL Aspar MotoGP Team (Desmosedici GP14.2) 33 points (-57)
Andrea Iannone ITA Ducati Team (Desmosedici GP) 25 points (-65)
Andrea Dovizioso ITA Ducati Team (Desmosedici GP) 23 points (-67)
Stefan Bradl GER Factory Aprilia Gresini (RS-GP) 23 points (-67)
Alvaro Bautista SPA Factory Aprilia Gresini (RS-GP) 21 points (-69)
Bradley Smith GBR Monster Yamaha Tech 3 (YZR-M1) 20 points (-70)
Scott Redding GBR Octo Pramac Yakhnich (Desmosedici GP15) 16 points (-74)
Michele Pirro ITA Octo Pramac Yakhnich (Desmosedici GP15) 12 points (-78)
Tito Rabat SPA Estrella Galicia 0,0 Marc VDS (RC213V)* 11 points (-79)
Danilo Petrucci ITA Octo Pramac Yakhnich (Desmosedici GP15) 9 points (-81)
Loris Baz FRA Avintia Racing (Desmosedici GP14.2) 8 points (-82)
Cal Crutchlow GBR LCR Honda (RC213V) 5 points (-85)
Yonny Hernandez COL Aspar MotoGP Team (Desmosedici GP14.2) 3 points (-87)
Jack Miller AUS Estrella Galicia 0,0 Marc VDS (RC213V) 0 points (-90)