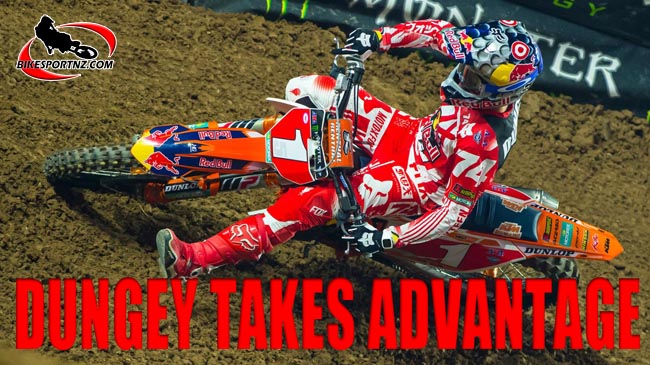 Southern California hosted round two of the United States Motocross Championships on Saturday afternoon, the steep Glen Helen circuit the venue that would sort the men from the boys.
Defending 450 class champion Ryan Dungey had a little bit of luck go his way as he captured his first 450cc class overall victory of the season and it was a historic afternoon in the 250 class, with Yamaha's Alex Martin breaking through for the first overall win of his career, edging out his brother and defending champion Jeremy Martin for the first ever 1-2 finish for siblings in series history.
Honda Trey Canard kicked off the opening 450 class moto with the holeshot, just ahead of Dungey. However, that lead was short lived as a hard-charging Dungey made an outside pass on Canard to assume control of the moto. Several riders engaged in an early battle for third, with points leader and German Suzuki rider Ken Roczen emerging with the position. A mistake by Canard on lap two put him on the ground and dropped him outside the top 10, allowing Roczen to take over second and French KTM rider Marvin Musquin to move into third.
Roczen hounded Dungey for several laps but a missed rhythm in the track's first section of jumps allowed Dungey to extend his lead to multiple seconds. It appeared as though the gap between the lead duo would stabilize but Roczen started logging his fastest laps of the moto to close back in on Dungey and move into the lead on lap eight.
As soon as he put his Suzuki in first, Roczen pulled away to a double-digit margin. Roczen was well on his way to victory until he suddenly slowed, unable to jump many of the track's obstacles as his front suspension failed. The German rider's misfortune was Dungey's gain as the defending champion moved back into the lead with two laps remaining.
While Dungey pulled away Roczen was left with no option but to solider his bike home to the finish. He lost second place to a hard-charging Jason Anderson (Husqvarna), who battled his way back from a ninth-place start, and fell off the podium on the final lap when Kawasaki's Eli Tomac, who started in seventh, passed him for third. Dungey went on to unexpectedly take his firs moto win of the season, with Anderson second, Tomac third and Roczen fourth. Honda's Cole Seely was fifth.
Following the moto Roczen's team confirmed he experienced a suspension issue, due to the failure of a fixture on the bike's front forks.
Determined to bounce back from his first moto misfortune, Roczen put his Suzuki at the front of the field to start moto two, edging out Dungey for the holeshot. The top two sprinted out to an early lead over the field, while Anderson and Tomac were forced to battle their way back from eighth and 14th-place starts, respectively. French Husqvarna rider Christophe Pourcel fought his way into third, followed by Yamaha's Justin Barcia in fourth and Canard in fifth.
Canard continued his early push to the front and passed Pourcel for third on lap two, while Anderson was also surging to the front in fifth. Anderson passed his teammate to take over fourth on lap three and set his sights on Canard in third. Out front, Roczen duplicated his efforts from the first moto and opened a multiple-second lead over Dungey, who would clinch the overall with a runner-up finish.
As the leaders continued to pull away from the field Anderson's climb to the podium was complete after he passed Canard for third on lap five, but a near crash forced him to give the spot back. That miscue caused Anderson to fall into the clutches of Tomac, who fought all the way back into the top five and passed Anderson for fourth on lap six. Tomac didn't stop there and his determined effort carried him to the rear fender of Canard in third, eventually making the pass on lap eight. Roczen went on and cruised to his third moto win of the season by a double-digit margin over Dungey, while Tomac followed in third.
Dungey's 1-2 effort landed him atop the overall results for the 39th win of his career, with Roczen firmly in second (4-1). Tomac's impressive come-from-behind ride in the second moto landed him third overall (3-3).
Roczen maintained his lead in the 450 class standings, but had his lead trimmed from six to two points over Dungey. Tomac maintained his hold of third, 17 points out of the lead.
250cc CLASS
The first 250 Class moto of the day saw Honda's Tristan Charboneau secure the holeshot ahead of the Yamaha trio of Alex Martin, Cooper Webb and Jeremy Martin. Alex Martin acted quickly and made his way to the front by passing Charboneau on the opening lap to seize control of the lead, quickly establishing a gap over the field.
Webb soon made his way by Charboneau into second, with Jeremy Martin following into third not long after that. Entering points leader Joey Savatgy (Kawasaki) was forced to battle his way back from a 16th-place start.
Martin's lead grew to several seconds, leaving his team-mates to battle for second. Webb and Jeremy Martin paced one another throughout the middle portion of the moto until a mistake by Martin on lap seven caused him to make contact with Webb and crash, losing third to Kawasaki's Austin Forkner.
Without the pressure from his team-mate Webb was able to mount a charge on the elder Martin and the two slowly grew closer together as lapped riders came into play. As time in the 30-minute-plus-two-laps moto wound down, Webb had completely erased the deficit and soon made a pass for the lead with two laps remaining. Once out front he pulled away for his first moto win of the season. Martin's runner-up result was his second straight, while the rookie Forkner finished on the podium for the first time. Jeremy Martin ended up fourth, with his Yamaha team-mate Aaron Plessinger in fifth. Points leader Savatgy battled back to finish ninth.
The second and deciding 250 Class moto saw Jeremy Martin grab the holeshot and sprint out to an early lead ahead of KTM's Jessy Nelson and Forkner. Alex Martin placed himself inside the top five, while Webb started deep inside the top 10 in eighth, just ahead of Savatgy. The clear track allowed Jeremy Martin to move out to just over a second over Nelson and Forkner, which put the pressure on his brother and Webb in the battle for the overall win.
Martin continued to add to his lead while Forkner closed in on Nelson for second, taking over the position on Lap 3. The top three stabilized for the middle portion of the moto until a crash by Forkner on lap seven dropped him out of contention for the overall podium and into seventh.
Nelson reassumed control of second while Alex Martin was on a charge in third. Jeremy Martin's lead put him in a position to clinch the overall win via tiebreaker over Webb, but Alex Martin's fortune rested in his own hands. If he was able to pass Nelson for second Martin would surpass his brother for the win and he did just that, taking over the runner-up spot on lap 10. Jeremy Martin went on to win his first moto of the season, leading his brother across the line. Nelson held on for third, just ahead of Webb, who would have claimed the overall win with a podium result.
Alex Martin's 2-2 results were enough to give him a one-point edge over his brother for the first overall win of his career in his 83rd start, making him the 78th different winner in 250 Class history. Jeremy's second-place finish overall (4-1) resulted in the first ever 1-2 effort for siblings in US motocross history, while Webb's third-place effort (1-4) completed the first ever 1-2-3 sweep for Yamalube/Star Racing Yamaha.
Thanks to a seventh-place overall finish by Savatgy (9-7), Alex Martin also seized control of the points lead in the 250 class standings and will carry the red number plate for the first time in his career next weekend. He holds a two-point lead over Webb, who moved into second, with Savatgy third, three points back, and Jeremy Martin fourth, four points back.
The 2016 Lucas Oil Pro Motocross Championship continues next Saturday, June 4, with the True Value Thunder Valley National from Thunder Valley MX Park in Lakewood, Colorado.
Find BikesportNZ.com on FACEBOOK here
RESULTS & STANDINGS
450 Class (Moto Finish)
Ryan Dungey, Belle Plaine, Minn., KTM (1-2)
Ken Roczen, Germany, Suzuki (4-1)
Eli Tomac, Cortez, Colo., Kawasaki (3-3)
Jason Anderson, Edgewood, N.M., Husqvarna (2-5)
Trey Canard, Shawnee, Okla., Honda (7-4)
Josh Grant, Riverside, Calif., Kawasaki (6-6)
Cole Seely, Newbury Park, Calif., Honda (5-10)
Phil Nicoletti, Cohocton, N.Y., Yamaha (10-9)
Marvin Musquin, France, KTM (9-11)
Broc Tickle, Holly, Mich., Suzuki (8-13)
450 Class Championship Standings
Ken Roczen, Germany, Suzuki – 93
Ryan Dungey, Belle Plaine, Minn., KTM – 91
Eli Tomac, Cortez, Colo., Kawasaki – 76
Jason Anderson, Edgewood, N.M., Husqvarna – 73
Trey Canard, Shawnee, Okla., Honda – 62
Josh Grant, Riverside, Calif., Kawasaki – 56
Cole Seely, Newbury Park, Calif., Honda – 54
Marvin Musquin, France, KTM – 48
Phil Nicoletti, Cohocton, N.Y., Yamaha – 45
Justin Barcia, Monroe, N.Y., Yamaha – 39
250 Class (Moto Finish)
Alex Martin, Millville, Minn., Yamaha (2-2)
Jeremy Martin, Millville, Minn., Yamaha (4-1)
Cooper Webb, Newport, N.C., Yamaha (1-4)
Austin Forkner, Richards, Mo., Kawasaki (3-5)
Aaron Plessinger, Hamilton, Ohio, Yamaha (5-6)
Jessy Nelson, Paso Robles, Calif., KTM (13-3)
Joey Savatgy, Thomasville, Ga., Kawasaki (9-7)
Zach Osborne, Abingdon, Va., Husqvarna (8-8)
RJ Hampshire, Hudson Fla., Honda (6-11)
Martin Davalos, Ecuador, Husqvarna (14-9)
250 Class Championship Standings
Alex Martin, Millville, Minn., Yamaha – 79
Cooper Webb, Newport, N.C., Yamaha – 77
Joey Savatgy, Thomasville, Ga., Kawasaki – 76
Jeremy Martin, Millville, Minn., Yamaha – 75
Aaron Plessinger, Hamilton, Ohio, Yamaha – 63
Austin Forkner, Richards, Mo., Kawasaki – 58
Jessy Nelson, Paso Robles, Calif., KTM – 57
Zach Osborne, Abingdon, Va., Husqvarna – 45
RJ Hampshire, Hudson Fla., Honda – 41
Tristan Charboneau, Tenino, Wash., Honda – 36
Adam Cianciarulo, Port Orange, Fla., Kawasaki – 36