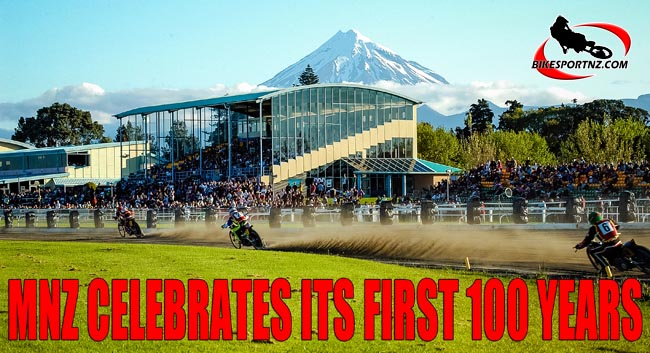 It should always be a big occasion when it comes to celebrating a centenary and motorcycle sport's governing body in New Zealand is going out of its way to make sure that marking its first 100 years will be one to remember.
Motorcycling New Zealand (MNZ) celebrates 100 years of operation this year and the New Zealand Motorcycle Awards and Conference in Wellington later this month will surely serve as an event to embrace.
The annual three-day conference, this year to be held at Te Papa Museum, in Wellington, over the weekend of May 20-22, will feature the New Zealand Motorcycle Awards and 100 Year Celebrations function from 6.30pm on the Saturday night.
With guest speaker Steve Williams – for many years the caddy for golfing legend Tiger Woods – attendees are sure to be entertained as he talks about his experiences with sportsmen getting "into the zone" for top level competition and how this also relates to motorsport.
Williams also has a passion for motorsport and won national titles in two stock car categories, the only driver to do so.
"Our annual awards and conference is the industry event of the year and this year we're marking 100 years," said MNZ general manager of operations Vicky Hicks.
"An organisation that has survived 100 years is worthy of celebrating and we'd like to also acknowledge the clubs and volunteers who have been involved over the years."
Award categories for the function will be male rider of the year, female rider of the year, best up-and-coming road rider, best up-and-coming off-road rider and there will be a special award for services to motorcycling.
First proposed before the outbreak of World War One, MNZ – then known as the New Zealand Auto Cycle Union – was formed on April 22, 1916, and held its first conference in Dannevirke in August that year.
It has grown and developed over the years and now boasts a membership of more than 3500 people, representing 53 separate clubs.
The first New Zealand TT Championships were held in 1931 and are still held annually. The first international motocross series (Gold Leaf MX) was held in the 1960s, the first international road-racing series (The Marlboro Road Race) was held in the 1970s.
MNZ hosted the World Superbike Championships on four memorable occasions (each time at Manfeild, in 1988, 1989, 1990 and 1992), The International Six Days Enduro (at Taupo in 2006), the Junior Motocross World Championships (at Taupo in 2009), the FIM Speedway Grand Prix (at Western Springs in 2012, 2013 and 2014), the Long-track Speedway World Championships (in New Plymouth in 2003 and 2004, pictured above) and hosted the FIM International Congress in Christchurch in 1991.
MNZ has created several pages on its web site dedicated to recalling some of the history of the past 100 years and they can be found HERE
© Words and photo by Andy McGechan, www.BikesportNZ.com
Find BikesportNZ.com on FACEBOOK here