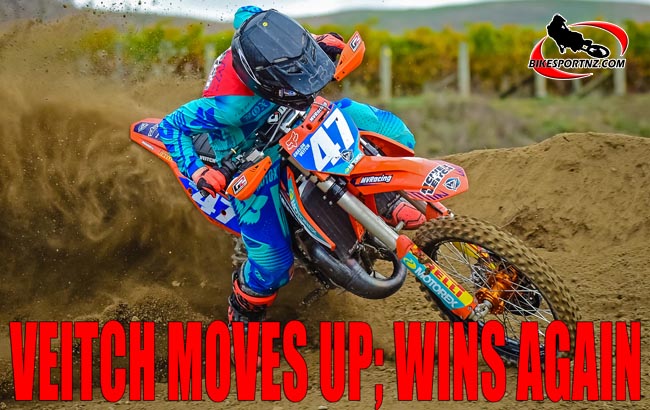 He may have stepped up a grade, but the result was the same for South Islander Grason Veitch.
The young KTM rider from Dunedin won the 11-12 years' 85cc class at the New Zealand Junior Motocross Championships last year and, now on a 125cc KTM, he was unstoppable at the 2016 edition of the nationals in Hawke's Bay.
In all, Veitch won all but one of his seven races at the Fernhill circuit, just outside Hastings, over the Anzac Weekend.
The 13-year-old Veitch, a year 10 pupil at Otago Boys' High School, said he had been planning to race the KTM85 this year in the 13-16 years' 85cc class, but he had "shot up" and was getting too big for the small bike.
Now standing at 183 centimetres tall, Veitch had been racing the KTM125 for eight months in preparation for this year's nationals and was "loving it". He certainly showed he was comfortable on the bike.
"It's all about getting the starts right in motocross. That's the main thing," he said.
"In a couple of races (Hamilton's) Reef Wheki and (Tuakau's) Jesse Te Kani were close to me, but I didn't make too many mistakes. I mucked up the odd rut here and there, but nothing major."
Veitch is no stranger to visiting the podium at the nationals – he finished third overall in the 8-10 years' 85cc class in 2012, was 8-10 years' champion a year later, then finished third overall in the 11-12 years' 85cc class in 2014. With his title win at the weekend it makes it two years in a row that he's been national champion after winning the 11-12 years' 85cc grade last season.
A streak of orange ran through the 12-14 years' 125cc class this year with Veitch leading a KTM brand 1-2-3-4-5 to the top of the rankings. Runner-up to Veitch was Wheki, with Te Kani settling for third. Palmerston North's Zac Jillings and Hamilton's Dylan Kenny rounded out the top five.
It was a fantastic weekend for the "Orange Brigade" right across the various age groups, with KTM riders featuring on the podium in every other class as well.
Riding two different KTM bikes, Te Puke's Tyler Steiner finished third overall in the 14-16 years' 250cc class and finished third overall in the 15-16 years' 125cc class as well, with Mangakino's Maximus Purvis taking his KTM to finish just ahead of him in the 15-16 years' 125cc rankings, while fellow KTM riders Jye Deacon, of Hastings, and Taihape's Hayden Smith finishing fourth and fifth overall respectively.
Dual class campaigner Jillings also finished third in the 13-16 years' 85cc class, while Matamata's Brodie Connolly led a KTM 1-2-3-4 to the top of the 11-12 years' 85cc class.
The top four behind Connolly were fellow KTM riders Ryan Webley, from Tuakau, Rangiora's Cobie Bourke and Palmerston North's Rhys Jillings.
© Words and photos by Andy McGechan, www.BikesportNZ.com
Find BikesportNZ.com on FACEBOOK here