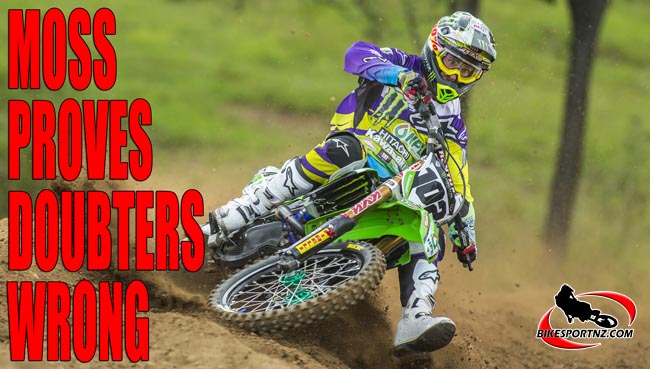 "His time has come and gone," said the haters; the ones who believed that after winning back-to-back MX Nationals and Australian Supercross Championship titles in 2013 and 2014, Matt Moss didn't have another title fight in him.
For a while, the odds did appear to be against him for season 2016, as he had a dismal 2015 season under his belt, and was left with no factory ride after Suzuki Australia shut down its race team at the conclusion of the ASX series.
Mossy's bad luck came to a timely end when he scored a fresh start with Troy Carroll's National Pump Monster Energy Kawasaki Racing Team for season 2016. And Moss rewarded Carroll for taking a chance on him when he returned to his winning ways at Horsham's 2016 Motul MX Nationals opener over the weekend, going 3-1 to take home the Thor MX1 Overall. AME Management's Kane Taylor spoke with Mossy to get the scoop on his pre-season training, thoughts on his competitors and plans for the year ahead.
Kane: Extremely solid day for you, Matt, leaving round one with the red plate. How do you feel?
Matt: Yeah, the day started off great. I was just happy. My wife actually told me that I looked happy, and I said, "You know what, I am." With the National Pump Monster Energy Kawasaki Racing Team obviously being a new team for me, I guess new goals came with that. My bike was great, and I felt like even after the first lap of practice, I could win.
Well, you went 3-1 for the Overall!
That's right. The first race is always a bit jittery, and I rode a little bit tight. I was also a little bit nervous, and I actually had arm pump for most of the entire first moto. I knew when those guys in front weren't pulling away from me whilst I had arm pump that it was going to be a good second moto. So that came around, and I got off to a pretty decent start – I think I was around fifth, then made some passes straight away and got in behind my teammate, Kade Mosig, and he had completely different lines to me, which was good. So whilst behind him, I worked out which lines were working for me, got around him, and just managed the lead until the end. It was just a great day for the team and everyone who stuck behind me after a horrid 2015 season, so I'm extremely grateful and stoked to pay them back.
You had a difficult round here last year, with a DNF and a DNS. What were your goals this weekend?
Well, I could see the win happening after the first moto, but I didn't come to Horsham to win. I just wanted to get my points this weekend, because as everyone says, you can't win the championship at the first round, but you can certainly lose it.
A lot of talk surrounded the return of Todd Waters and Dean Ferris, and the cameo appearances of Brett Metcalfe. Do you feel like you were being overlooked?
Oh, definitely. I knew what was going on, and I knew everyone was going to pick the other guys. You know, it's just new faces thinking that they're going to come back to Australia and dominate us. However, I've beat them before and there's no reason that I can't beat them again. You know, I'm always going to have my critics – I seem to have more than my fair share, so it's enjoyable to shut them up (laughs).
Your brother, Jake, finished third in the MX2 class. It must feel good to have him back?
Yeah, it's great. Awesome to have Jake back. I spoke to him at the start of the year and said that it was the best decision for him to go back to the Lites class, and Horsham proved that. It's awesome to have him not actually racing against me, because we're now able to work together. I think the National Pump Monster Energy Kawasaki Racing Team are pretty stoked to have two potential championship winners this year.
You said on the podium that you spoke to Troy Carroll when you didn't have a ride locked in for 2016, and told him that you were going after championships this year. What was his response?
Yeah, well I approached TC at Coolum (the final round of the 2015 MX Nationals), because there was no hiding the fact that I had plans to ride for another team, and that was really all sewn up before I got shafted at the last minute. So I walked straight up to TC at Coolum knowing he had a great infrastructure, but I had assumed that he already had his riders locked in, but he didn't. I said to him, "Hey, I'm not done, and I'm going to win next year. Do you want to give me a shot?", and he said, "Yeah, no worries." TC, being a past champion, knows that championships aren't bought; you have to earn them. So he knows I can do it. We just have to have the right people in our corner and I think that's what we've got this year.
Well, mate, red plates are going to look good.
It's going to look really good (laughs). I was walking through the Kawasaki showroom and they had Jay Marmont's championship bike on display with the red number one plate on it, and I said, "How good is my bike going to look with a red number one plate?"
Words by AME Management/Kane Taylor
Photo by Greg Smith, IKapture
Find BikesportNZ.com on FACEBOOK here