He started the day with a deficit, but now he has a surplus.
Honda Racing Team rider Cody Cooper has his New Zealand MX1 title defence back on track.
The Kiwi international racer from Mount Maunganui arrived at Rotorua for the third round of four in the New Zealand Motocross Championships on Sunday with his national MX1 title defence on shaky ground.
He was in third place overall in the MX1 standings and a distant 19 points behind Australian rider Dean Ferris, with another Australian visitor, Todd Waters, second in the standings and five points ahead of the Kiwi hero.
However, by the end of the day, everything had been given a massive shake-up – Cooper was now leading the championship chase, three points ahead of Waters, with Ferris slumping back to third position overall.
Before the weekend began, Cooper had vowed to "toughen up", so it was a delightfully no-nonsense Cooper who lived up to his words at Rotorua on Sunday, posting a 1-1-2 score-card in his three MX1 class races.
"I really would have liked to win that last race, but I mucked it up on the downhill section on the last lap and Dean (Ferris) snatched it away. It sucks when you lose a race on the last lap.
"But I have to be thankful too. I was a long way behind at the start of the day and now I'm leading," he shrugged.
Honda Racing Team boss Phil Empson was naturally thrilled with the weekend's result.
"We knew the championships would be close this year," he said. "What's happened here today will make (the final round at Taupo) a very special event. Any one of three riders could win the MX1 title this year.
"In the past few years, Cody has won the title with a race to spare. What's happened here is good for the sport, but just not good for my heart," he laughed.
It was a similar case of upsets in the MX2 (250cc) and 125cc classes with the respective class leaders not winning the day on Sunday.
In the MX2 class it's still Takaka's Hamish Harwood at the top of the championship standings, but it was Mangakino's Kayne Lamont, only eighth equal overall at the start of the day, who came on strong on Sunday, scoring an impressive hat-trick of wins at Rotorua to shoot up to fourth in the rankings.
In the 125cc class, Ngatea's Ben Broad remains the championship leader, but his advantage over Taupo's Wyatt Chase has been trimmed from 28 points to 23 after Chase won the day at Rotorua, posting a 1-2-1 score-card on the rough and hilly track off State Highway 30 at Horohoro, the venue just 20 kilometres from the Rotorua town centre.
It will therefore go down to the wire at the final round next weekend, especially in the MX1 class, where the margins are so slight.
"I just have to ride well at Taupo," said Cooper. "Dean (Ferris) is a lot like me. If he gets a good start, he'll just ride away from his competition.
"He was frustrated by me today. I think I'll be good to retain my title if I get good starts at Taupo and just do the same as I did today.
"I'm not feeling any pressure. I really have nothing to lose."
The fourth and final round of the series is set for the Digger McEwen Motocross Park facility, on the outskirts of Taupo, on Sunday (March 20).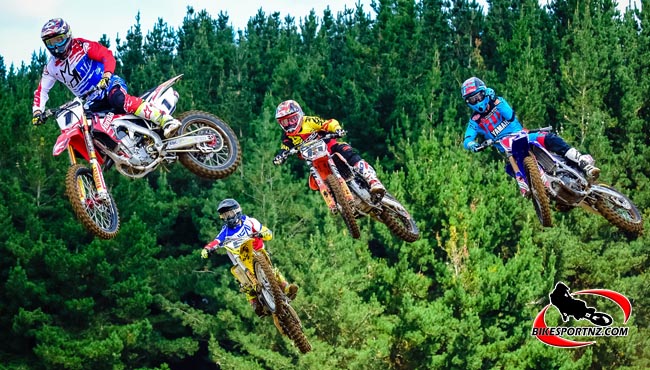 CHAMPIONSHIP STANDINGS:
Leading championship standings after the third of four rounds of the New Zealand Motocross Championships near Rotorua on Sunday:
MX1 class: 1. Cody Cooper (Mount Maunganui, Honda) 198 pts; 2. Todd Waters (Australia, Suzuki) 195; 3.Dean Ferris (Australia, Yamaha) 193; 4. Scott Columb (Queenstown, Kawasaki) 145; 5. Brad Groombridge (Taupo, Suzuki) 142.
MX2 class: 1. Hamish Harwood (Takaka, KTM) 197 pts ; 2. Jed Beaton (Australia, Yamaha) 184; 3. Ethan Martens (Waitakere, Yamaha) 163; 4. Kayne Lamont (Mangakino, Yamaha) 149; 5. Micah McGoldrick (Rangiora, Honda) 143.
125cc class: 1. Ben Broad (Ngatea, KTM) 214 pts; 2. Wyatt Chase (Taupo, Yamaha) 191; 3. Kurtis Lilly (Karaka, Husqvarna) 148; 4. Blake Gillard (Beachlands, KTM) 140; 5= Tony Cvitanovich (Feilding, KTM) and Sean O'Connor (Papakura, Yamaha) 126.
© Words and photos by Andy & Bridget McGechan, www.BikesportNZ.com
Find BikesportNZ.com on FACEBOOK here
Full story and more photos in your next issue of KIWI RIDER magazine.
Check back here on www.BikesportNZ.com during this week as we bring you more words and pictures from the weekend.