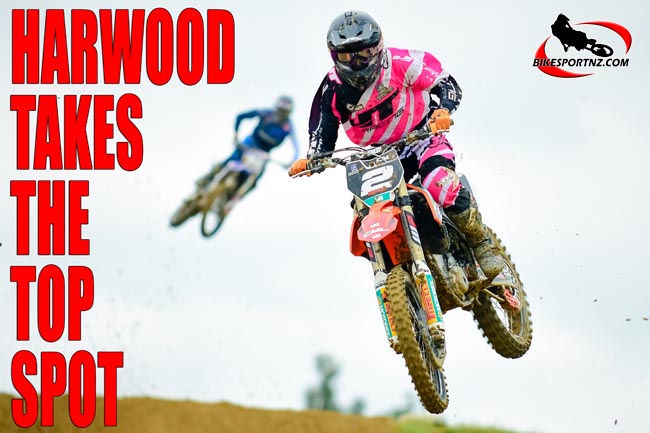 Hamish Harwood is pretty keen to trade in the No.2 side panels on his bike and replace them with the No.1, and he certainly seems to be heading in the right direction to do that this summer.
The Waitakere-based 20-year-old CML KTM Team rider from Takaka ended the day on the top step of the MX2 (250cc) class podium at the opening round of four in this season's New Zealand Motocross Championships at Pleasant Point, near Timaru, on Sunday.
He won the class ahead of Reporoa's Hadleigh Knight (Workshop Graphics Husqvarna), with visiting Australian Yamaha rider, Jed Beaton, rounding out the top three.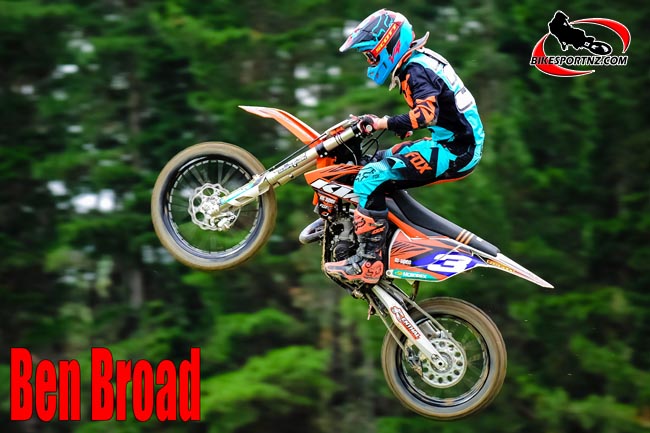 Meanwhile, it was double success for the distinctive orange KTM brand, with Ngatea's Ben Broad winning the 125cc class, finishing the day ahead of Karaka's Kurtis Lilly (Workshop Graphics Husqvarna) and Taupo's Wyatt Chase (Total Oil Yamaha).
"I'm pretty happy to come away with the overall (win) today," said Harwood, who not only won the day in the MX2 class, but he also backed that up with a solid fourth equal overall in the MX1 class, level on points with former Kiwi international Scotty Columb (Whyteline Kawasaki KX450F), of Queenstown.
The MX1 class winner on Sunday was Australian Dean Ferris (Altherm JCR Yamaha Racing Team YZ450F), who won the day ahead of defending national MX1 champion Cody Cooper (Honda Racing Team CRF450), of Mount Maunganui, and fellow Australian Todd Waters (MC2 Racing Suzuki RM-Z450).
"I didn't stay out on the track very long for qualifying because it was so muddy (from overnight watering) and that meant I didn't qualify as high up as I'd have liked," said Harwood. "But that was okay. Anywhere inside the top 10 was enough to get me a reasonable gate pick and in a good position to move up."
And that's how it worked out, with Harwood finishing with a 3-1-2 score-card. He posted 6-5-4 results in the MX1 class.
Broad was almost untouchable in the 125cc class. The 17-year-old won the first two races comfortably and was satisfied to "let Wyatt go" and allow him to win the final race of the day.
"I actually had a little crash in race two and used up a lot of energy getting back in front. With the track getting even rougher by the last race, I decided not to take any risks and just protect my championship lead. I needed to play it smart and play it safe."
The series now heads to the Manawatu on February 28, with round three to follow at the Rotorua Motorcycle Club's track on March 13. The championship trophies get handed out at the Taupo finale on March 20.
RESULTS:
Leading championship standings after the first of four rounds of the New Zealand Motocross Championships near Timaru on Sunday:
MX1 class: 1. Dean Ferris (Australia, Yamaha); 2. Cody Cooper (Mount Maunganui, Honda); 3. Todd Waters (Australia, Suzuki); 4. Scott Columb (Queenstown, Kawasaki); 5. Hamish Harwood (Takaka, KTM).
MX2 class: 1. Hamish Harwood (Takaka, KTM); 2. Hadleigh Knight (Reporoa, Husqvarna); 3. Jed Beaton (Australia, Yamaha); 4. Kayne Lamont (Mangakino, Yamaha); 5. Micah McGoldrick (Rangiora, Honda).
125cc class: 1. Ben Broad (Ngatea, KTM); 2. Kurtis Lilly (Karaka, Husqvarna); 3. Wyatt Chase (Taupo, Yamaha); 4. Tony Cvitanovich (Feilding, KTM); 5. Reece Lister (Kotemaori, KTM).
© Words and photos by Andy McGechan, www.BikesportNZ.com
Find BikesportNZ.com on FACEBOOK here