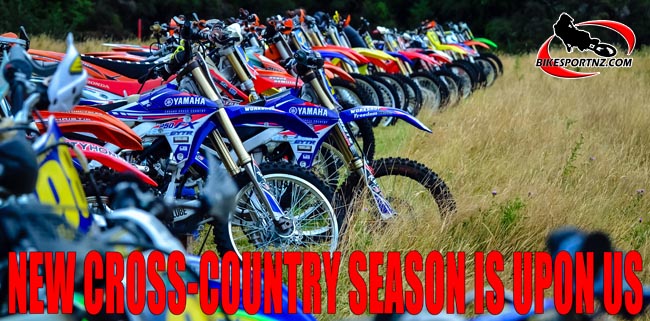 The dates and venues are set and now the challenge has been issued.
The four-round 2016 New Zealand Cross-country Championships will be spread evenly between North Island and South Island venues, all the top riders have indicated they'll be lining up again, with enough gaps in between each round to ensure ample time for riders to recover from mechanical or physical injuries, and so another fiery competition can be expected when it all kicks off near Huntly in February.
"There are no clashes of dates between the national motocross and cross-country codes, so let's see if the motocross boys can put their money where their mouths are," said Motorcycling New Zealand cross-country commissioner Chris Smyth.
"I've heard comments made by the motocross boys that cross-country racing is easy and yet, apart from a couple of riders such as (Motueka's) Brad Thomas and (Taupo's) Brad Groombridge, we have not seen them turning up to show us how good they are. There's a challenge for them … show us what you're made of."
While competition is no doubt considered healthy for the sport, Smyth's tongue-in-cheek challenge is not the call of a man desperate to boost entry numbers, quite the contrary.
"We have had full fields in recent times and the depth of talent has been great. We have some great clubs running these events for us and some great venues too. It's going to be another fantastic season."
Points from three of the four rounds are counted towards the championship, with riders able to discard their worst result, meaning the titles could go down to the wire, just as they did in 2015.
Manawatu's former international Paul Whibley was crowned overall senior champion earlier this year, following a see-saw battle with four-time former champion Adrian Smith, of Mokau, with riders such as Maruia's Ethan Bruce, Rotorua's Scott Birch and Hamilton's Andrew Charleston never far behind.
Palmerston North's James Galpin, Stratford's Karl Roberts, Napier's Adam Youren, Eketahuna's Grant Christie and Rotorua's Jane Roberts were also impressive this year.
In the junior ranks, the fighting was fierce between Kotemaori's Reece Lister, Waimauku's Jake Wightman, Nelson's Jackson Walker, Huntly's Andrew Barr and Marton's Josh Pilet and more of the same can be expected in 2016.
The 2016 NZ Cross-country Championships calendar:
Round 1; Sun, February 21, 2016, Huntly.
Round 2; Sun, April 3, 2016, Mosgiel.
Round 3; Sat, April 16, 2016, Taranaki.
Round 4; Sat, May 14, 2016, Nelson.
© Words and photo by Andy McGechan, www.BikesportNZ.com
Find BikesportNZ.com on FACEBOOK here