WHIBLEY IN AWKWARD POSITION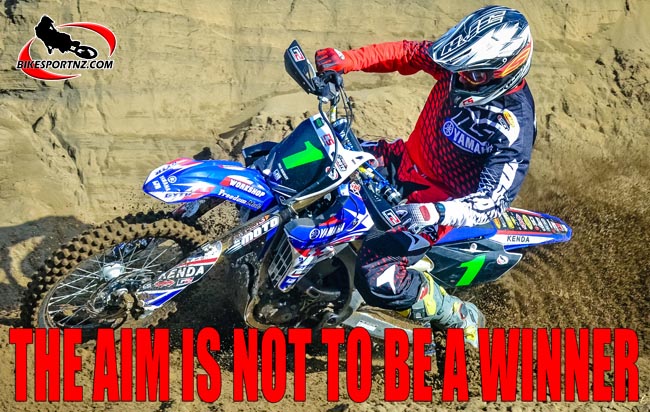 This weekend's fifth and final round of the inaugural NZXC cross-country motorcycle series near Pahiatua is shaping up to be a real cliffhanger … and not for the reasons you'd think.
The man who created the Moto SR-sponsored series, former Kiwi international Paul Whibley, also currently leads the points standings and that, according to the man himself, is a problem.
"I didn't create the NZXC series to be something for me to win personally," said Manawatu's Whibley.
"I think it would be bad form to win a competition of my own creation. I don't want to win this series and I'll be doing what I can to make sure I don't win.
"I've already sat out of one of the rounds in the NZXC and I thought that would pretty much prevent me from winning the series. Unfortunately, I'm leading the points," said Whibley matter-of-factly, making the sort of statement you'd not usually expect from the former United States champion and 2015 New Zealand cross-country champion.
But lead the NZXC series he does, seven points clear of the man he'd battled against so fiercely to win the national title earlier this season, Mokau's Adrian Smith, and 14 points ahead of fellow Yamaha ace Adam Reeves, of Palmerston North.
It seems Taikorea's Whibley can't help but win, even when he tries not to.
"I raced my smaller Yamaha YZ125 at the previous round (near Tauranga three weeks ago), thinking it would just be a bit of fun and I wouldn't be a contender for the win. But I did end up winning the day," he shrugged.
Therefore, to make sure he gets his wish for not winning the series outright, Whibley will not race this Saturday's final round at Castlehill, near Pahiatua.
"I'll be stepping aside and hope that either Adrian (Smith) or Adam (Reeves) can win it. These two guys are the most likely series winners.
"Instead of racing on Saturday I will be helping to mark the course and run the event.
"The series has been everything I had hoped it would be. There has been a lot of buy-in from the riders, with good numbers showing up to race at each round. I'll be working on a few things moving forward to next season, looking at tidying up the class structures to make them more uniform with the other events that we have been co-sanctioned with.
"I think we will use the same venues next season. I am not intending for the NZXC series to rival or replace the national championships but I believe the NZXC series is showing the direction that the sport should take. We need to reduce the average speeds to make the racing safer. The nationals should use more forestry tracks, instead of using just fast, open farmland courses.
"This will better prepare New Zealand riders for competitions they might head to overseas."
Meanwhile, Hamilton Yamaha rider Lachlan Bishop leads the junior grade for the NZXC series, 13 points clear of Te Awamutu Kawasaki rider Daniel White, with another close battle between these two young men expected at Saturday's final round.
Whibley and the NZCX series are supported by Yamaha Motor New Zealand, Sidi, Smith, G2, Asterisk, MotoSR, Vortex Ignitions, EC3D, Bush Riders MCC, Darbi Accessories, GHQ, Freedom Moto, Rosscos Start Up Services, Works Connection, Pro Taper, Race Pace Services, Unabiker, Leatt Brace, Tire Balls, BikesportNZ.com, CarbSport, KettleClamp, Alliance Offroad, Ride Eng MotoSeat, FMF, Kenda, Yamalube, CV4, GYTR, IMS, MSR, Rekluse, Ride Eng, Workshop Graphics.
© Words and photo by Andy McGechan, www.BikesportNZ.com
Find BikesportNZ.com on FACEBOOK here