NEW CHAPTER TO BE WRITTEN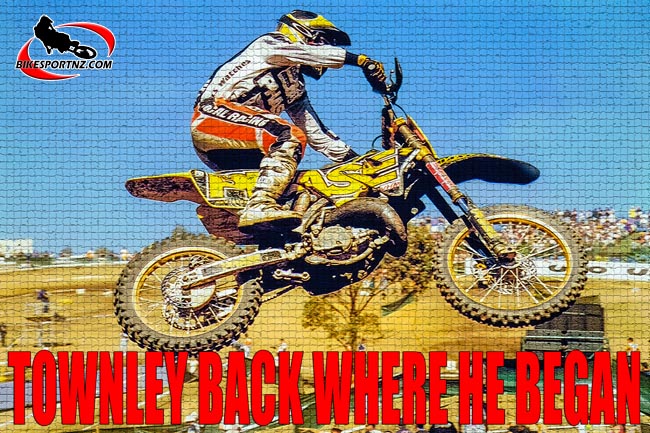 The book had been closed and placed carefully up on the shelf, but it has been taken down again and a fresh new chapter will now be written.
The international racing phase in the life of Ben Townley is being rekindled and the Bay of Plenty man, who retired from international competition in March 2013, stunned the motocross world last week when he revealed he will embark on a fresh adventure in Europe, starting in January next year.
The announcement came after weeks of rumour and speculation, the Belgian-based Suzuki World MXGP team issuing a much-anticipated press release to report that the Kiwi former MX2 (250cc) World Champion and former American Eastern Regional 250cc Supercross Champion would be returning for another tilt at the world motocross championships in 2016, 12 years on from when he last won a world championship crown.
It is a huge turnaround from the multi-time New Zealand champion, who was adamant that his supposedly one-off appearance for Team New Zealand at September's big annual Motocross of Nations in France was just that, a cameo come-to-the-rescue ride for the Kiwi squad.
But, even though the father-of-three is considered a 'veteran' in the sport at age 30, he proved in France that he was still capable of matching, or even beating, the world's best riders.
He finished as the third best MXGP class rider at that French event, significantly finishing ahead of France's 2015 world MXGP No.2 Gautier Paulin – who had the advantage of being spurred on by a vociferous crowd of 80,000, all of whom were screaming for him to beat the Kiwi – and Townley's results propelled New Zealand to a final ranking of No.8 among the 37 nations present.
When we called the Tauranga-based former Taupo man for an interview, we caught him trying to solve a minor problem with a popped balloon and his three young children – Levi (5), Jaggar (3) and Swayze (1) – and that prompted the first question: "How will your campaign affect (wife) Lucy and the children".
"We are all going to Europe. I can't say exactly where just yet, but Lucy wants to support me with this unfinished business of mine.
"I'll be travelling to each GP and we'll come back and forth to New Zealand quite a lot too, because several GPs are relatively close to this part of the world, in Qatar, Thailand, Malaysia, Mexico and Argentina and two in the United States. They're all within reasonable flying distance of my home in New Zealand.
"I retired two and a half years ago and had no intention of racing again, but the desire to do it came back over the last six months and, when this chance to ride for Suzuki and work with the people there came about, I knew straight away it was the right opportunity to be world champion again," he said.
Townley first came to Europe to race on the GP scene as a 16-year-old in 2001, entering the old 125cc category on an RM125 (photos featured on this page). By 2002 he was already scoring podium finishes and won the MX2 World Championships in 2004.
His performance in France two months ago proved that he still has the focus and skills to run with the fastest riders in the world and this caught the eye of the factory Suzuki team based in Lommel.
At this stage he has a one-year contract and, although he has raced in the past for the KTM, Kawasaki and Honda factories, he began his GP career on a Suzuki and it looks as though he will end his GP career on Suzuki too – so his career will have gone full circle.
"I already had a good relationship with Suzuki team boss Sylvain Geboers and, even when I raced a Suzuki in 2001, he seemed to have a soft spot for me. Now we have a lot of work to do testing products and parts before the first GP (in Qatar on February 27) and I'm really keen to get stuck in.
"My fitness is not perfect, but it's at a good base level. I'm not having to start from scratch.
"I don't know a lot about all the men who will be my rivals, although I have raced against a few of them, like (Italy's eight-time world champion) Antonio Cairoli, and I'll be unfamiliar with some of the circuits too, but I'm looking forward to tackling them.
"My focus will just be on myself and keeping my eye on the prize."
Following the opener in Qatar in February, Townley's campaign stretches on for another 18 GPs and winds up in the United States on September 11.
© Words and photos by Andy McGechan, www.BikesportNZ.com
Find BikesportNZ.com on FACEBOOK here