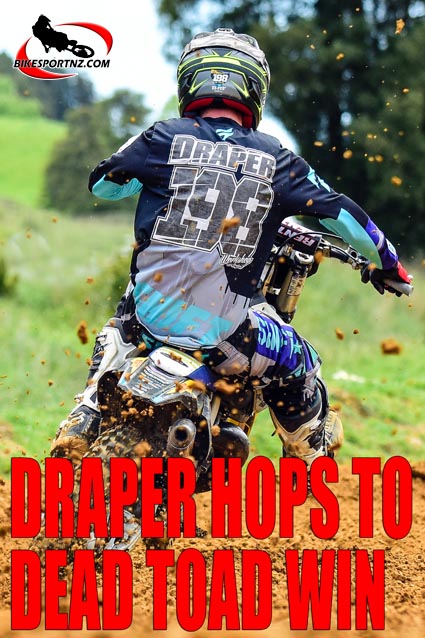 Auckland's Liam Draper was a "man on a mission" at the big annual Dead Toad cross-country race in the Riverhead Forest at the weekend.
The 19-year-old plumber from Howick took his diminutive Husqvarna TC125 to mount a thrilling charge through the pack, humbling many of the sport's stars on his way to winning the popular cross-country race in the Riverhead Forest, near Kumeu, on Sunday.
It was not just a remarkable victory but also a 'coming of age' of sorts for the young man, who made the transition from moto trials competition to the much higher-paced world of enduro and cross-country racing just a little over three years ago.
The moto trials exponent, once considered one of New Zealand's best 'bandits of balance', quickly showed he had the ability to adapt to the speedier sporting code of cross-country racing and, at the weekend, he finally broke through with his first major cross-country win.
Draper didn't make it easy on himself either, crashing soon after the shotgun blast that heralded the mass start, leaving himself dead last with a daunting four 25 kilometre laps ahead and a talented field of riders to try to c
atch and beat.
"I was stopped for ages too, trying to straighten out my levers and fixing a jammed front brake," he explained.
However, the BikesportNZ.com and Kiwi Rider-supported rider was "on a mission" and was into the lead about halfway through the opening lap.
"The track was pretty muddy. There had been a thunderstorm on Saturday night and, although it was quite fine on Sunday and starting to dry out, it was extremely slippery," said Draper.
Draper had finished runner-up at the event last season, crossing the line behind Coatesville's Sam Greenslade, but it was Draper's day on Sunday as he finished ahead of Kaukapakapa's Tom Buxton (KTM 200 XCW) and Mokau's four-time national cross-country champion Adrian Smith (Yamaha YZ250FX).
"I was looking at some of the names on the trophy and it looks like I'm now in some pretty good company. Former winners include Ben Townley, Tony Cooksley, Chris Birch and Sean Clarke.
"I'll prepare now to switch over to motocross mode for the upcoming Auckland Motocross Championships, although my main focus this season will be on racing the national enduro championships.
"I love the Husqvarna TC125, but I'm getting a new Husqvarna FE250 four-stroke for the enduro nationals. I'm looking forward to that."
© Words and photos by Andy McGechan, www.BikesportNZ.com
Find BikesportNZ.com on FACEBOOK here