RETIRED RACER DOES NZ PROUD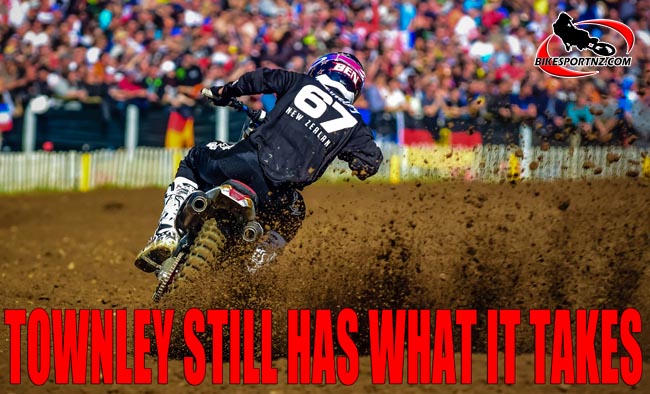 Motocross is a difficult sport in so many ways, difficult to excel in when racing against so many talented young athletes who have a similar desire and difficult to walk away from when the body cries "enough is enough".
New Zealand's Ben Townley would be the first to tell you that after a long a glittering career that took him to the ultimate level and saw the Bay of Plenty man win national titles at home and overseas and a world championship as well.
But New Zealanders in particular will have been pleased that, when Townley retired from the sport, then aged 28, two years ago, it really wasn't the last that we'd be seeing of him on a race track.
He simply couldn't stay away from the sport and when the opportunity arose for him to step into the breach and represent his country for one last time at the "Olympic Games of motocross", the big annual Motocross of Nations, this year being staged in France, he tackled the task with the same vigour and professionalism that we've now grown to expect from him.
And again New Zealanders were glad he found motocross a sport too difficult to walk away from.
The now 30-year-old was by far the best-performed of the Kiwi trio racing at the Motocross of Nations in Ernee, France, at the weekend.
In fact he was not only the man primarily responsible for New Zealand finishing as high as eight out of the 36 countries represented, he was also the third best individual in his MXGP bike class, edging out such notables as France's just-crowned MXGP world No.2 Gautier Paulin … not bad for an "old man" who retired from international competition two years earlier.
So, is a comeback on the cards for Townley?
"No, I'm still retired," he said emphatically.
"I've been out of racing for two years after deciding to stop riding professionally. For a year, I just needed to get away from it; I just wasn't interested in racing, full stop. I was really bummed from all the injuries I sustained.
"As for the MXoN, I thought I would do well if I could get comfortable with the bike. (British former 500cc world champion) Dave Thorpe went over and above to get me a great bike for this event. It was good to come to the other side of the world and get this level of support.
"We didn't really have any team targets at the MXoN. (Team NZ MXoN team-mate) Cody Cooper rides awesome in New Zealand, but he seems to struggle internationally. I didn't expect him to do as well as he did (the Mount Maunganui man finishing 20th and 30th in his two open class races), and with me getting the eight points I pretty much achieved everything I wanted to achieve this weekend.
"I had put in a solid three or four months of work leading up to the MXoN, right from the moment Motorcycling New Zealand told me I'd been selected for the squad and I dropped a lot of weight.
"The races I did during my build-up lacked intensity but, each time I raced, I got better and better.
"I have not come out of retirement and I'll go back home now to see the kids."
© Words and photo by Andy McGechan, www.BikesportNZ.com
Find BikesportNZ.com on FACEBOOK here