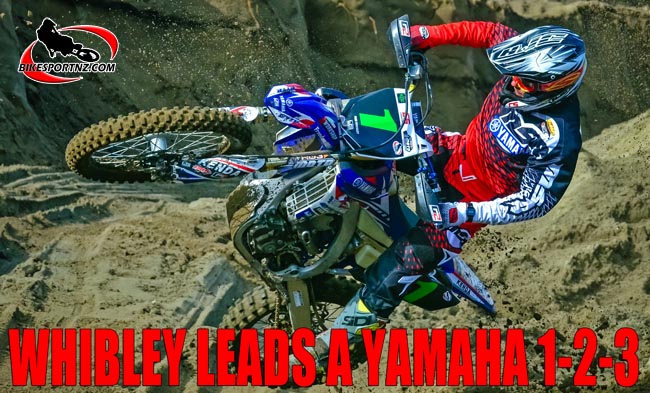 It was a battle between the boys in blue in the Woodhill Forest near Auckland on Sunday.
Manawatu's Paul Whibley led a Yamaha 1-2-3 to the finish line at the third round of four in the Woodhill Two-man cross-country series, the event doubling also as the third round of five in the inaugural NZXC cross-country series
The former Kiwi international took his Freedom Moto BikesportNZ.com Yamaha YZ450F to cross the finish line ahead of fellow Yamaha heroes Adrian Smith (Blackwoods BikesportNZ.com YZ250FX), of Mokau, and Palmerston North's Adam Reeves (Sargents BikesportNZ.com YZ250).
"It was a great weekend for the team and for the brand and it was great also to show that all the various Yamaha bike models are capable of getting the job done," said Whibley afterwards.
The first seven finishers had all opted to ride the race solo, while Huntly pairing Phillip Goodwright and Michael Vining were the first of the two-rider teams, finishing eighth overall.
But tackling a three-hour race on his own was never going to be a problem for the 37-year-old Whibley, a two-time former United States champion and the current New Zealand cross-country champion.
"It was pretty miserable … it rained all day, but it wasn't too muddy," he said.
"The course had no problems with drainage because it's a sand-based forest but it was hard on the goggles and visibility wasn't the best at times.
"I found myself placed on the 15th row of the starting grid and I thought 'blimey, this is going to be a tough day at the office', but I charged hard at the start and was passing riders fairly quickly.
"It made the race quite exciting for me trying to battle through to the front but I didn't even know I was in front until about two laps to go. I rode a little bit more carefully after that, but didn't really back off too much because that's always a risk too and you start dropping into hollows.
"I missed round one of the Woodhill Two-man series, but I won round two and now I've also won round three, and so, with only three of the four rounds to be counted, I'll drop round one's no-show and hope for another good result at round four."
With the NZXC series included in Sunday's event, it made the race doubly important for several of the leading competitors, not least of all three-time former national cross-country champion Reeves.
The 33-year-old Reeves arrived at Woodhill with a solid lead in the inaugural NZXC series after finishing fifth overall at the series opener near Tokoroa in June and then winning the day at round two at Taikorea, near his home town Palmerston North, in July.
With Reeves finishing third on Sunday, it further strengthened his stranglehold on the NZXC series.
Muriwai's Luke Mobberley (BikesportNZ.com Honda CRF250) finished fourth overall on Sunday, 34 seconds behind Reeves and seven minutes ahead of Waimauku's Jake Wightman (KTM200XC).
Sponsored by the MotoSR bike suspension company, Dirt Rider Downunder magazine and BikesportNZ.com, the fourth round of the NZXC Series is set for Maddix Park, near Tauranga, on November 14, with the final round set for Castlehill, near Pahiatua, on December 5.
Whibley is supported by Yamaha Motor New Zealand, Freedom Moto Yamaha, Sidi, Smith, G2, Asterisk, MotoSR, Vortex Ignitions, EC3D, Bush Riders MCC, HJC, DID, JT sprockets, Vesrah, Rosscos Start Up Services, Works Connection, Pro Taper, Race Pace Services, Unabiker, Leatt Brace, Tire Balls, BikesportNZ.com, CarbSport, KettleClamp, Alliance Offroad, MotoSeat, FMF, Kenda, Yamalube, CV4, GYTR, IMS, MSR, Rekluse, Twin Air, Wiseco, Ride Eng and Workshop graphics.
© Words and photo by Andy McGechan, www.BikesportNZ.com
Find BikesportNZ.com on FACEBOOK here