Dominant performances at round one mean a handful of riders have already made their mark on the North Island Motocross Championships series.
Riders such as Taupo's Brad Groombridge, Rotorua's Scotty Canham, Karaka's Kurtis Lilly, Feilding's Tony Cvitanovich, Taupo's Wyatt Chase, Mangakino's Maximus Purvis, Oparau's James Scott, Matamata's Brodie Connolly and Rongotea's Rhys Jillings have established themselves as the most likely champions this year.
But they should be warned not to rest on their laurels because there is still everything to ride for at the second and final round of the championships at the Hawke's Bay Motorcycle Club's Ngaruroro Raceway facility on Mere Road, near Hastings, this weekend.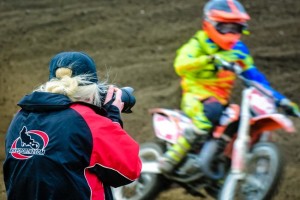 The one rider perhaps with the most at stake is Cvitanovich, the leading individual at the opening round of the series near Himatangi last month.
The 15-year-old took both his KTM 250SXF and KTM 125 bikes into battle at Himatangi and, although he was the busiest rider at the event by far and scored more race wins than any other rider, he was also perhaps unlucky in that he did not win all three classes he entered.
He did achieve remarkably well, however, winning one class, sharing first place overall in another and winding up a close second in a third category.
Of the nine races he tackled, he won five of them and twice finished runner-up, dominating the junior 14-16 years' 250cc class, finishing first equal in the senior 125cc class and settling for runner-up spot, behind Taupo's Chase (Yamaha YZ125), in the junior 15-16 years' 125cc class as well.
Cvitanovich was unbeaten in winning the junior 250cc class and lodged a 2-1-8 score-line to share top spot in the senior 125cc class, level with Lilly (Husqvarna TC125), who finished 4-3-2 at Himatangi.
Ngatea's Ben Broad (KTM 125) was another rider to go "double-dipping" and he finished a close third overall in the senior 125cc class with a 1-13-1 score-line, as well as finishing third overall in the junior 15-16 years' 125cc class, this time with a 2-2-5 score-line. He is also a contender to take a class win away in both or either one of these divisions this weekend.
Chase was another rider to greatly impress at Himatangi and he'll most likely be a frontrunner again in Hawke's Bay this weekend too as he builds up to cross the Tasman Seas to tackle the Australian Junior Motocross Championships near Perth in October.
The just-turned 16-year-old Chase finished 3-1-1 in his three races to win the in the junior 15-16 years' 125cc class at Himatangi, enough to edge out local favourite Cvitanovich, who managed 1-3-2 results.
"The Aussie nationals go for a whole week and I've been building up for that," said Chase, a year 11 pupil at Tauhara College, in Taupo.
Chase, Cvitanovich and Broad are expected to again go head-to-head in the 15-16 years' 125cc class this weekend, while Cvitanovich knows he'll possibly need a little luck on his side if he's again going to beat Te Puke's Tyler Steiner and Masterton's Camden Butler to the top step of the podium in the junior 14-16 years' 250cc category.
Top local competitors expected to excel at Ngaruroro Raceway this weekend include Napier's Luka Freemantle, Havelock North's Ollie Ayre, Kotemaori's cross-country racing hero Reece Lister, Taradale quartet Rhys Wheatley, Dougal Morice, Hamish McIntyre and Scott Bentley and Hastings riders Hadleigh Griffiths, Troy Newton, Matt Crothers, Tom Robottom and Luke McGrath, to name a few, although dozens of top national-grade riders are expected to flock to Ngaruroro Raceway to challenge them.
As with round one, this weekend's racing will feature junior racing on the Saturday and veterans', women's and support classes included with MX1, MX2 and 125cc racing on the Sunday.
© Words and photos by Andy McGechan, www.BikesportNZ.com
Find BikesportNZ.com on FACEBOOK here