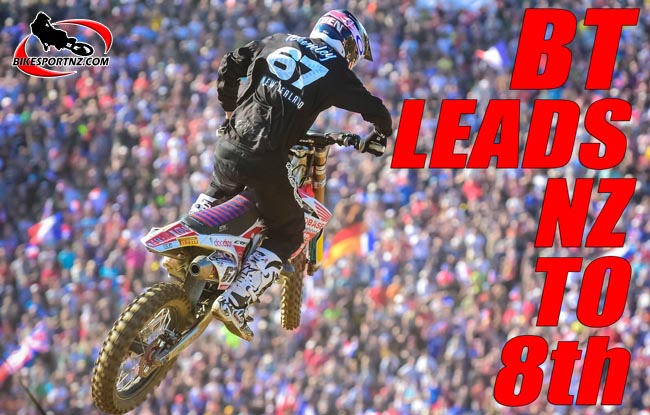 New Zealand is back where it belongs, among the world's motocross elite.
From failing to qualify at the Motocross of Nations in Latvia last season to ranking No.8 in the world this time around at Ernee, in France … it's an amazing comeback for the Kiwis at this big annual "Olympic Games of motocross".
"From not qualifying one season, to being inside the top 10 the next. I'm blown away," said Team New Zealand manager Howard Lilly after Sunday's final race at the steep and picturesque circuit near Rennes.
"I'm actually lost for words. It was a fantastic team effort with the riders receiving massive support from mechanics, supporters, sponsors … everyone really."
Bay of Plenty's Ben Townley (MXGP class) was the leading individual, finishing 6th and 2nd in his two races, while Mount Maunganui's Cody Cooper (open class) managed 20th and 30th.
Unfortunately, the third member of the team, Mangakino's Kayne Lamont (MX2, 250cc class), was blighted with bad luck, suffering three separate mechanical issues with his bike and was unable to finish either of his races. He was credited only with 34th and 35th placings.
"With us finishing eighth in the world despite having two non finishes gives you some idea of how impressive and important Ben Townley's results were. He is still a world class rider, even though he retired from fulltime racing two years ago.
"We are very disappointed about what happened to Kayne Lamont and his results are no reflection on him at all. It's just that it was he who copped all the bad luck," said Lilly.
Meanwhile, host country France, also the defending champions, fought off a stiff challenge from the United States trio to send the masses of screaming French fans into a joyous riot.
Third best nation was Belgium, followed by Estonia, Switzerland, The Netherlands and Australia, the latter finishing just 15 points ahead of the unlucky New Zealanders.
Each rider raced twice and, with five of the six results to be counted towards the team total, Lamont's bike problems proved extremely costly.
Team New Zealand received generous support for this year's bid from Kiwi companies WIL Sport Management and Workshop Graphics, and also appreciated the fundraising undertaken by the Taupo Motorcycle Club with their Battle of the Clubs motocross event earlier this year adding to the campaign coffers.
The Motocross of Nations will be hosted by Italy next September.
© Words and photos by Andy and Bridget McGechan, www.BikesportNZ.com
Find BikesportNZ.com on FACEBOOK here
RESULTS AND STANDINGS:
Race 1 (MXGP + MX2)
1 Barcia, Justin USA YAM 35:41.061
2 Bobryshev, Evgeny RUS HON 35:54.164
3 Nagl, Maximilian GER HUS 35:57.377
4 Musquin, Marvin FRA KTM 36:00.114
5 Martin, Jeremy USA YAM 34:08.198
6 Townley, Ben NZL HON 34:16.801
7 Paulin, Gautier FRA HON 34:21.844
8 Simpson, Shaun GBR KTM 34:38.410
9 Guillod, Valentin SUI YAM 34:44.292
10 Seewer, Jeremy SUI SUZ 34:53.556
11 Bengtsson, Filip SWE HON 34:57.079
12 Lieber, Julien BEL YAM 35:12.266
13 Waters, Todd AUS HUS 35:18.456
14 Cervellin, Michele ITA HON 35:21.860
15 Kullas, Harri EST HUS 35:24.870
16 Ratsep, Priit EST HON 35:27.203
17 Goncalves, Rui POR HUS 35:32.064
18 Rauchenecker, Pascal AUT KTM 35:36.351
19 Kouwenberg, Nick NED HON 35:40.819
20 Ivanovs, Davis LAT KAW 35:44.241
21 Butron, Jose ESP KTM 35:49.335
Race 2 (MX2 + Open)
1 Febvre, Romain FRA YAM 35:38.570
2 Webb, Cooper USA YAM 35:41.703
3 Musquin, Marvin FRA KTM 35:49.459
4 Van Horebeek, Jeremy BEL YAM 35:53.954
5 Martin, Jeremy USA YAM 35:58.033
6 Wilson, Dean GBR KTM 34:18.568
7 Coldenhoff, Glenn NED SUZ 34:42.618
8 Leok, Tanel EST KAW 34:52.986
9 Rauchenecker, Pascal AUT KTM 35:01.510
10 Seewer, Jeremy SUI SUZ 35:07.085
11 Ullrich, Dennis GER SUZ 35:13.550
12 Kullas, Harri EST HUS 35:45.366
13 Clout, Luke AUS YAM 35:52.129
14 Schmidinger, Günter AUT HON 36:06.344
15 Kouwenberg, Nick NED HON 36:10.679
16 Zaragoza, Jorge ESP HON 36:11.032
17 Kjer Olsen, Thomas DEN KTM 34:13.444
18 Tomita, Toshiki JPN HON 34:15.944
19 Ferris, Dean AUS HUS 34:22.692
20 Cooper, Cody NZL HON 34:23.668
Race 3 (MXGP + Open)
1 Febvre, Romain FRA YAM 35:29.211
2 Townley, Ben NZL HON 35:32.390
3 Barcia, Justin USA YAM 35:33.919
4 Bobryshev, Evgeny RUS HON 35:42.330
5 Paulin, Gautier FRA HON 35:43.646
6 Webb, Cooper USA YAM 35:44.750
7 Van Horebeek, Jeremy BEL YAM 34:06.595
8 Wilson, Dean GBR KTM 34:11.326
9 Ferris, Dean AUS HUS 34:23.698
10 de Dycker, Ken BEL KTM 34:26.591
11 Coldenhoff, Glenn NED SUZ 34:27.571
12 Simpson, Shaun GBR KTM 34:31.208
13 Waters, Todd AUS HUS 34:43.402
14 Karro, Matiss LAT HON 34:47.100
15 Guillod, Valentin SUI YAM 35:07.231
16 Leok, Tanel EST KAW 35:09.253
17 Butron, Jose ESP KTM 35:12.751
18 Ullrich, Dennis GER SUZ 35:13.648
19 Goncalves, Rui POR HUS 35:15.166
20 Ratsep, Priit EST HON 35:22.154
Nations Classification
1 France 14
1 Race 3 FEBVRE, Romain FFM Yamaha
1 Race 2 FEBVRE, Romain FFM Yamaha
3 Race 2 MUSQUIN, Marvin AMA KTM
4 Race 1 MUSQUIN, Marvin AMA KTM
5 Race 3 PAULIN, Gautier MCM Honda
7 Race 1 PAULIN, Gautier MCM Honda
2 USA 16
1 Race 1 BARCIA, Justin AMA Yamaha
2 Race 2 WEBB, Cooper AMA Yamaha
3 Race 3 BARCIA, Justin AMA Yamaha
5 Race 2 MARTIN, Jeremy AMA Yamaha
5 Race 1 MARTIN, Jeremy AMA Yamaha
6 Race 3 WEBB, Cooper AMA Yamaha
3 Belgium 56
4 Race 2 VAN HOREBEEK, Jeremy FMB Yamaha
7 Race 3 VAN HOREBEEK, Jeremy FMB Yamaha
9 Race 3 DE DYCKER, Ken FMB KTM
12 Race 1 LIEBER, Julien FMB Yamaha
24 Race 1 DE DYCKER, Ken FMB KTM
36 Race 2 LIEBER, Julien FMB Yamaha
4 Estonia 66
8 Race 2 LEOK, Tanel EMF Kawasaki
12 Race 2 KULLAS, Harri EMF Husqvarna
15 Race 3 LEOK, Tanel EMF Kawasaki
15 Race 1 KULLAS, Harri EMF Husqvarna
16 Race 1 RATSEP, Priit EMF Honda
19 Race 3 RATSEP, Priit EMF Honda
5 Switzerland 67
9 Race 1 GUILLOD, Valentin FMS Yamaha
10 Race 2 SEEWER, Jeremy FMS Suzuki
10 Race 1 SEEWER, Jeremy FMS Suzuki
14 Race 3 GUILLOD, Valentin FMS Yamaha
24 Race 2 BAUMGARTNER, Andy FMS KTM
36 Race 3 , Andy FMS KTM
6 The Netherlands 72
7 Race 2 COLDENHOFF, Glenn KNMV Suzuki
10 Race 3 COLDENHOFF, Glenn KNMV Suzuki
15 Race 2 KOUWENBERG, Nick KNMV Honda
19 Race 1 KOUWENBERG, Nick KNMV Honda
21 Race 3 BOGERS, Brian KNMV KTM
22 Race 1 BOGERS, Brian KNMV KTM
7 Australia 77
12 Race 3 WATERS, Todd MA Husqvarna
13 Race 2 CLOUT, Luke MA Yamaha
13 Race 1 WATERS, Todd MA Husqvarna
19 Race 2 FERRIS, Dean MA Husqvarna
20 Race 3 FERRIS, Dean MA Husqvarna
33 Race 1 CLOUT, Luke MA Yamaha
8 New Zealand 92
2 Race 3 TOWNLEY, Ben MNZ Honda
6 Race 1 TOWNLEY, Ben MNZ Honda
20 Race 2 COOPER, Cody MNZ Honda
30 Race 3 COOPER, Cody MNZ Honda
34 Race 1 LAMONT, Kayne MNZ Yamaha
35 Race 2 LAMONT, Kayne MNZ Yamaha
9 Germany 97
3 Race 1 NAGL, Maximilian DMSB Husqvarna
11 Race 2 ULLRICH, Dennis DMSB Suzuki
18 Race 3 ULLRICH, Dennis DMSB Suzuki
29 Race 2 JACOBI, Henry DMSB KTM
36 Race 1 JACOBI, Henry DMSB KTM
38 Race 3 NAGL, Maximilian DMSB Husqvarna
10 Austria 103
9 Race 2 RAUCHENECKER, Pascal OeAMTC KTM
14 Race 2 SCHMIDINGER, Günter OeAMTC Honda
18 Race 1 RAUCHENECKER, Pascal OeAMTC KTM
28 Race 3 SCHMIDINGER, Günter OeAMTC Honda
34 Race 3 NEURAUTER, Lukas OeAMTC KTM
35 Race 1 NEURAUTER, Lukas OeAMTC KTM
11 Spain 106
16 Race 2 ZARAGOZA, Jorge RFME Honda
16 Race 3 BUTRON, Jose RFME KTM
21 Race 1 BUTRON, Jose RFME KTM
25 Race 3 VALENTIN, Ander RFME Yamaha
28 Race 2 VALENTIN, Ander RFME Yamaha
29 Race 1 ZARAGOZA, Jorge RFME Honda
12 Russia 107
2 Race 1 22 BOBRYSHEV, Evgeny FSM Honda
4 Race 3 22 BOBRYSHEV, Evgeny FSM Honda
32 Race 1 23 BARANOV, Ivan MFR KTM
34 Race 2 23 BARANOV, Ivan MFR KTM
35 Race 3 24 NAZAROV, Maxim MFR KTM
37 Race 2 24 NAZAROV, Maxim MFR KTM
13 Sweden 108
11 Race 1 31 BENGTSSON, Filip SVEMO Honda
22 Race 2 33 JÖNSSON, Jesper SVEMO Husqvarna
23 Race 2 32 ÖSTLUND, Alvin SVEMO Yamaha
25 Race 1 32 ÖSTLUND, Alvin SVEMO Yamaha
27 Race 3 31 BENGTSSON, Filip SVEMO Honda
32 Race 3 33 JÖNSSON, Jesper SVEMO Husqvarna
14 Italy 113
14 Race 1 17 CERVELLIN, Michele FMI Honda
22 Race 3 16 MONTICELLI, Ivo FMI KTM
24 Race 3 18 BERNARDINI, Samuele FMI TM
26 Race 2 18 BERNARDINI, Samuele FMI TM
27 Race 2 17 CERVELLIN, Michele FMI Honda
27 Race 1 16 MONTICELLI, Ivo FMI KTM
15 Denmark 118
17 Race 2 44 KJER OLSEN, Thomas DMU KTM
21 Race 2 45 KJER OLSEN, Stefan DMU Kawasaki
23 Race 3 43 LARSEN, Nikolaj DMU Husqvarna
28 Race 1 43 LARSEN, Nikolaj DMU Husqvarna
29 Race 3 45 KJER OLSEN, Stefan DMU Kawasaki
37 Race 1 44 KJER OLSEN, Thomas DMU KTM
16 Portugal 126
17 Race 3 37 GONCALVES, Rui FMP Husqvarna
17 Race 1 37 GONCALVES, Rui FMP Husqvarna
30 Race 2 39 BASAULA, Hugo FMP Kawasaki
31 Race 3 39 BASAULA, Hugo FMP Kawasaki
31 Race 1 38 PEIXE, Sandro FMP Honda
33 Race 2 38 PEIXE, Sandro FMP Honda
17 Ireland 142
23 Race 1 BARR, Martin MCUI KTM
25 Race 2 IRWIN, Graeme MCUI Suzuki
30 Race 1 IRWIN, Graeme MCUI Suzuki
31 Race 2 EDMONDS, Stuart MCUI Honda
33 Race 3 EDMONDS, Stuart MCUI Honda
39 Race 3 BARR, Martin MCUI KTM
18 Great Britain 33
6 Race 2 WILSON, Dean AMA KTM
8 Race 3 WILSON, Dean AMA KTM
8 Race 1 SIMPSON, Shaun ACU KTM
11 Race 3 SIMPSON, Shaun ACU KTM
19 Latvia 97
13 Race 3 KARRO, Matiss LAMSF Honda
20 Race 1 IVANOVS, Davis LAMSF Kawasaki
26 Race 3 IVANOVS, Davis LAMSF Kawasaki
38 Race 2 KARRO, Matiss LAMSF Honda
20 Japan 113
18 Race 2 TOMITA, Toshiki MFJ Honda
26 Race 1 TOMITA, Toshiki MFJ Honda
32 Race 2 KOJIMA, Yohei MFJ Suzuki
37 Race 3 KOJIMA, Yohei MFJ Suzuki
21 Slovenia 9
22 Czech Republic 13
23 Norway 20
24 Poland 24
25 Lithuania 28
26 Slovakia 28
27 Brazil 31
28 Finland 39
29 Venezuela 42
30 Croatia 42
31 Ukraine 53
32 Greece 53
33 Puerto Rico 58
34 Luxembourg 63
35 Morocco 65
36 Israel 66