AUSSIE OR NZ ON THE RADAR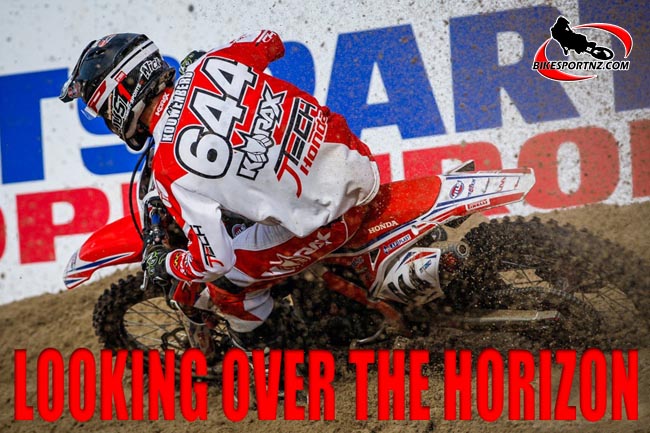 Honda Jtech's Nick Kouwenberg was crowned the 2015 European 250 Champion in Assen a little over a week ago and already he is seeking a new dream.
The 23-year-old Dutch rider who was also selected to race the Monster Energy Motocross of Nations in Ernee in two week's time has a dream to race in Australia or New Zealand.
Our friends at leading European web site MXlarge sent us this interview in the hope that somebody in New Zealand might see a way to help the EMX250 champion realise another dream.
Mxlarge: Nick, first how does it feel to be European 250cc Champion?
Kouwenberg: A lot of relief to be honest. We had a big mouth at the beginning of the year saying we wanted to get the title, and I moved to another team and they really stuck behind me and we have worked hard and made it happen.
Mxlarge: What was the highlight for you this year?
Kouwenberg: The highlight was to get the first red plate, for sure. Valkenswaard I wanted to win, but I had a small crash and we had problems with the suspension, so it didn't work out for the win and we made second place. I made a nice pass in the last lap to go from third to second and that is what I most remember.
Mxlarge: Assen was a huge event, you being Dutch how did you find that event?
Kouwenberg: It was a lot for me. There was a lot of talk that I could get the title in the first moto and luckily I did. It was a lot of people. There was so surprised how much support and that surprised me that so many people were supporting a European championship rider. It was a pleasure to show people what I could do.
Mxlarge: And now selected to race for your country at the Motocross of Nations. That must feel special?
Kouwenberg: It is great. I have never been close, and we have a lot of good riders in Holland. This year it worked out and they want me to race the MX2 class for Team Holland and that is such a great think and it's nice to be part of it. I have worked hard and think I deserve the spot.
Mxlarge: What can you expect from the MXoN?
Kouwenberg: For me it's new, so everything is new and I don't know what to expect. The hard pack is better for me, because the Honda is good on hard pack and it was actually hard on the Honda in the deep sand. I am so glad it is at Ernee, because I really like that track and it gets a lot of ruts and I like the technical parts.
Mxlarge: And what about 2016? Do you have anything yet for next year?
Kouwenberg: I don't have anything yet, some teams are talking, but it hasn't been worked out. I would like to go overseas and show my skills, even something like American Supercross, but to go for a title I would like to go to Australia and I think going there would be good for me.
Mxlarge: So the goal for next year is to win yourself another title?
Kouwenberg: I am 23 and the dream is to get a title, but not in Europe. I knew I had to get the EMX title to get away. The MXGP system isn't something I like. I prefer to have 80 fast riders trying to qualify. That is why I like the European championship so much, because you really have to push hard. That is why I think the new dream is to go over to Australia or New Zealand … it's something I am really confident in.
Interview courtesy Geoff Meyer
Find BikesportNZ.com on FACEBOOK here