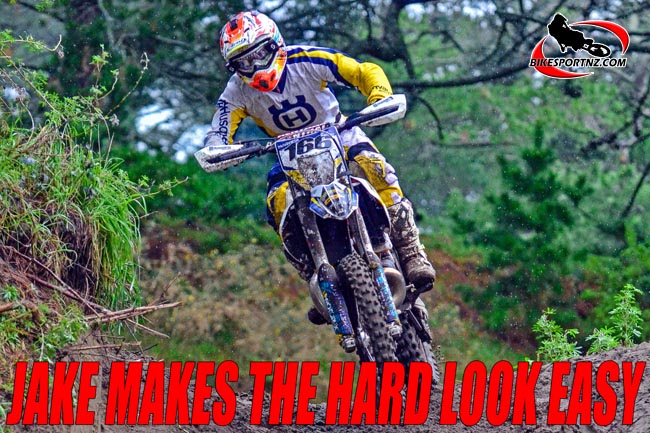 He is a seven-time former New Zealand moto trials champion and former Australian moto trials champion, and now he's turning those skills into great success in a completely different bike discipline.
Wellington's Jake Whitaker made the switch to enduro racing a couple of seasons ago and it really hasn't taken him very long at all for his finesse with the throttle and his tightrope-like bike balancing abilities to transfer into success on the gnarly enduro scene.
This modest athlete from Wainuiomata would probably shrug it all off by telling you it's really the just same sport, just done at a significantly higher speed. But there's much more to it than that.
The 24-year-old took his Husqvarna TE250 to tackle the inaugural Moonshine Run Hard Enduro near Porirua on Saturday and, while even some of the sport's toughest nuts were flailing and falling down all around him in the Akatarawa Forest, Whitaker simply ploughed on, making the difficult look easy, winning the race by a massive 50 minutes from fellow Kiwi international Paul Whibley (Freedom Moto BikesportNZ.com YZ250)
Eketahuna's Jacob Hyslop (KTM 300 XC) finished third overall, another 17 minutes further behind Manawatu's Whibley.
Whitaker, Whibley and Hyslop were three of only six riders to complete three laps of the course, while several riders took more than three hours to complete just one lap.
"The event definitely lived up to its name – hard enduro – it was certainly that," said Whitaker.
"The week leading up to this event was pretty wet, so the course through the forest was drenched and that made things tough to begin with.
"There were quite a few bits that I found challenging but what made it especially hard was the pace I was trying to maintain, so the intensity was high and there was no time to rest.
"The course featured everything really … there were steep tree-rooted up-hills and down-hills, two creek sections with big slippery rocks to get over and slick logs all over the place.
"It played to my advantage really, because my trials riding skills meant I was able to ride over a lot of the obstacles, rather than have to get off the bike and lift it across. I think I saved quite a bit of energy that way.
"I didn't really see any other riders until my second lap when I caught up to the lappers, so I didn't see Paul Whibley behind me at all. To beat somebody the calibre of (former American and current New Zealand cross-country champion) Whibley was a great feeling."
The next major race for Whitaker is to tackle round three of the Woodhill Two-man Cross-country Series, which doubles also as round three of the NZXC Championships in the Woodhill Forest, near Auckland, this coming weekend.
© Words and photo by Andy McGechan, www.BikesportNZ.com
Find BikesportNZ.com on FACEBOOK here