REEVES STILL RULES TAIKOREA
Palmerston North's Adam Reeves is still the king of Taikorea.
The 33-year-old three-time former New Zealand cross-country champion has now made it two seasons in a row that he's won the big annual Yamaha Taikorea 500 dirt bike challenge when he convincingly won both the one-hour cross-country battles at the Taikorea Motorcycle Park, near Himatangi, on Saturday and then followed that up with a fourth and second placings in the two tricky 10-minute enduro-cross sprints that followed.
Overall runner-up on Saturday was seven-time national moto trials champion Jake Whitaker, of Wellington, with Palmerston North's James Galpin rounding out the podium.
It wasn't quite the totally dominant performance that Reeves had enjoyed when winning all four segments of the same contest last year, but it was still extremely satisfying because this year's Taikorea 500 events is also now an integral part of the new five-round NZXC cross-country series.
Saturday's event at Taikorea was round two of that series and, after finishing fifth at that series opener near Tokoroa in June, Reeves now sits alone at the top of the standings.
NZXC rounds will now follow at Woodhill Forest, west of Auckland, and Tauranga, before the series wraps up near Pahiatua on December 5.
Taikorea Motorcycle Park owner Paul Whibley, the just-crowned 2015 New Zealand cross-country champion, won last month's series opener at Tokoroa but excused himself from Saturday's follow-up race on his own property, because, he said, "I didn't create this NZXC series to be something for me to win … it's for others to enjoy".
"Besides that, I was too busy on Saturday making sure the event ran smoothly," said former Kiwi international Whibley.
Reeves said it was tougher to win this season because of the intermittent rain, which increased the power-sapping qualities of the sand track and also made tree roots very slippery.
"I was really only able to ride at 80 percent," Reeves explained.
"I knew I'd be fast at Taikorea because I ride there a lot but I was also on a different bike to the YZ250 two-stroke that I had been riding lately … I was on a Yamaha YZ450F four-stroke that is actually Paul Whibley's practice bike. It wasn't pristine and had certainly done a few hours on the engine, but it didn't miss a beat all day.
"In the second one-hour race, I passed my cousin Reuben Vermeer (Yamaha YZ450F) for the lead about three laps into the race and then just rode solidly to bring it home from there.
"It's great to have the series lead but there's still a long way to go.
"I'm working hard towards getting the result I want and have Paul Whibley to thank for a lot of that. As well as being a sometimes rival of mine, he's also acting as my personal trainer.
"My hard work and dedication to the task has not always shown up on paper, but at the weekend it did," he smiled.
Reeves is supported by Yamaha-Motor New Zealand, Yamalube, GYTR, BikesportNZ.com, Workshop Graphics, StegPegz, Sargent M/C, CarbSport, D.I.D, HJC, Sidi, ProGrip, Acerbis and Scott.
Earlier in the day, Taupo 15-year-old Wyatt Chase wrapped up the junior grade overall, taking his Yamaha YZ125 to win the sole one-hour race ahead of fellow Yamaha rider Lachlan Bishop, of Hamilton.
Chase also won the junior race at the series opener in Tokoroa and therefore has a commanding series lead with three rounds remaining.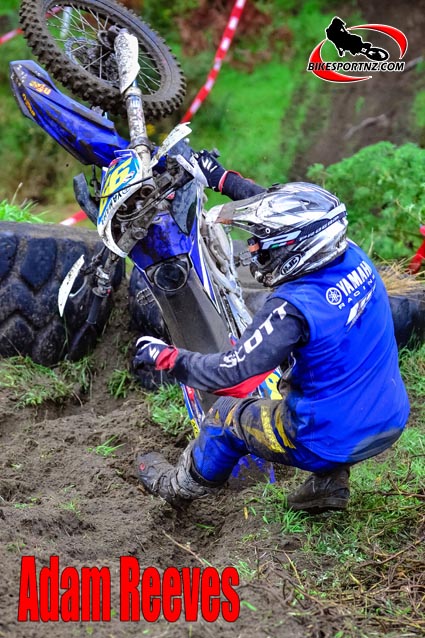 Only four of the series' five rounds will be counted, with riders to discard their worst result. Round three of the series is set for Woodhill Forest on August 30.
© Words and photos by Andy McGechan, www.BikesportNZ.com
Find BikesportNZ.com on FACEBOOK here
Full story and more photos in your next issue of KIWI RIDER magazine.
Check back here on www.BikesportNZ.com during this week as we bring you more words and pictures from the weekend.