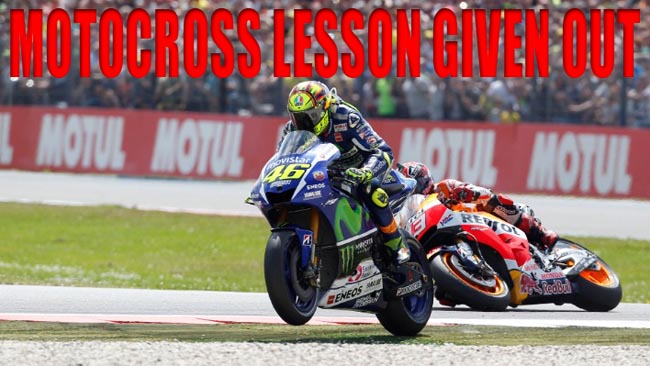 Spain's Marc Marquez gave a tongue-in-cheek response when he was asked what he had learned from Italian Valentino Rossi after the pair slugged it out in a dramatic Dutch MotoGP, round eight of the series, at Assen at the weekend.
The duo went head-to-head throughout the race, which produced an explosive finish when they touched at the final chicane on the last lap as Honda rider Marquez attempted a pass on the brakes on Rossi's inside.
Yamaha rider Rossi stood his machine upright after the contact was made and powered through the gravel, returning to the track to seal victory over the defending world champion.
In the post-race press conference, Marquez was reminded that he often reveals he has learned a lot from the nine-times world champion.
But asked if there was anything he had learned from Rossi in this particular race, Marquez said: "Some motocross! Only this, nothing more."
Pressed further on whether or not he felt Rossi had seized the opportunity to ride through the gravel after the contact was made, Marquez said: "No, I don't think anybody wants to find the contact but what I did I think was the perfect lap because I go in [to the chicane] and stopped the bike to be on the correct line, to close later the space for Valentino for the second chicane [exit].
"But ok, I think when we had the contact we were already really in the same position – I was not really back and I think he already saw me.
"But I think I can be proud about this last lap because I gained 0.4 and I did the perfect chicane with what I planned yesterday," he added.
"What I know is I did the correct [thing]. What I already say, I think I did the perfect last lap, last corner.
"I prepared like this and when I stopped the bike I had the place and then we had the contact and we already know in that chicane it is really tight, so I know that I did the correct."
Assen was the second time this season that Marquez has come-off second best while battling with Rossi for victory at the end of a race, having fallen after contact with the Italian in Argentina.
The clash between the pair was deemed a racing incident by Race Direction.
Assen MotoGP race result:
1. Valentino Rossi ITA Movistar Yamaha MotoGP (YZR-M1) 40m 54.037s
2. Marc Marquez ESP Repsol Honda Team (RC213V) 40m 55.279s
3. Jorge Lorenzo ESP Movistar Yamaha MotoGP (YZR-M1) 41m 8.613s
4. Andrea Iannone ITA Ducati Team (Desmosedici GP15) 41m 13.146s
5. Pol Espargaro ESP Monster Yamaha Tech 3 (YZR-M1) 41m 18.305s
6. Cal Crutchlow GBR CWM LCR Honda (RC213V) 41m 18.410s
7. Bradley Smith GBR Monster Yamaha Tech 3 (YZR-M1) 41m 18.479s
8. Dani Pedrosa ESP Repsol Honda Team (RC213V) 41m 18.693s
9. Aleix Espargaro ESP Team Suzuki Ecstar (GSX-RR) 41m 20.762s
10. Maverick Viñales ESP Team Suzuki Ecstar (GSX-RR)* 41m 21.275s
11. Danilo Petrucci ITA Octo Pramac Racing (Desmosedici GP14.1) 41m 23.075s
12. Andrea Dovizioso ITA Ducati Team (Desmosedici GP15) 41m 23.455s
13. Scott Redding GBR Estrella Galicia 0,0 Marc VDS (RC213V) 41m 40.700s
14. Yonny Hernandez COL Octo Pramac Racing (Desmosedici GP14.2) 41m 43.342s
15. Loris Baz FRA Athina Forward Racing (Forward Yamaha)* 41m 46.433s
16. Nicky Hayden USA Aspar MotoGP Team (RC213V-RS) 41m 50.042s
17. Alvaro Bautista ESP Factory Aprilia Gresini (RS-GP) 41m 53.894s
18. Mike Di Meglio FRA Avintia Racing (Desmosedici GP14 Open) 42m 8.550s
19. Marco Melandri ITA Factory Aprilia Gresini (RS-GP) +1 lap
Alex De Angelis RSM E-Motion IodaRacing (ART) DNF
Eugene Laverty IRL Aspar MotoGP Team (RC213V-RS)* DNF
Stefan Bradl GER Athina Forward Racing (Forward Yamaha) DNF
Hector Barbera ESP Avintia Racing (Desmosedici GP14 Open) DNF
Jack Miller AUS CWM LCR Honda (RC213V-RS)* DNF
Riders' World Championship standings after 8 of 18 rounds:
1. Valentino Rossi ITA Movistar Yamaha MotoGP (YZR-M1) 163 points
2. Jorge Lorenzo SPA Movistar Yamaha MotoGP (YZR-M1) 153 points (-10)
3. Andrea Iannone ITA Ducati Team (Desmosedici GP15) 107 points (-56)
4. Marc Marquez SPA Repsol Honda Team (RC213V) 89 points (-74)
5. Andrea Dovizioso ITA Ducati Team (Desmosedici GP15) 87 points (-76)
6. Bradley Smith GBR Monster Yamaha Tech 3 (YZR-M1) 77 points (-86)
7. Cal Crutchlow GBR CWM LCR Honda (RC213V) 57 points (-106)
8. Pol Espargaro SPA Monster Yamaha Tech 3 (YZR-M1) 56 points (-107)
9. Maverick Viñales SPA Team Suzuki Ecstar (GSX-RR)* 52 points (-111)
10. Dani Pedrosa SPA Repsol Honda Team (RC213V) 47 points (-116)
11. Danilo Petrucci ITA Octo Pramac Racing (Desmosedici GP14.1) 44 points (-119)
12. Aleix Espargaro SPA Team Suzuki Ecstar (GSX-RR) 38 points (-125)
13. Scott Redding GBR Estrella Galicia 0,0 Marc VDS (RC213V) 30 points (-133)
14. Yonny Hernandez COL Octo Pramac Racing (Desmosedici GP14.2) 28 points (-135)
15. Hector Barbera SPA Avintia Racing (Desmosedici GP14 Open) 16 points (-147)
16. Loris Baz FRA Athina Forward Racing (Forward Yamaha)* 14 points (-149)
17. Alvaro Bautista SPA Factory Aprilia Gresini (RS-GP) 11 points (-152)
18. Jack Miller AUS CWM LCR Honda (RC213V-RS)* 11 points (-152)
19. Stefan Bradl GER Athina Forward Racing (Forward Yamaha) 9 points (-154)
20. Michele Pirro ITA Ducati Team (Desmosedici GP15) 8 points (-155)
21. Nicky Hayden USA Drive M7 Aspar (RC213V-RS) 8 points (-155)
22. Eugene Laverty IRL Drive M7 Aspar Honda (RC213V-RS)* 7 points (-156)
23. Hiroshi Aoyama JPN Repsol Honda Team (RC213V) 5 points (-158)
24. Mike Di Meglio FRA Avintia Racing (Desmosedici GP14 Open) 2 points (-161)
25. Alex De Angelis RSM IodaRacing (ART) 1 points (-162)