After being struck with stomach flu in Matterley Basin, the British MXGP last weekend, French rider Christophe Charlier has recovered well and is raring to go at his home event, this weekend's French motocross GP.
This weekend the 24MX Honda rider returns to the scene of the 2009 EMX250 final round when he grabbed the title in Villars sous Ecot.
With the last GP here being back in 1998, it's been a while since Villars welcomed the fastest motocross riders in the world but the French MXGP will undoubtedly be as busy as ever.
The completely revamped circuit in the eastern Franche-Comté region of France (close to the Swiss border) looks mighty promising.
With many elevation changes the hard pack hillside track is set to fuse traditional MX elements and new school obstacles.
Charlier also rode the track in 2013, as a member of Team France, in preparation for the MX of Nations. However the track has been modified since then and most MXGP riders will face unknown terrain. Familiar for Charlier and his fellow riding countrymen will be the massive home support.
With stars on both sides of the Atlantic and a vast talent pool French motocross and the proactive French motorcycle federation currently enjoy a golden era. Count on loud vocal support and enthusiastic 'tricolore' flag waving!
The French GP will be an important one for 'CC23'. With improving lap times and after guiding his 24MX Honda CRF450R to a strong start in Matterley Basin's first moto, the 24MX Honda rider knows he has the tools and skills to search for an elusive top 10.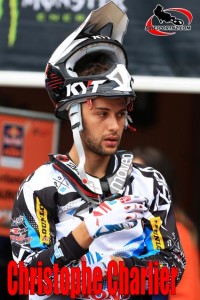 Team-mate Filip Bengtsson is almost fully recovered from his horrendous Valkenswaard crash that caused his concussion. Bengtsson has been away from the bike since the Spanish MXGP.
He just started rebuilding his and will compete at the iconic Kester round of the Belgian Motocross Championship before heading to Maggiora for round nine of the MXGP series.
"It's going to be amazing to race on this brilliant track for my home fans," said Charlier.
"The last couple of weeks have been tough and frustrating. Especially in the UK last weekend. I had a good feeling but from Sunday morning I was hit by a violent stomach flu. Frankly I have never experienced anything like this before so I'm really happy now to have it out of my system! Even the flight back home from England has been hell.
"Villars is going to be a really interesting GP although it bears little resemblance to the track where I celebrated my European title it's going to be fun. I want to prove myself in MXGP and from experience I know that just a couple of strong results can get the ball rolling so that's my goal for the weekend."
Photos courtesy CDS
Words by Tom Jacobs
Find BikesportNZ.com on FACEBOOK here