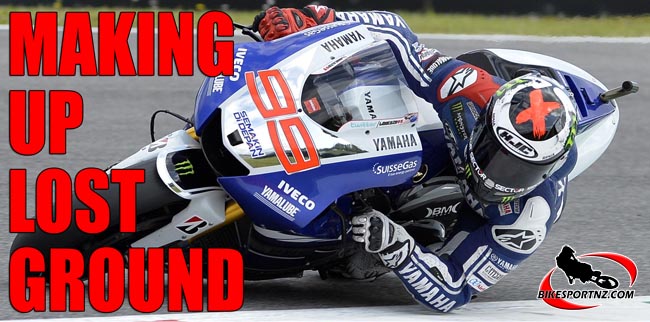 Spain's Jorge Lorenzo knew it was only a matter of time before he returned to race-winning form after the Movistar Yamaha rider toasted a dominant victory in the MotoGP round in Jerez, Spain, on Sunday.
Yamaha's Lorenzo, who led from start to finish in Spain to lead Honda's Marc Marquez and Yamaha's Valentino Rossi across the finish line, had failed to finish in the top three in the opening three races of the season, but announced his return to his best form with a classic performance on Sunday.
"Luckily for me, especially in MotoGP, I have a very good career. Most of the races in good positions," said Lorenzo.
"Most of the races I feel great to fight, but sometimes also I have bad moments like all sportsmen. But I was always able to come back.
"In those difficult moments I have my doubts, but I knew that sooner or later my moment would arrive and luckily for me it was Jerez. We took profit from this great opportunity to win here in front of the home fans."
Lorenzo had set the benchmark all weekend in practice and qualifying and carried his momentum into the race, eventually breaking away from Marquez after four laps to establish an advantage that he never looked like relinquishing.
"This time everything felt fine at the start of the race. I could brake late and enter very fast into the corners. I had a good corner speed and good grip in acceleration," Lorenzo said.
"When you are like that, you have to do give your maximum to try to win this race. The problem was that I was very extremely fast at the beginning, in '38.7, but Marc was the same! He was close until the fourth of fifth lap when I could get a small advantage.
"Later I was able to increase his advantage but I had some vibration from the rear around lap 17 so I thought I had to be careful. But after it came normal again," he added.
"So I could breathe, just go for it and win this grand prix, which is very special. Jerez is the most special track you can win at."
Lorenzo is third in the championship ahead of the next round at Le Mans in France, five points behind Ducati's Andrea Dovizioso and 20 adrift of team-mate Rossi, but is adopting a race by race approach and is refusing to look too far ahead.
"In racing anything can happen. You cannot expect anything. So for me it is better to go lap by lap," he said.
"Not even practice-by-practice but lap-by-lap and even corner-by-corner. I don't want to think too long, just concentrate, enjoy riding and keep this confidence from Jerez.
"For sure it's not always going to be like today, but I'm hoping that Le Mans will be better than the first three races."
The two-time MotoGP world champion appeared set to mark his victory in the same manner in which Lorenzo celebrated in 2010, when he famously jumped into the lake at Jerez, but he pulled back at the last moment.
"I did it before in 2010. I thought to do it again, but when I was running I thought 'there are not many people to help me like before' and I hadn't checked if there were some steps to get out," he said.
"Also I don't want to die at 28! I want to enjoy tonight this victory, so finally in the last moment I decided to stop!"
Lorenzo celebrates his 28th birthday today, when he is expected back at Jerez for the official post-race test.
"Today it's mother's day so it's very special, because my mum saw the race and saw me winning and tomorrow I turn 28," he said on Sunday.
"It's important that we recover some points to Vale because he's been very strong at the beginning of this season and always on the podium."
Results from Spain:
Jorge Lorenzo ESP Movistar Yamaha MotoGP (YZR-M1) 44m 57.246s
Marc Marquez ESP Repsol Honda Team (RC213V) 45m 2.822s
Valentino Rossi ITA Movistar Yamaha MotoGP (YZR-M1) 45m 8.832s
Cal Crutchlow GBR CWM LCR Honda (RC213V) 45m 19.973s
Pol Espargaro ESP Monster Yamaha Tech 3 (YZR-M1) 45m 23.866s
Andrea Iannone ITA Ducati Team (Desmosedici GP15) 45m 24.267s
Aleix Espargaro ESP Team Suzuki Ecstar (GSX-RR) 45m 32.691s
Bradley Smith GBR Monster Yamaha Tech 3 (YZR-M1) 45m 33.542s
Andrea Dovizioso ITA Ducati Team (Desmosedici GP15) 45m 39.179s
Yonny Hernandez COL Pramac Racing (Desmosedici GP14.2) 45m 48.318s
Maverick Viñales ESP Team Suzuki Ecstar (GSX-RR)* 45m 48.920s
Danilo Petrucci ITA Pramac Racing (Desmosedici GP14.1) 45m 49.667s
Scott Redding GBR Estrella Galicia 0,0 Marc VDS (RC213V) 45m 50.298s
Hector Barbera ESP Avintia Racing (Desmosedici GP14 Open) 45m 50.446s
Alvaro Bautista ESP Factory Aprilia Gresini (RS-GP) 45m 54.590s
Stefan Bradl GER Athina Forward Racing (Forward Yamaha) 45m 56.264s
Nicky Hayden USA Aspar MotoGP Team (RC213V-RS) 45m 58.752s
Eugene Laverty IRL Aspar MotoGP Team (RC213V-RS)* 46m 0.409s
Marco Melandri ITA Factory Aprilia Gresini (RS-GP) 46m 4.141s
Jack Miller AUS CWM LCR Honda (RC213V-RS)* 46m 11.428s
Alex De Angelis RSM Octo IodaRacing (ART) 46m 24.078s
Mike Di Meglio FRA Avintia Racing (Desmosedici GP14 Open) +1 lap
Hiroshi Aoyama   JPN Repsol Honda Team (RC213V) DNF
Loris Baz    FRA Athina Forward Racing (Forward Yamaha)* DNF
Karel Abraham    CZE Cardion AB Motoracing (RC213V-RS) DNF
Riders' World Championship:
1. Valentino Rossi ITA Movistar Yamaha MotoGP (YZR-M1) 82 points
2. Andrea Dovizioso ITA Ducati Team (Desmosedici GP15) 67 points (-15)
3. Jorge Lorenzo SPA Movistar Yamaha MotoGP (YZR-M1) 62 points (-20)
4. Marc Marquez SPA Repsol Honda Team (RC213V) 56 points (-26)
5. Andrea Iannone ITA Ducati Team (Desmosedici GP15) 50 points (-32)
6. Cal Crutchlow GBR CWM LCR Honda (RC213V) 47 points (-35)
7. Bradley Smith GBR Monster Yamaha Tech 3 (YZR-M1) 36 points (-46)
8. Aleix Espargaro SPA Team Suzuki Ecstar (GSX-RR) 31 points (-51)
9. Pol Espargaro SPA Monster Yamaha Tech 3 (YZR-M1) 26 points (-56)
10. Maverick Viñales SPA Team Suzuki Ecstar (GSX-RR)* 20 points (-62)
11. Danilo Petrucci ITA Pramac Racing (Desmosedici GP14.1) 19 points (-63)
12. Scott Redding GBR Estrella Galicia 0,0 Marc VDS (RC213V) 13 points (-69)
13. Yonny Hernandez COL Pramac Racing (Desmosedici GP14.2) 12 points (-70)
14. Dani Pedrosa SPA Repsol Honda Team (RC213V) 10 points (-72)
15. Hector Barbera SPA Avintia Racing (Desmosedici GP14 Open) 10 points (-72)
16. Jack Miller AUS CWM LCR Honda (RC213V-RS)* 6 points (-76)
17. Hiroshi Aoyama JPN Repsol Honda Team (RC213V) 5 points (-77)
18. Nicky Hayden USA Drive M7 Aspar (RC213V-RS) 3 points (-79)
19. Loris Baz FRA Athina Forward Racing (Forward Yamaha)* 2 points (-80)
20. Alvaro Bautista SPA Factory Aprilia Gresini (RS-GP) 2 points (-80)
21. Stefan Bradl GER Athina Forward Racing (Forward Yamaha) 1 points (-81)