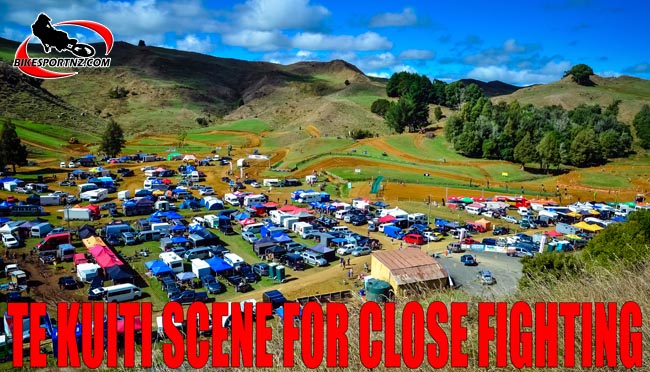 It was a drama-filled weekend of motocross racing in the King Country.
At one stage it had looked as if the 2015 New Zealand Junior Motocross Championships might not have been able to go ahead after torrential rain drowned the track at Te Kuiti and forced organisers to abandon racing early on day one on Friday.
But, when the day dawned for the second of three days on Saturday, the contrasts could not have been more extreme, hot sun rapidly drying the track and the host North King Country Motorcycle Club's team of dedicated volunteers swinging into a fever of activity to take advantage of the break in the weather, restoring the track to its pristine best.
Racing was reduced from seven to five races for each class over the weekend but the competition was as exciting as it was intense and many of the classes went right down to the wire at the big annual event, jointly sponsored this year by JT Racing, Otorohonda and King Country Honda.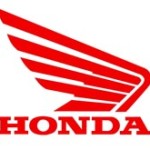 Ngatea's Ben Broad won the premier 14-16 years' 250cc four-stroke class on a count-back from Cambridge's Trent Collins; Taupo's Wyatt Chase won the 15-16 years' 125cc class ahead of Te Kuiti's Sean Kelly; Reefton's Bailey Banks won the 12-14 years' 125cc class ahead of Kotemaori's Reece Lister; Mangakino's Maximus Purvis won the 13-16 years' 85cc class ahead of Taihape's Hayden Smith; Dunedin's Grason Veitch won the 11-12 years' 85cc class ahead of Walton's Brodie Connolly; Kaiapoi's Cobie Bourke won the 8-10 years' 85cc class ahead of Rongotea's Rhys Jillings and Napier's Luka Freemantle won the 8-11 years' 65cc class from Rongotea's Seth Henson.
Chase was unbeaten in all his five races, while Banks and Purvis were similarly untouchable in their respective categories, but the racing was tight in the extreme in all the other classes, not to mention the close battling that went on for the other podium positions as well.
The closest racing was in the 250cc class, where just three points separated Collins and Broad as the riders lined up for their last clash of the weekend and whichever one of these two riders won that final encounter would take the title.
Broad led from start to finish, while Collins found himself back in fourth position. But, with just a couple of laps remaining, Collins had passed the riders ahead of him – Te Puke's Tyler Steiner and Otorohanga's Aaron King – and started to hunt down Broad.
But Broad was at this stage clocking lap times two seconds quicker than Collins and so all he could hope for would be for Broad to make a mistake.
He didn't.
In the end, Collins finished seven seconds adrift of Broad and that meant the two riders finished the championships level on points. However, Broad was awarded the overall win thanks to the count-back rule, having scored more wins over the three days and also, perhaps most importantly, because he had won that final race.
Broad posted a 2-1-7-1-1 score-card for the event while Collins finished 3-2-1-2-2.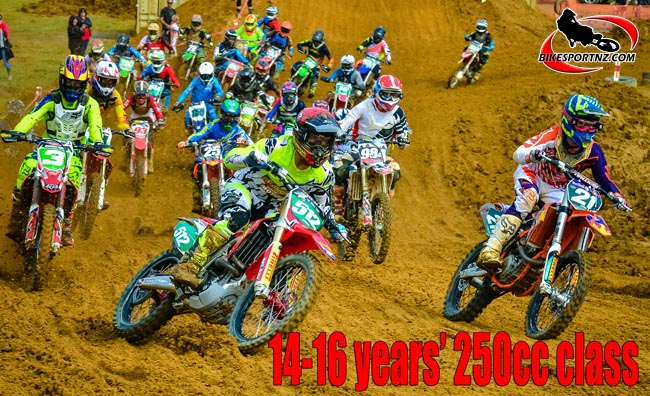 Leading results from the 2015 New Zealand Junior Motocross Championships:
14-16 years' 250cc four-stroke class: 1. Ben Broad (Ngatea) 111 points; 2. Trent Collins (Cambridge) 111; 3. Reece Walker (Nelson) 90.
15-16 years' 125cc class: 1. Wyatt Chase (Taupo) 125 points; 2. Sean Kelly (Te Kuiti) 100; 3. Tony Cvitanovich (Feilding) 96.
12-14 years' 125cc class: 1. Bailey Banks (Reefton) 122 points; 2. Reece Lister (Kotemaori); 3. Reef Wheki (Hamilton) 80.
13-16 years' 85cc class: 1. Maximus Purvis (Mangakino) 125 points; 2. Hayden Smith (Taihape) 106; 3. James Scott (Oparau) 98.
11-12 years' 85cc class: 1. Grason Veitch (Dunedin) 115 points; 2. Brodie Connolly (Walton) 110; 3. Marshall Phillips (Christchurch) 106.
8-10 years' 85cc class: 1. Cobie Bourke (Kaiapoi) 115 points; 2. Rhys Jillings (Rongotea) 105; 3. Jared Hannon (Cambridge) 92.
8-11 years' 65cc class: 1. Luka Freemantle (Napier) 122 points; 2. Seth Henson (Rongotea) 113; 3. Joe Stock (Hamilton) 92.
Full results can be found HERE
© Words and photos by Andy McGechan, www.BikesportNZ.com
Find BikesportNZ.com on FACEBOOK here
Full story and more photos in your next issue of KIWI RIDER magazine.
Check back here on www.BikesportNZ.com during this week as we bring you more words and pictures from the weekend.