The Serco Yamaha team of Luke Clout and Jed Beaton flexed some muscle at round three of the 2015 Australian MX Nationals, held at the Broadford Motorsport complex, Victoria, at the weekend as they produced a team 1-2 finish for the round and now hold down the top two spots in the MX2 championship chase.
Meanwhile, New Zealand's Hamish Harwood (CMR Red Bull KTM), last season's Australian No.2, finished the day ninth overall and he is now seventh overall in the championship chase.
"I'd call it a less than average weekend; the way I was feeling on the bike coming into it, I could have and should have done better," said Harwood.
"I came away with fourth in qualifying which was okay, but then I got a pretty average start in race one, and sort of went forward a few, back a few, but didn't feel too bad. About halfway through I got real tight for a wee bit and I ended up seventh, which I wasn't really that happy with.
"In the second I started third or fourth, but on the second or third lap I put my head down to dodge some roost and hit a few big bumps and had quite a big crash. It really annoyed me because I was feeling pretty good, and I hurt my shoulder and bent my bars, but I came back to 10th, but it's all good we'll train hard these next three weeks and jump back at Murray Bridge."
For Clout, it was his best day of the championship so far, with a dominating display at Broadford. He posted the fastest lap in qualifying and took both moto wins, although moto two he was made to work for it.
In the opening race, Clout charged his way to the front in the opening stages and slowly but surely began to pull away from the field. He stretched his lead out to a comfortable 10 seconds by the mid-way stage and then rode a smart race to bring home the win.
Moto two saw the Serco duo up front early, with Beaton leading the way. Clout managed to slip by and the race was then on. Beaton shadowed Clout for the entire moto and never further away than 10 bike lengths, but could never get close enough to attempt a pass as Clout held his composure and raced to another race victory.
"Today was just the day I was after," Clout said. "I didn't get the best of starts in either moto but I was able to get to the front early in the race and set the pace which is exactly what I wanted to do.
"The win today was good but the benefit is that I was able to extend my lead in the championship.
"The Broadford track today was in great shape and thanks to all the people that came out and supported the MX Nationals," Clout said.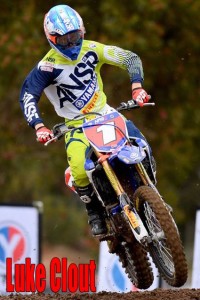 For Beaton, it was a return to the podium after finishing fourth at round two.
Beaton again proved that no one can slice through the pack like he can as he charged back from a poor start in race one. He battled his way all the way to third and was challenging for second place with just two corners to go when he went over the handlebars in a soft rutted turn. Fortunately, he was able to remount quickly and hold onto third place.
Moto two was much less eventful as Beaton pulled the holeshot only to come under attack from his team mate, Luke Clout. The pair raced away from the field as they conducted their in house dual all the way to the finish line with Clout finishing just metres ahead of Beaton. Jed's 3-2 finish for the round gave him second overall and now moves him to second place in the championship.
"I had to work hard for it today," Beaton explains. "My start in moto one was terrible and I was a long way back just trying to get some clear track. I then caught up to (New Zealand MX2 champion and fellow Yamaha rider) Jay Wilson and tried to pass him on the outside of the second last turn and the front just dropped into this soft spot and was going over the bars.
"Moto two was better but I just didn't match Luke's intensity in the opening laps. That's something I need to work out. Still, it's good to be up on the podium again and we still have a long way to go in the championship," Beaton said.
The MX Nationals moves to South Australia for round four of the championship at Murray Bridge on May 17.
Find BikesportNZ.com on FACEBOOK here
Round Three Results – Broadford
MX2 Class:

1st Luke Clout – 70
2nd Jed Beaton – 62
3rd Takeshi Katsuya – 58
4th Geran Stapleton – 53
5th Wade Hunter – 50
6th Jay Wilson – 48
7th Dylan Leary – 44
8th Riley Graham – 44
9th Hamish Harwood – 44
10th Joel Wightman – 42
Championship Standings – After Round Three
1st Luke Clout – 200
2nd Jed Beaton – 180
3rd Jay Wilson – 175
4th Takeshi Katsuya – 171
5th Wade Hunter -145
6th Dylan Wills – 129
7th Hamish Harwood – 126
8th Dylan Leary – 119
9th Luke Arbon – 115
10th Riley Graham – 113
Action photo courtesy Jeff Crow
© Main photo by Andy McGechan, www.BikesportNZ.com