Australia's Jay Wilson was "Mister Smooth" as he wrapped up the MX2 class crown at the fourth and final round of the 2015 New Zealand Motocross Championships near Pukekohe on Sunday.
The 20-year-old from Tweed Heads, near Coolangatta on the Gold Coast, took his Altherm JCR Yamaha YZ250F bike to finish 1-3-3 at the opening event of the four-round Kiwi nationals in Taranaki last month, but that was the last time he followed anyone across the finish line as he then launched a win-streak that lasted right to the end of the series.
He scored a hat-trick of wins at round two near Timaru, did that again at round three near Rotorua and it was the same again from the Yamaha star on the steep Harrisville track on Sunday as he again dominated the day and eventually ended the championship a massive 50 points ahead of runner-up rider Hamish Harwood (CMR Red Bull KTM), of Takaka.
Harwood finished 2-3-3 at Pukekohe and must now be getting sick of the sight of the men from Yamaha – the Kiwi was runner-up to Serco Yamaha star Luke Clout in last year's Australian MX2 championships.
Amberley's Micah McGoldrick (Timaru Honda CRF250) raced to 8-4-4 results at Pukekohe and this was enough for him to hold on to his position at third overall in the championship.
Wilson's title win was only the second time in the history of the sport in New Zealand that an Australian rider has won and the man who won before Wilson was none other than CDR Yamaha Racing Team boss Craig Dack, who took the Kiwi 250cc crown in 1986.
"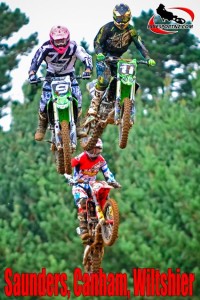 I am so pumped to win this," said Wilson. "I've won two New Zealand supercross titles but this is my first motocross title win here. To learn that it's only the second time an Australian has won and that the previous winner was Craig (Dack) is pretty awesome too.
"I love coming to New Zealand and it is a great confidence-booster for me as I was using this campaign to build up for the Australian Motocross Championships (which kick off at Horsham, in Victoria, on March 29).
"A lot of my rivals have been training and testing back home, but there's nothing quite like actual racing to get sharpened up.
"I hoped to be back next year to defend the title but I'll really just have to see what happens. I may come back and race the MX1 class. Who knows?
"Having Josh Coppins there to guide me has been great. He'll be behind me when I race in Australia this year too. You couldn't ask for a better manager."
Coppins was naturally thrilled with the outcome.
"It was so easy for Jay to get the job done after all the hard work he's put in," said former Grand Prix star Coppins, of Motueka.
"He is well prepared now for his Australian campaign.
"It would have been nice to have fellow Australian Kade Mosig (who raced the MX1 class for the Altherm JCR Yamaha Racing Team) on the podium also, but it wasn't to be."
"He learned plenty and will only improve from here."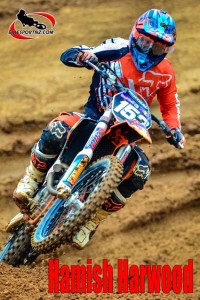 Mosig, a last-minute call-up to the team to replace the injured Jacob Wright, won the first MX1 race of the New Zealand series, but, despite solid performances at the rounds that followed, he was forced to accept fourth overall for his Kiwi season debut.
Last season's MX1 class champion, Cody Cooper (The Honda Shop Racing Team CRF450F), from Mount Maunganui, successfully defended his crown.
JT Racing NZ Motocross Championships leading final standings:
MX1 (450cc):
Cody Cooper (Mount Maunganui) Honda, 263 points; 2. Kirk Gibbs (Australia) KTM, 239; 3. John Phillips (Rotorua) Honda, 216; 4. Kade Mosig (Australia) Yamaha, 211; 5. Brad Groombridge (Taupo) Suzuki, 182; 6. Scott Columb (Queenstown) Yamaha, 165
MX2 (250cc):
Jay Wilson (Australia) Yamaha, 290 points; 2. Hamish Harwood (Takaka) KTM, 240; 3. Micah McGoldrick (Amberley) Honda, 206; 4. Scotty Canham (Rotorua) Kawasaki, 172; 5. Hadleigh Knight (Atiamuri) Husqvarna, 164; 6. Logan Blackburn (Te Puke) Suzuki, 150.
125cc 2-stroke:
Josiah Natzke (Hamilton) KTM, 288 points; 2. Cohen Chase (Taupo) Yamaha, 231; 3. Benjamin Broad (Ngatea) KTM, 227; 4. Courtney Duncan (Palmerston, Otago) Yamaha, 225; 5. Kurtis Lilly (Pukekohe) Husqvarna, 200; 6. Liam Draper (Howick) Husqvarna, 167.
© Words and photos by Andy McGechan, www.BikesportNZ.com
Find BikesportNZ.com on FACEBOOK here