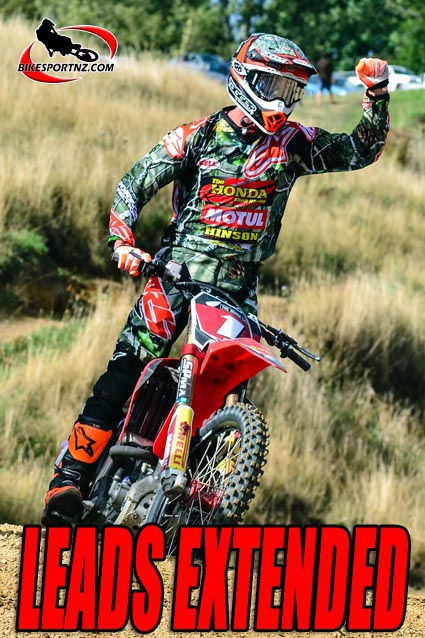 Consolidation was the keyword at the third round of four in this season's New Zealand Motocross Championships at Rotorua today.
The lead riders in each of the three championship classes each strengthened their respective title claims after a furious day of racing on hilly farmland on the outskirts of the tourist Mecca.
Mount Maunganui's Cody Cooper, the defending MX1 class champion, started the day with a three-point lead over his nearest rival, Rotorua's John Phillips, but, when the noise of engines died away late in the afternoon, Cooper was able to celebrate a 19-point lead over the new main challenger, Australian Kirk Gibbs.
Cooper finished 3-1-1 in his three MX1 class outings on Sunday to top the standings for the day and Gibbs finished 1-4-4 for the runner-up position, while Tauranga's Ben Townley, making his only appearance in the series, earned Sunday's third podium spot with his 2-3-7 results.
This was good enough for Townley to slot in at 14th overall in the championship, despite his not having raced at rounds one and two.
When Australian visitor Jay Wilson arrived at the Rotorua track, he was a solid 20-points ahead of his nearest threat for MX2 (250cc) class honours, Takaka's Hamish Harwood. At the end of the day, Wilson had boosted his advantage to 37 points over Harwood.
Wilson is clearly dominant in this class. The 20-year-old from the Gold Coast has now won seven out of nine MX2 class races run thus far.
In the smallest bike division, the 125cc class, Hamilton's defending champion Josiah Natzke scored another hat-trick of wins on Sunday, ballooning his advantage from 11 points over Taupo's Cohen Chase at the start of the day to now be 37 points clear of new No.2 man, Ngatea's Ben Broad.
A crash at the start of the day's first 125cc race cost Chase dearly. He managed to fight back from last position to finish 15th in that race, and backed that up by finishing third and second in the next two races, but it meant his title hopes suffered a huge hit.
Broad was a picture of consistency, finishing 3-4-3, although he will need to step it up at the final round if he hopes to catch Natzke and, besides that, Chase is breathing down his neck, just one point behind.
The fourth and final round of the JT Racing-sponsored series is set for Harrisville, on the outskirts of Pukekohe, next weekend.
Results are HERE
© Words and photos by Andy McGechan, www.BikesportNZ.com
Find BikesportNZ.com on FACEBOOK here
Full story and more photos in your next issue of KIWI RIDER magazine.
Check back here on www.BikesportNZ.com during this week as we bring you more stories and photos from the weekend.