GIBBS DOMINATES ROUND ONE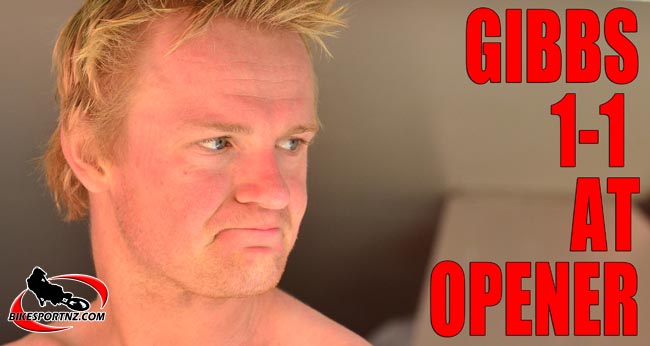 Queensland's Kirk Gibbs, the 2014 Australian motocross No.2, roared to victory at Horsham's opening round of the 2015 Australian Motocross Championships yesterday, sweeping the premier MX1 ranks and convincingly claiming the round overall.
KTM rider Gibbs was untouchable at the Victorian venue, going 1-1 for the overall ahead of Kade Mosig (CDR Yamaha), who posted 3-2 finishes in a strong outdoor debut ride for the team.
Completing the podium in his comeback to Australia was Gibbs' new KTM team-mate Luke Styke, charging to second in moto two and fifth in the second leg to secure the third podium step.
While Gibbs was celebrating, Motul Suzuki's defending MX1 champion Matt Moss was a notable absentee from the front of the pack, twice finishing 14th and finishing13th overall for the day in a shocking upset for Team Factory Suzuki.
The two Kiwi riders in the class, Mount Maunganui's New Zealand MX1 champion Cody Cooper (Penrite Honda) and Rotorua's New Zealand MX1 No.3 John Phillips (Kawasaki) finished fifth and 22nd overall respectively.
Gibbs was thrilled with his first-up wins.
"My preparation this year has been awesome, we all went over to race in New Zealand for the pre-season and it's really paid off – I really owe it all to KTM," he said.
"I had a lot of confidence coming into this round so I'm really happy to take the win.
"A few years ago I didn't really know where I was going with my career and Rob Twyerould took me on – I can't thank him enough for that.
"My pa passed away a couple of weeks ago and I know he told my dad that he wanted me to win so this win today is for him."
Meanwhile, in the 250cc class, Serco Yamaha's Jed Beaton crossed the line for his first overall win.
After an impressive third place in moto one, and a race win in moto two, it was no surprise to see Beaton on the top of the podium in his debut MX2 outing.
Despite Beaton's glory, a ten second penalty in moto two saw team-mate and defending class champion Luke Clout forced to settle for second overall, while Kawasaki mounted Takeshi Katsuya finished the day in third place.
The two New Zealand riders in the MX2 class, Mount Maunganui's Rhys Carter (Suzuki) and Nelson's Hamish Harwood (KTM), finished the day 11th and 13th overall respectively.
Beaton was over the moon with his first win for 2015, dedicating his ride to injured brother Ross Beaton and his brand new Serco Yamaha Team.
"Today was a good day. I had a bad start in that first one and made a couple of mistakes, but I managed to sort myself out and I'm over the moon to be on the podium," he said.
"I have been working really hard so I'm not completely shocked by my result, but it's definitely nice to get this one for the team at round one.
"I can't thank my team and also my brother Ross enough. Ross is always out on the pit board and pushing me with my riding so I did this for him today."
© Photo by Andy McGechan, www.BikesportNZ.com
Find BikesportNZ.com on FACEBOOK here
Round one – Horsham, Victoria
MX1 overall results
Kirk Gibbs 70
Kade Mosig 62
Luke Styke 58
Lawson Bopping 56
Cody Cooper 55
Adam Monea 49
Dylan Long 47
Ford Dale 45
Cheyne Boyd 40
Jesse Dobson 40
Kale Makeham 40
Daniel McEntee 35
Matt Moss 34
Aaron Tanti 32
Nick Murray 30
Daniel McCoy 29
Darcy Jones 27
Daniel Reardon 26
Daniel Banks 24
Tyson Whillas 23
MX1 championship standings
Kirk Gibbs 74
Kade Mosig 64
Lawson Bopping 59
Luke Styke 58
Cody Cooper 55
Ford Dale 50
Adam Monea 49
Dylan Long 47
Cheyne Boyd 40
Kale Makeham 40
Jesse Dobson 40
Daniel McEntee 35
Matt Moss 34
Aaron Tanti 32
Nick Murray 30
Daniel McCoy 29
Darcy Jones 27
Daniel Reardon 27
Daniel Banks 24
Tyson Whillas 23
MX2 Round overall and Championship points
Jed Beaton 65 points
Luke Clout 63
Takeshi Katsuya 62
Jay Wilson 60
Nathan Crawford 51
Wade Hunter 46
Dylan Wills 46
Caleb Ward 45
Luke Arbon 44
Riley Graham 44
MX Development (Under-19) overall results:
Jordan Hill 35
Dylan Wilson 32
Jayden Rykers 30
Wilson Todd 28
Wayde Carter26
Trent Wheatley 25
Toby Stevens 24
Jonte Reynders 23
Bailey Coxon 22
Connor Tierney 21
Jesse Madden 20
Lachlan Holroyd 19
Ryan Shadbolt 18
Jamie Harvey 17
Zak Small 16
Tyler Bullen 15
Kaleb Barham 14
Levi McManus 13
Lachlan Davis 12
Travis Silk 11