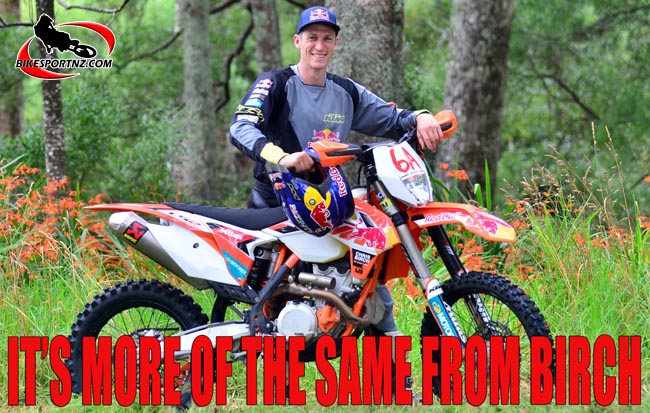 Auckland's Chris Birch won five out of six rounds of the New Zealand Enduro Championships last season and the Kiwi motorcycling legend is already threatening to do the same or similar again this year.
Even with just two of seven rounds completed in the 2015 edition of the nationals, a gap is ominously widening between the Red Bull KTM rider from Glen Eden and his enduro championship rivals.
The 35-year-old Kiwi dirt bike international and defending national champion has already won seven New Zealand Enduro Championships outright – his runaway performance last season now something sports fans are coming to expect from the man – and it's quickly looking as if No.8 will be stacked away before too much longer after he produced another scintillating performance at the second round of seven in this season's KTM-sponsored series at Whangamata on Saturday.
Birch won the first round at Riverhead Forest, west of Auckland, earlier this month and made it back-to-back wins with another impressive showing at Whangamata at the weekend.
It was a different rider who finished runner-up this time around, Whangamata's Jason Davis (KTM 250 XC) making the most of local knowledge to edge ahead of the other riders and finish the day just 36 seconds behind Birch (KTM 350 XC-F), although a mere two seconds ahead of the third-placed rider, Titirangi's Callan May (Yamaha YZ250F).
Davis had finished fourth overall at Riverhead, but now, with his runner-up finish on Saturday, he finds himself second overall in the series, 10 points behind leader Birch but four points ahead of Howick's Liam Draper (Husqvarna TE125).
Draper finished runner-up at Riverhead and fifth overall at Whangamata and, while he may have slipped down in terms of overall standings, he continues to lead the battle-within-a-battle for under-200cc two-stroke class honours.
Davis leads the over-200cc two-stroke class and Birch leads the way in the over-300cc four-stroke class.
"It was pretty dusty and dry in the forest at Whangamata," said Birch.
"I did what I could to make sure I had a clear track in front of me at the start of every special test stage, but the course was well marked and, even with the dust, it didn't feel as if I was going dangerously fast."
Other class leaders after two rounds are Coatesville's Sam Greenslade (KTM 250 EXC-F, under-300cc four-stroke class) and Tokoroa's Sean Clarke (Husqvarna TE250, veterans' over-40 years).
The series continues in forestry near Wellington on Saturday, March 14, followed by round four near Christchurch on Saturday, April 4, with round five just two days later, near Mosgiel on Monday, April 6. Round six is at Waimiha on Saturday, May 9, with the seventh and final round set for Tokoroa on Sunday, May 10.
© Words and photo by Andy McGechan, www.BikesportNZ.com
Find BikesportNZ.com on FACEBOOK here