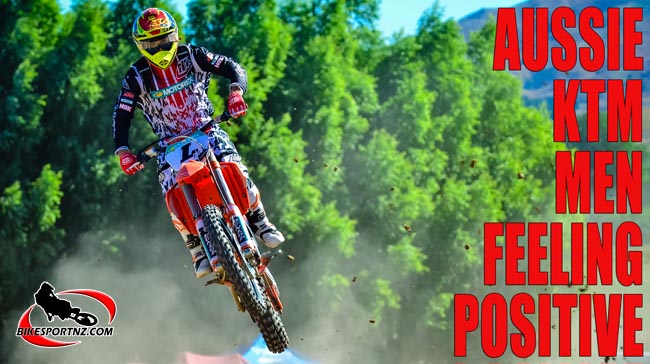 The Australian KTM Motocross Racing Team is enthusiastically targeting this weekend's first round of the New Zealand Motocross Championships on the outskirts of New Plymouth, despite the fact that no member of the team has been there before.
The team is continuing its traditional strategy of early-season racing in New Zealand as a method of conditioning its riders for the Australian MX Nationals, which begin on March 29.
KTM 450 SX-F riders Kirk Gibbs and Luke Styke are both fit and healthy and excited to lay eyes on the track in the wake of their first trip to New Zealand, for the New Zealand Motocross Grand Prix at Woodville a fortnight ago.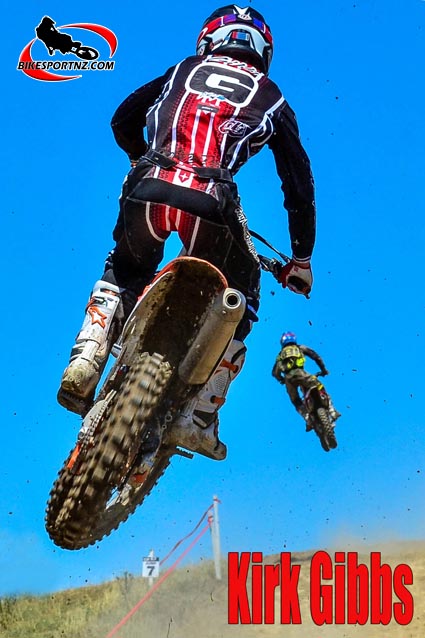 On that day Queensland-based South Australian Gibbs made history by becoming the first foreigner in 25 years to win the Woodville GP, but the Australian motocross vice champion came second in the MX1 program after some lacklustre starts.
Styke was an impressive fourth in his first ever national-level MX1 race, but with a better lead up to this weekend's meeting, the man who wiped the floor with the Australian MX2 category in 2013 is hoping for an improved showing.
Danny Apro is the KTM team manager this weekend.
"Rob T (Twyerould) and I are taking turns managing the show this time round, so I will do this one and he'll go to the next one. I really enjoy these trips, they're great fun and we get to do some pre-season racing and testing as a team, and having Luke aboard as a new rider, it's nice to get a couple of races under our belt before the nationals start.
"It's a good hit-out to see where we're at. We've done quite a bit of testing over the last two weeks and come up with some new settings for the boys to test, so it's great to try those out in a racing situation."
Gibbs reports that he has a "couple of little niggles" after a practice crash last week.
"I had a couple of days off the bike last week after the crash, so I've got a couple of little niggles, but as a pro you're always carrying something. It's all good. There are two new tracks we'll do out of the four rounds this year, so it should be pretty exciting. We only get 20 minutes on the track before we race so it's a little bit harder to compete with the boys who know the tracks, but we just have to learn and adapt. To me though, I just want to come over here and ride good and stay safe and just head into the Australian season healthy. But if I ride good, and feel good in myself, I should be up the pointy end anyway."
Styke is feeling optimistic about the racing ahead.
"I feel like this trip is going to be a lot better – I've had a good two weeks with testing and solid training. I was a bit sick going into Woodville, but the last two weeks my health has been 100%. Since Woodville I've been to work a little bit on chassis set up and just trying to improve my comfort level on the bike.
"This weekend I want to try to get good starts, try to get on the podium and just hit all my marks. It's only pre-season racing for me so I want to just take one step at a time. I have no idea what to expect at New Plymouth, apart from a concrete start, but I turned up fresh at tracks in Europe all last year – I think it's good, it keeps it fresh."
© Photo by Andy McGechan, www.BikesportNZ.com
Find BikesportNZ.com on FACEBOOK here